Will There Be a 'Doogie Kamealoha, M.D.' Season 2? Cast Predictions for Their Characters
Doogie Kamealoha, M.D. is a Disney+ sitcom about a teenage doctor, based on the 1990s Neil Patrick Harris show Doogie Howser, M.D.
The series, which launched on September 8, stars Peyton Elizabeth Lee as Lahela "Doogie" Kamealoha, a 16-year-old girl who has to juggle her work treating patients with her family and her personal life in Hawaii.
Cast members spoke to Newsweek about their hopes for their characters if a second season is commissioned.
Will 'Doogie Kamealoha' Return for Season 2?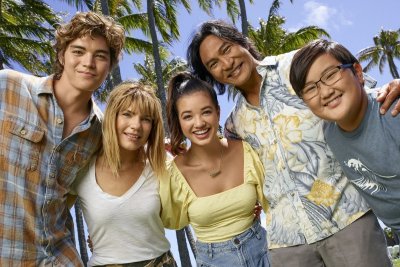 Disney has yet to announce whether the show will be renewed for a second season. Newsweek has contacted the company for comment.
Cast members have already been considering the futures of their characters, however.
Mapuana Makia, who plays Noelani, suggested her character and her on-screen best friend Charles (played by Jeffrey Bowyer-Chapman) could go one some wild adventures together in Season 2.
She told Newsweek: "I would love a standalone where Charles and Noelani get into a bunch of trouble and hijinks. Going on some sort of adventure for the hospital or something like that, and getting to just like go all around O'ahu to try to find it. That would be one of my hopes."
Bowyer-Chapman agreed, suggesting they could bring Doogie along for a Hawaiian adventure.
Meanwhile, Matthew Sato and Emma Meisel, who play Lahela's older brother Kai and her best friend Steph, felt it was time their characters got together.
Meisel said: "Let's see what happens with Steph and Kai. Like, let's go, bring on the prom. I want to do a prom."
The prom would also allow Meisel to see her other hope for the character of Lahela's younger brother Brian (Wes Tian)—for him to bust some moves on the dancefloor.
Sato, on the other hand, wanted drama and a "huge fight," but was also keen to see more of Brian.
He said: "My hope is to see Wes go through his diva teenage years on the show. I just know they're probably plotting something awesome for [Wes.]"
The actors who play Lahela's parents Clara and Benny, Kathleen Rose Perkins and Jason Scott Lee, said they hoped to expand the family even further, meeting more members.
Perkins said: "I'd like to meet their [Clara and Benny's] parents as well. I'd like to meet Clara's parents and I'd like to meet Benny's mother at least, because I think his father's passed in the show. So, yeah, it would be kind of cool to meet other people in this family."
For her own character, the aim is to "get her first son to college" and continue to grow into a better doctor and mother.
As for Peyton Elizabeth Lee herself, she hopes to get the chance to show more of how Lahela balances her medical career and teenage life.