Nearly two dozen Senate Democrats sent a letter to President Joe Biden on Tuesday pushing for recurring payments, but it's unlikely they'll be able to get enough Republicans on board to make the measure a reality.
In a letter, 21 Senate Democrats urged Biden to include recurring direct payments and automatic unemployment insurance extensions in his Build Back Better economic plan. Biden's expected to announce parts of his plan on Wednesday, and press secretary Jen Psaki said it's likely the package will be divided into two parts with the first focusing on infrastructure.
While Democrats said they appreciate Biden's "strong support" for direct payments and enhanced unemployment insurance, they said in their letter the relief isn't enough because it won't last.
"This crisis is far from over, and families deserve certainty that they can put food on the table and keep a roof over their heads," the letter said. "Families should not be at the mercy of constantly-shifting legislative timelines and ad hoc solutions."
Newsweek reached out to the White House for comment but did not receive a response in time for publication.
The American Rescue Plan passed Congress in March, and people began receiving $1,400 payments on March 17. The $1.9 trillion relief package also included an extension of the expanded unemployment payments until September 6, but Democrats told Biden they were concerned about the "cliff" unemployed people would face when benefits ran out.
Instead of passing another extension of the payments, they advocated for implementing an automatic stabilizer. That way, whenever an agreed-upon economic trigger happened, the expanded benefits would kick in without the need for Congress to come to an agreement mid-crisis.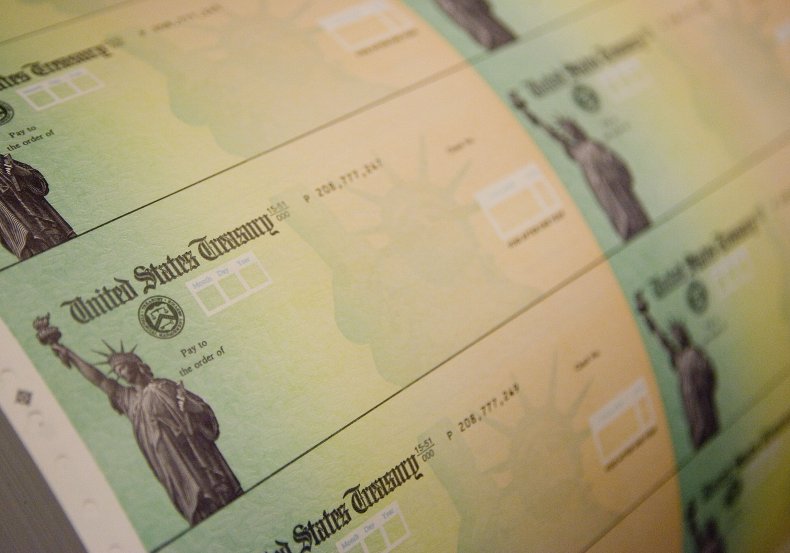 No Republicans in the House or the Senate voted in favor of the American Rescue Plan and an automatic stabilizer would take politics out of the equation. However, to pass the measure, Democrats need Republicans on board and it'll be a long shot to get enough support.
Republicans weren't sold on the need for extensive relief in December, and as vaccinations have become more widespread and states open up, that sentiment has only grown. Tying the recurring payments and unemployment assistance to Biden's Build Back Better plan could hinder his ability to get the package through Congress.
Members of the GOP have already signaled their opposition to the White House's $3 trillion infrastructure plan and in the House, Biden can only afford to lose eight Democrats. For its passage in the Senate, he needs a unified Democratic caucus and 10 Republicans.
However, The New York Times reported Democrats may be looking at passing the measure without Republican support. Senator Chuck Schumer was reportedly exploring a way for them to use reconciliation to bypass Republicans and pass a package with a simple majority, as they did for the American Rescue Plan.
Democrats first unveiled their letter to Biden on March 2 when they only had 11 signatures. That number grew to 21 over the past few weeks and more than 40 Democrats in the House are on board with recurring payments.
By combining recurring payments and unemployment insurance, it would help ensure those who aren't eligible for unemployment payments receive support. In their letter, they pointed to the strong support recurring payments have and tales of caution from economists about the insufficient response to the Great Recession.
"Automatic stabilizers will give families certainty that more relief is coming, allowing them to make the best decisions about how to spend their relief payments as they receive them," the Senate Democrats wrote. "Families shouldn't have to worry about whether they'll have enough money to pay for essentials in the months ahead as the country continues to fight a global pandemic."