Will There Be a Second Stimulus Bill for Americans? Treasury Secretary Mnuchin Says 'Strong Likelihood'
Treasury Secretary Steve Mnuchin said there's a "strong likelihood" America will need another stimulus package because of the new coronavirus outbreak. However, he didn't express confidence in the plan that Speaker of the House Nancy Pelosi championed.
Mnuchin told The Hill in an interview Thursday that officials were going to "carefully review" the impact of the CARES Act, a nearly $2 trillion stimulus package passed in March. Decisions about future stimulus packages won't be made until officials can "step back" and carefully consider how the money will be spent. But Mnuchin said he thought "there is a strong likelihood we'll need another bill."
"I'm very sympathetic to the people who are not working at no fault of their own because we've closed down the economy," Mnuchin said.
On Friday, the House of Representatives passed the HEROES Act, the latest stimulus bill in response to the coronavirus outbreak. It shares similarities to the CARES package, such as allocating funds for economic impact payments to individuals. But it also includes a number of provisions that have drawn criticism from Republicans.
Only one Republican, Representative Peter King of New York, voted in favor of the House bill, which passed by a slim majority of 208 votes in favor to 199 against. Republican Senate Majority Leader Mitch McConnell criticized it for allowing undocumented immigrants to receive stimulus checks and including provisions related to election security and the marijuana industry.
He labeled it a "1,800-page season a catalog of left-wing oddities," and President Donald Trump said the bill was "dead on arrival," a message McConnell also expressed.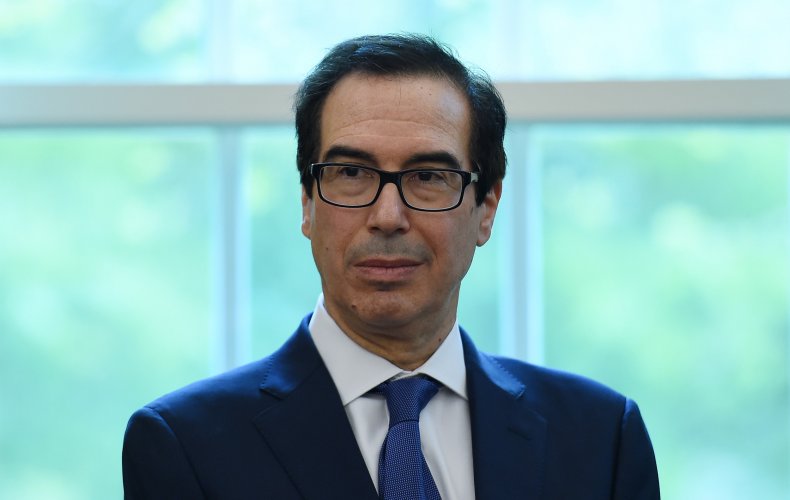 Looking toward the future, Mnuchin said he hoped the next stimulus bill has the "overwhelming bipartisan support" that the CARES Act had. The House passed the bill by a voice vote, which allows a bill to pass without requiring individual voting, and senators unanimously agreed to make it a law. That's not going to happen this time around, according to Mnuchin.
"The speaker's bill obviously is a partisan bill, so that's not something we're focusing on at the moment," Mnuchin told The Hill.
To curb the spread of a new coronavirus outbreak, states nationwide shut down businesses, required people to work from home, and limited restaurants and bars to take-out and delivery service. The restrictions have been successful in slowing the spread of the outbreak, according to officials, but the measures have taken a significant toll on America's economy and put millions of people out of work.
More than 38 million people in America have filed for unemployment, and over 2.4 million people filed claims within the last week, according to the Department of Labor. The treasury secretary said that he was confident the economy would bounce back and people would get back to work, as states start to "safely" and slowly reopen.