Will There Be a Second Stimulus Check Before the Election? It's Possible but Difficult, White House Economic Adviser Says
With 18 days until the presidential election, there's technically enough time for people to receive another stimulus check, but it's unlikely to happen.
Speaking to Fox Business, White House economic adviser Larry Kudlow said that even if lawmakers are able to reach a deal, it would be "almost impossible to execute" before November 3. A new package of economic relief is continually evolving as White House officials and Democratic Party leadership negotiate, but one area the two sides agree on is another round of economic impact payments, commonly known as stimulus checks.
Based on a timeline provided by Treasury Secretary Steve Mnuchin in August, there's still enough time for people to receive a payment before the election. Talking to reporters, he said if a deal is passed on a Monday and stimulus checks are included, he could start "printing them the following week" and issue 50 million payments "really quickly."
If that timeline holds and a deal can be reached by October 19, there's still a chance—albeit a slim one—that people will receive a payment by November 3.
However, the chances for agreement are very slim and a deal is unlikely to pan out, according to Kudlow. Given that there are only 18 days until the election, he said, some aspects of a deal could likely be put into motion, but a "grand, large deal" wouldn't happen.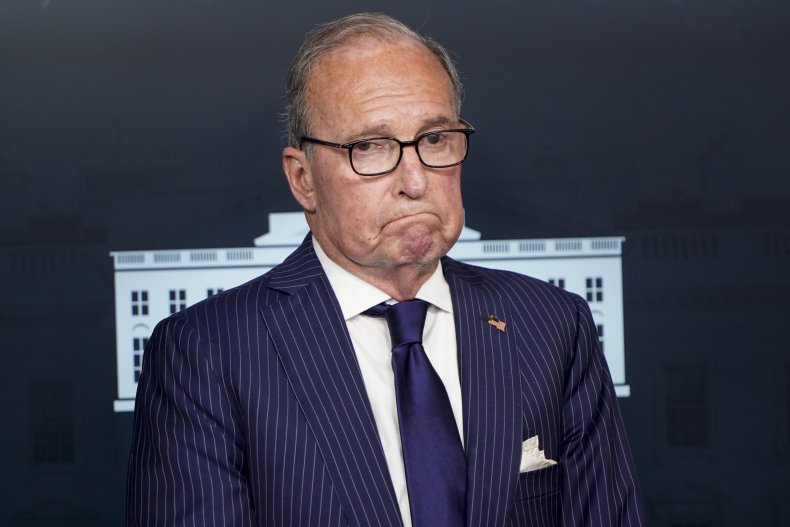 Shortly after President Donald Trump announced on Twitter that he had instructed his representatives to halt negotiations until after the election, he said he was ready to sign a bill that would send out another round of $1,200 stimulus checks. The moratorium on discussions was short-lived, and within a week Trump was calling for legislators to "go big or go home" and said he supported a $1.8 trillion proposal.
But House Speaker Nancy Pelosi rejected the offer, saying that it failed to properly address the economic fallout from the coronavirus, a move that drew criticism from some members of her party. However, she put the onus on Republicans to take the pandemic seriously, and talks between the speaker and Mnuchin continued on Thursday.
Speaking to Fox Business' Stuart Varney on Friday morning, Kudlow said, "The president wants a deal, [Treasury] Secretary [Steve] Mnuchin is negotiating a deal. If Speaker [Nancy] Pelosi wanted a deal, I think we could round up enough Senate Republicans to get a deal, but less than three weeks to go, I don't know."
About $300 billion from the Coronavirus Aid, Relief and Economic Security (CARES) Act, which Trump signed in March, has yet to be appropriated. It's a sticking point for White House officials, and Kudlow pushed for legislators to take action so that money could help people struggling from the economic fallout of the new coronavirus.
"Help the unemployed, help the small businesses, help the airlines, help the kids in COVID-related school openings," Kudlow said. "We want to keep everything open, schools must remain open or they must reopen, businesses must remain open or they must reopen. That's the key."