Will There Be a Second Stimulus Check? Treasury Secretary Hints Another Round of Relief Is Coming
U.S. Treasury Secretary Steve Mnuchin told Americans this week that the Trump administration intends to "seriously look at" adding another round of direct payments to the next potential coronavirus relief package to further stimulate the economy amid the pandemic.
"It's something that we're very seriously considering," Mnuchin said on Thursday, before noting that a final decision about a second round of stimulus checks to taxpayers has not yet been made.
"Before we rush back and spend more money, whether that's a trillion dollars or whether that's more, we want to make sure we're careful in knowing how much more we need to spend."
Although recent data has shown that the coronavirus outbreak's grip on the U.S. economy has slowly loosened in recent weeks as states continue to reopen, Trump administration officials have still indicated their support for more economic relief. However, it is still unclear whether the relief will come in another round of direct payments or an extension to unemployment benefits.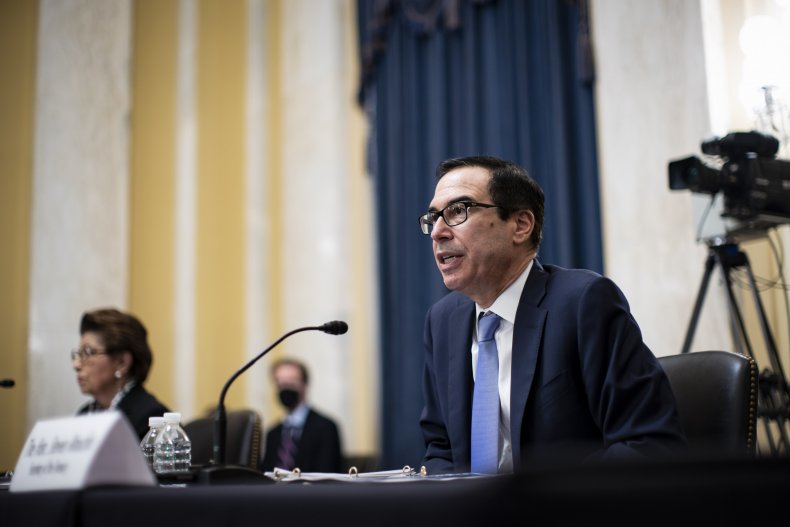 Newsweek reached out to the Treasury Department for comment. This story will be updated with any response.
Mnuchin on Wednesday expressed his belief that another bipartisan legislation to inject more money into the economy is "definitely" necessary. While he has said he's open to another round of stimulus checks, Mnuchin and other Republican lawmakers held the view that further relief should be more targeted than the last.
"I think whatever we do going forward needs to be much more targeted, particularly to the industries and small businesses that are having the most difficulty in reopening as a result of COVID-19," the Treasury Secretary told the Senate Small Business and Entrepreneurship Committee.
He also said that the next package will need to include "money for businesses, to encourage businesses to rehire people—especially in areas that have been most impacted" by the virus.
While another relief package looks likely, Mnuchin advised citizens that the White House doesn't "want to rush into" it and are still discussing how much to spend and how exactly they should allocate funding. "We want to be careful at this point, seeing how the money is in the economy—a lot of the money is still not in it," he said.
The $2 trillion Coronavirus Aid, Relief, and Economic Security Act, also known as the CARES Act, which went into effect late March, has provided more than $200 billion in direct payments to more than 130 million people. Under the bill, individuals who earn under $75,000 annually are eligible to receive $1,200, while married couples with a combined income of under $150,000 received $2,400 in total. Another $500 was allocated to under 17-year-olds.