Will There Be A White Christmas? Snow Forecast For The Holiday Season
First popularized by Bing Crosby's "White Christmas" single in 1942, many residents across the U.S. will be dreaming of a white, snowy Christmas this year––just like the ones they used to know.
A "white Christmas" is defined by the National Weather Service (NWS) as having 1 inch or more of snow on the ground the morning of December 25. Minneapolis, Minnesota, is apparently the lucky city with the highest probability of these snow-blown mornings every year, according to AccuWeather.
In the West and Northern Plains, mostly at high elevations, a 2019 white Christmas is appearing likely, according to AccuWeather. But folks in the East, Southeast and parts of the Midwest shouldn't get their hopes up, meteorologists say.
According to the Weather Channel, a good litmus test for whether a region should get snow next week is whether there's already some on the ground. Of the twenty or so U.S. states with snowfall as of this morning, most of them are expected to get new snow, at least in part, prior to the morning of December 25.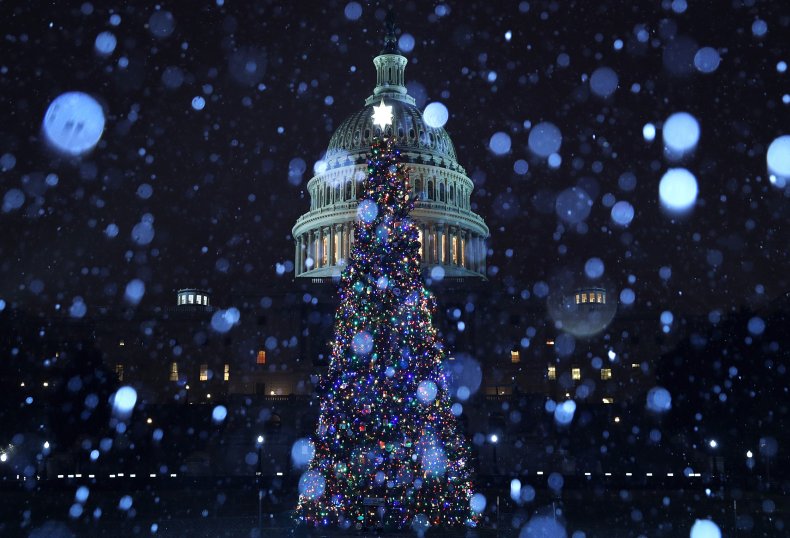 East
While parts of the Eastern Seaboard are usually a strong contender for white Christmases, states as far north as New York state, as far south as Florida and everywhere in between probably won't have cold enough temperatures this season, according to AccuWeather.
"I do not see snow on the ground around the I-95 corridor, especially from New York City on south. Chances for a white Christmas are low," AccuWeather expert Paul Pastelok said in a statement.
It's also a dryer month than usual, according to the National Oceanic and Atmospheric Administration (NOAA). Whereas many Western states are registering 80 percent probability or higher for precipitation the week of December 25, just about every state bordering the Atlantic is looking dry in comparison.
Plains and Midwest
Meteorologists are reporting solid chances for a white Christmas in the northernmost region of the Midwest, according to Accuweather. North Dakota, Minnesota, Wisconsin and Michigan may get brand new snowfall after higher temperatures melt this week's snow in the region.
Elsewhere, like in Ohio and Missouri, there's mixed precipitation probabilities overall and less than a 50 percent chance for fresh snow, according to the NAOO and AccuWeather.
West
States to the west of the Rockies have the best chance for snow next week, according to AccuWeather, especially for areas near Denver, Colorado, the mountains westward and all regions north and east of Salt Lake City, Utah, Pastelok said.
But for folks in lower elevations east of the mountains, across eastern Oregon, southeast Washington and into the Great Basin, chances are lower, he added.