Will Theresa May Resign? Leadership Battle and New General Election Loom as Ministers Quit
British Prime Minister Theresa May's government seems to be crumbling amid the latest Brexit fight to consume the Conservative Party.
In the space of 24 hours, May has lost her Brexit Minister David Davis and Foreign Secretary Boris Johnson, both of whom decided to resign rather than back the prime minister's Brexit blueprint presented at her country residence Chequers on Friday.
There is now speculation that May will face a leadership challenge, possibly from one or both of the two resignees. Though this is not the first time experts have predicted a challenge, May's position looks increasingly untenable.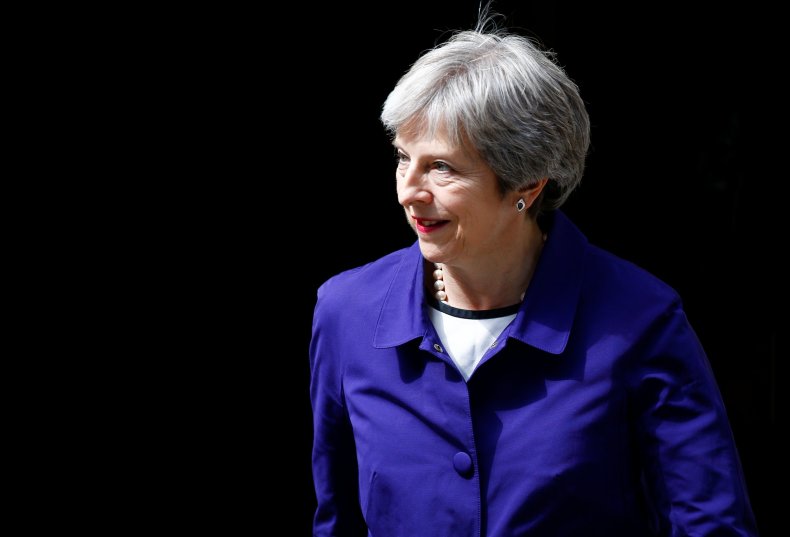 According to veteran British journalist Robert Peston, the "hard" Brexit wing of the Conservative Party has told May to drop the Chequers plan "or pick up the loaded revolver." Peston, however, also spoke to a Downing Street official who said May would contest any election challenging her leadership, meaning "she is not going quietly."
British bookmakers are offering even odds—i.e., a 50-50 chance—on May being ousted from her position at some point this year. According to a YouGov poll released before the sudden resignations, those left in the Conservative Party were already losing faith in May's leadership. Today's cabinet turmoil is unlikely to have improved those figures, and has sent the value of the pound tumbling.
Several pro-Brexit MPs have rallied around Davis and Johnson, describing their resignations as brave and principled. This morning, pro-Brexit figures were already saying May would struggle to get her plan across the line without Davis's support. Having lost Johnson too, the prime minister faces a tough fight to convince remaining Tories to stick with her.
Robin Niblett, the director of British think tank Chatham House, believes both Davis and Johnson are maneuvering for an eventual leadership challenge, though perhaps not as soon as some commentators believe.
Read more: Will Theresa May still be prime pinister when Donald Trump visits?
"The two seem to be in a battle as to who can carry the flag of the Brexiteer base of the Conservative Party," he told Newsweek. "They're positioning themselves for the leadership contest that, in my opinion, is likely to follow Theresa May's next period of agony, which is trying to negotiate this tortuous deal" with the other 27 European Union member states.
The timing of the resignations is no coincidence, Nibblet suggested. Davis beat Johnson to the punch, getting himself "ahead of [Johnson] as the person who speaks his mind and can be true to his conscience." If Johnson is positioning himself for leadership, "he cannot be there defending a deal that David Davis can't defend," Niblett said.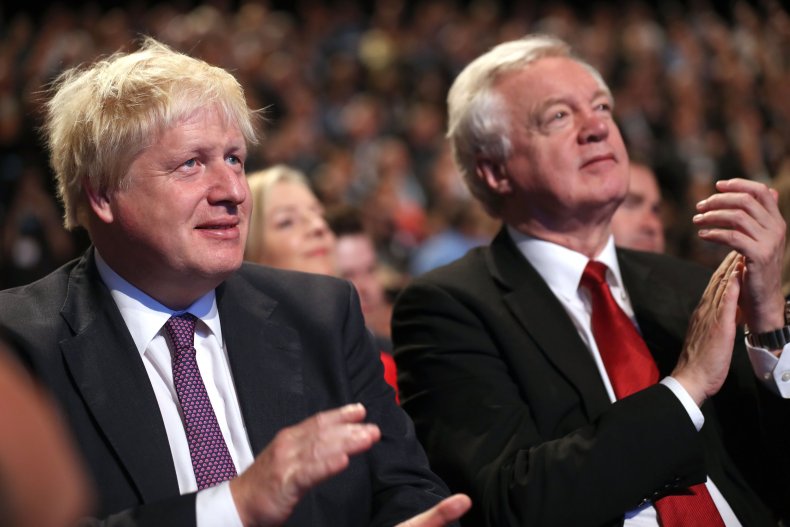 The main obstacle to an immediate leadership battle is the Tories fear of what it may produce. "My reading of this is not that it's the prelude to a leadership contest in the next couple of weeks, because I don't think the Conservative Party wants to go there," Nibblet suggested.
Opposition parties smell blood, and a collapsing May administration could open the door to a Labour Party government. Deputy Labour leader Tom Watson has branded the day's events as "complete and utter chaos," while leader Jeremy Corbyn has said that May "has no authority left and is incapable of delivering Brexit."
A no-confidence vote in the prime minister will be triggered if 15 percent of Conservative MPs—48 of the party's 316—submit letters of no confidence to the chair of the 1922 Committee Conservative parliamentary group. It is unclear how many letters have been submitted so far, with estimates varying from 25 to more than 40.