Will Tiger Ever Win Again? Woods 'Not Far' From Winning Despite Players Championship Disappointment
The Players Championship might have ended in disappointment for Tiger Woods, but the 14-time major winner believes he is close to finally winning a tournament again.
Woods shot 69 on Sunday but a bogey at the 14th and a double-bogey at the 17th derailed any chances of his success as he finished tied for 11th, seven shots behind winner Webb Simpson.
"If I had played the last five holes in four or five under par I might have had a chance," Woods told reporters after the final round, as reported by Golf.com. "I hit good shots all day long. I didn't play particularly well in the first couple of days but I turned it around this weekend and I got it rolling."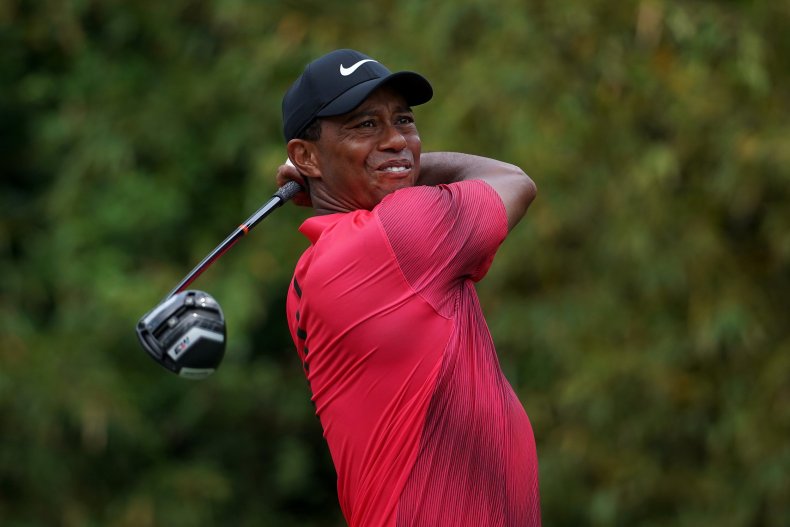 The 42-year-old has now finished in the top 15 in four of his last six starts in a PGA tournament and moved up to 80th in the world rankings, having begun the week in 92nd place. It is a remarkable turnaround for the California native, who had fallen to No. 1,199 in the world before making his comeback in December after spending six months out of the game following his back surgery last year .
"There is no way I would have predicted I would be at this point at the beginning of the year," said Woods. "The way I was coming back into it, I was just trying to get a feel for it and hopefully have a schedule. But now I'm playing tournament golf and I'm not far from winning golf tournaments."
Woods began the day tied for eight, 11 strokes behind Simpson, before working his way through the pack, as he birdied the second, third, fourth and ninth hole. Consecutive birdies at the 11th and 12th followed to bring him within four strokes of Simpson, tied for second at 14 under.
However, his momentum stalled after he bogeyed the par-4 14th and then hit a double-bogey at the par-3 17th, although he maintained he did not mishit either shot.
After the final round, Woods revealed he would like to qualify for the WGC-Bridgestone Invitational in August but he would have to either win a tournament or be ranked among the top 50 in the world to qualify.
Jordan Spieth, who finished tied for 41st at six under par, believes Woods will soon break his trophy drought, which dates back to August 2013 when he won the Bridgestone Invitational.
"He'll win sometime soon enough," Spieth was quoted as saying by ESPN. "He's certainly playing well enough to do so. All in all, I think he played like a 5- or 6-under round, almost shot 7 or 8 and ended up with 3.
"So his game, if I compare it to other guys that are winning golf tournaments that I'm playing with day to day, it's right up there."