Will Tiger Woods Ever Play Pro Golf Again After Tuesday's Crash?
Tiger Woods wouldn't say Sunday if he would be ready to play the 2021 Masters Tournament this April because of his recovery from a recent back surgery. After his brutal SUV wreck Tuesday morning in California, compound leg fractures pretty much guarantee he won't be walking the hallowed grounds in Augusta.
It also means he will likely need an entire year to recover and rehab his multiple leg injuries sustained in the high-speed, single-car, rollover crash in Ranch Palos Verdes.
Woods has two compound fractures and a shattered ankle, the Los Angeles Times reported Tuesday evening.
Recovering from horrific leg injuries is nothing new for athletes. The most recent example, and best by far, is the gruesome compound fracture in the leg of NFL quarterback Alex Smith. As quarterback of Washington in 2018, Smith broke both his tibia and fibula in his right leg. He needed 16 surgeries to fully repair his leg, and he had other life-threatening infections that followed the surgeries.
Many thought Smith would never return to the football field, but he proved all doubters wrong when he returned late in the 2020 season. He easily won the NFL Comeback Player of the Year in what was surely a landslide win among voters.
Donovan McNabb had three season-ending injuries, but the NFL quarterback returned each time. Tom Brady had a season-ending knee injury in 2008, but he returned—and he wound up doing ok. Earlier this month, he won his seventh Super Bowl title.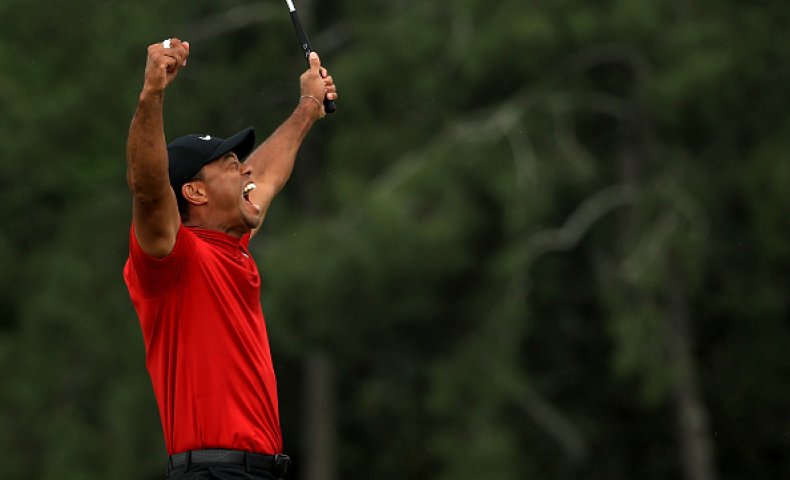 Tiger Woods is different, though. First, he's always been very selective on which tournaments he would play. He often took off time from tournaments to prepare for the four majors: The Masters, U.S. Open, British Open and PGA Championship.
Second, he was already having trouble standing for long periods of time at the Genesis Invitational last weekend, which he co-hosted in Pacific Palisades, California. The PGA does not allow either the golfers nor caddies on tour to ride in golf carts during play—meaning the golfer must walk 18 holes for at least two days, four days if they make the weekend cut. Then, he would need good, strong legs to help with his swing. Compound fractures in legs make that even more difficult.
Third, he's 45-years-old. Recovery gets harder at an older age. He's had recurring back problems and a recent fifth surgery in December. His car crash adds more medical attention to his body, and new parts to rehab. If he makes it back, he'll likely be 46 at the youngest
Jack Nicklaus won his 18th, and final, major at age 46 at the Masters. That means catching Jack's majors record is almost all but impossible.
If there's a fourth, it's Tiger's brand. He will make enough money from golf for the rest of his life, even if he never swings another club again.
Former President Donald Trump appeared on Fox News later Tuesday to tout his friendship with Woods, and the 45th president said Tiger will be back on the links.
"He'll be back. You watch, he'll be there," Trump said Tuesday. "When he's in contention, the ratings double and triple ... He doesn't even have to be leading. He can be near the lead and TV ratings will be better than they were the year before."
Does that translate to Woods actually getting back into full rehab mode to get his back and legs in shape for more professional golf? That's a lot of work, even for an athlete like Tiger.
Woods will show resilience and get back onto the course. It won't be this year, but it'll be in the next year or so. He's done it before. After a series of surgeries, he won the 2019 Masters after an 11-year drought in Augusta.
Woods will want to show all golfing fans his toughness, even though he doesn't need to. If he walked away from the sport right now, he'll be considered one of the greatest to ever play the game. When he's at his best, he can make the others look like amateurs.
He will never be at his best again, though. Will he be on the major stage again? Doubtful.
Will he walk away from the game? Likely. But his imprint on golf will be there for eternity.