Will Today's Elections in Ukraine Be Free and Fair?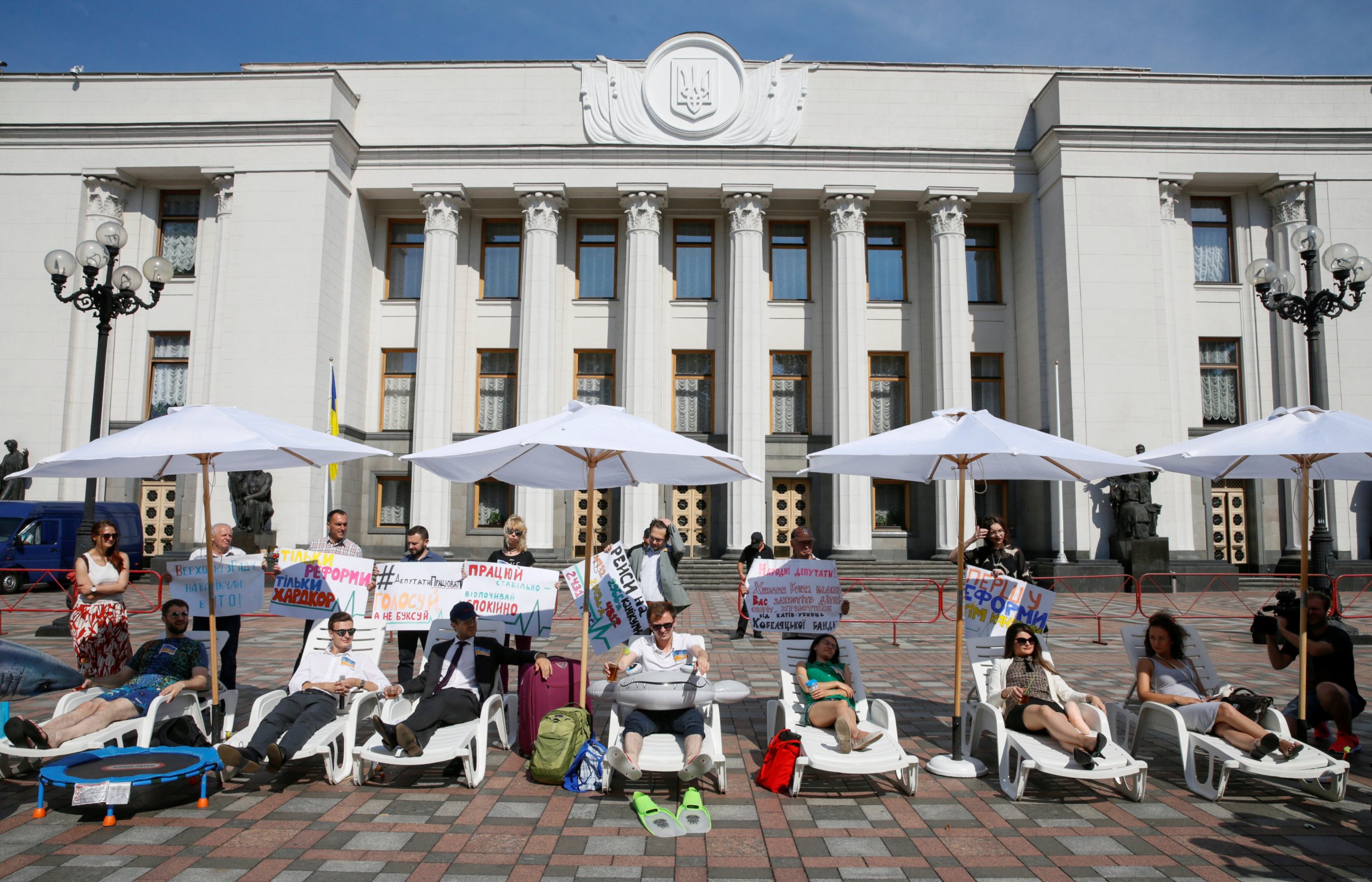 This article first appeared on the Atlantic Council site.
Today, Sunday, July 17, voters in seven electoral districts in Ukraine will head to the polls to select their representatives for the Verkhovna Rada, Ukraine's parliament.
This special election is set to fill vacancies, some due to ministerial appointments and elections to other offices, and in one case due to the death of an incumbent. The seven districts are spread across the length of Ukraine, representing all four regions of the country.
As such, these elections may serve as a bellwether for reform. Will corruption and fraud, which has been an enduring characteristic of elections since Ukraine's independence in 1991, dictate the outcome?
Or will the government of Prime Minister Volodymyr Groisman curb the abuses to allow for fair and transparent results, and in doing so demonstrate a commitment to political reform?
Ukrainians view the Rada as the least-trusted institution in the country, according to a 2015 survey by the Kiev International Institute of Sociology. Even today, two and a half years after the 2013 to 2014 Euromaidan revolution and the fall of the Viktor Yanukovych regime, the Rada is still filled with many wealthy businessmen-cum-politicians who shape legislation and use their positions to advance their personal financial interests.
It should be no surprise that the competition for these lucrative legislative positions that come with immunity is often characterized by fraud and corruption.
Election corruption in Ukraine takes many forms. In the past, the Central Election Commission has hindered or denied candidates from registering to favor contenders from the ruling party.
Additionally, parties often will flood the ballot with options: The ballot for the July 2015 special election in Chernihiv Oblast had more than 91 candidates, many of whom had identical or similar surnames to confuse voters and siphon off votes from an opponent.
This practice continues today: As of June 15, there were 59 registered candidates for a seat in Luhansk Oblast, eight of whom had the same surname and place of residence.
Ballot stuffing, carousel voting, flawed ballots and bribery are also common. During the October 2015 mayoral elections in Odessa, one candidate handed out sacks of potatoes to potential voters in a form of vote buying known in Ukraine as "buckwheat."
Media manipulation by incumbents unduly influences constituencies, while threats of violence keep voters away in contentious districts. These and other corrupt practices only serve to reinforce the control that oligarchs have over Ukraine and undermine the opportunity provided by the Euromaidan revolution for reform.
There is hope, however, that the upcoming special elections will be different. In June, the new government under Groisman published an ambitious reform plan that provides well-defined and practical strategic priorities, including establishing macroeconomic stabilization, ensuring security for citizens and the nation, delivering quality public services and strengthening the rule of law and anticorruption efforts.
On July 5, the Rada voted to allow for the detention, arrest and prosecution of parliamentarian Oleksandr Onyshchenko. Onyshchenko is accused of misappropriating $64 million from the state energy company PAT Ukrhazvydobuvannya, suggesting the new administration may be serious about punishing corruption within the government.
Additionally, Groisman and the Rada are aware that this month the IMF is set to review whether Ukraine has shown strong enough progress on reforms to allow a $17.5 billion aid program to move forward.
But other considerations suggest the July special elections could see more fraud. First, three laws were passed in the spring which lessen accountability, reduce transparency and increase the potential for corruption.
The first defers the implementation date when elected representatives and government officials become criminally liable for submitting false financial information to the new National Agency for Prevention of Corruption.
The second permits party officials to identify after an election which members from the party list will actually fill seats in the Rada, which means that winning candidates selected by voters may not actually make it into parliament.
The third makes it possible to oust deputies from party lists when they leave their party faction in the parliament.
Finally, as these July special elections are only for seven seats rather than the full parliament, less international attention will be paid to them, reducing external pressure on the government to ensure they are conducted properly.
Groisman and the Rada have an opportunity to demonstrate a clear commitment to reform by ensuring the July elections are free, fair and transparent. The United States and the European Union should see the July elections not as an insignificant out-of-cycle event, but as a milestone in a program of genuine reform and should make clear that further assistance will depend on the conduct of these elections.
Michael McCarthy is a retired senior military officer and a consultant specializing in Eurasian affairs.