Will Trillion-Dollar Amazon, Jeff Bezos Become Public Enemy Like Walmart?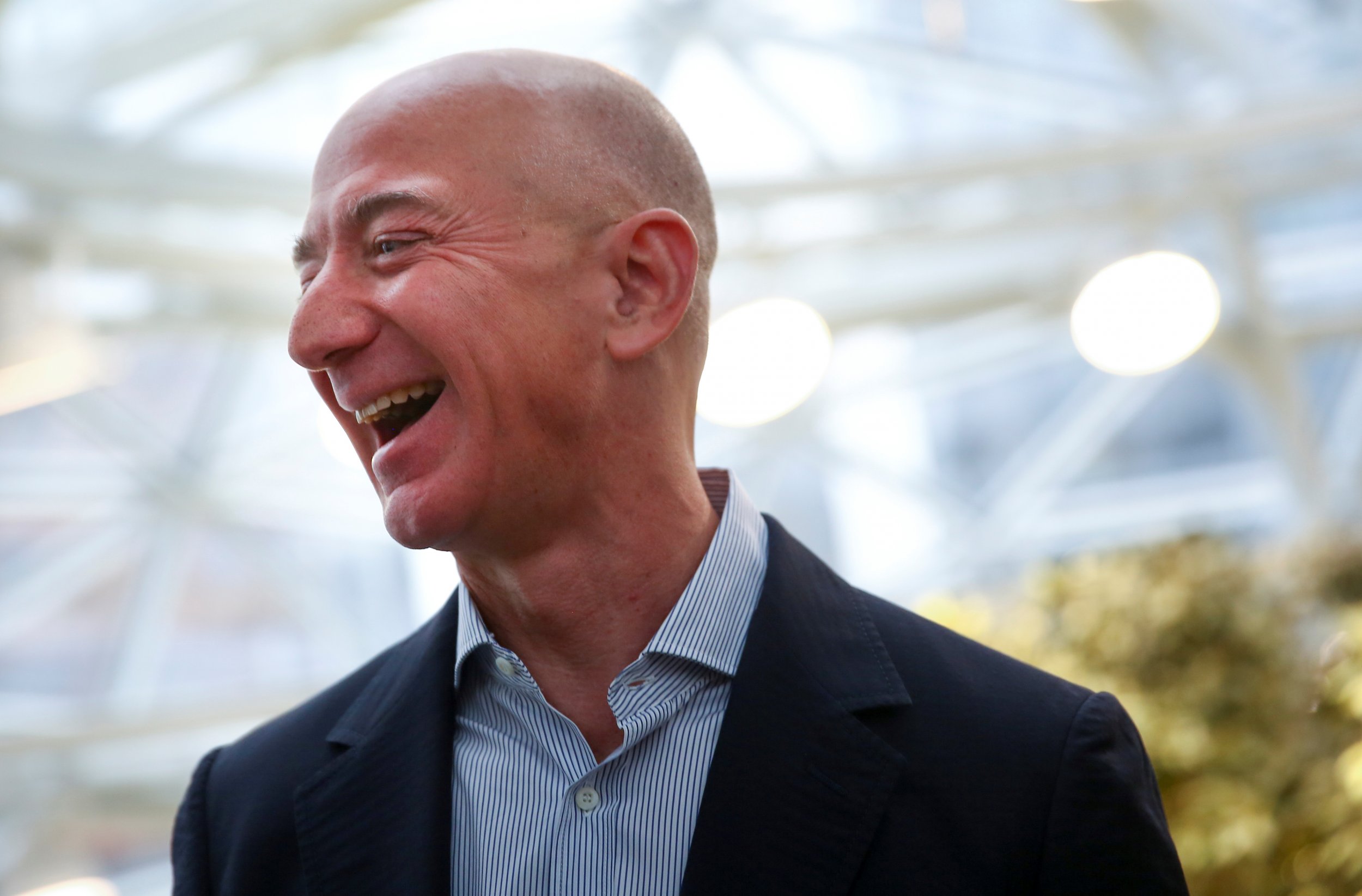 So, Amazon really did get big, fast. Founded in 1994 by Jeff Bezos, Amazon reached a trillion-dollar market cap much quicker than Apple did, accounting for almost half of all online retail spending in the country. The company's burgeoning value and girth has raised an important question: Will Amazon and Jeff Bezos become the new Walmart, retail public-enemy No. 1 because of the mega-retailer's reach and effect on small businesses?
You remember Walmart. The company that communities and small businesses once loved to hate is still the world's largest company according to revenue and the largest employer, even if Amazon is valued at a trillion dollars by Wall Street. But it wasn't so long ago when small towns, and even a big city like New York, fought hard to keep Walmart out.
Walmart doesn't get the ink it once did when communities across the country fought to keep the behemoth retailer out on the grounds that it killed small businesses and hurt the civic foundation. Most recent Walmart stories are about how the company is trying to keep pace with fast-growing Amazon in e-commerce.
But in this milestone year for Amazon, when it became only the second company to reach the trillion-dollar market cap, and in record time, a new if not unprecedented public attack against its business has emerged, including from the president of the United States.
President Donald Trump is not a fan of Amazon or Bezos. He's made the company and its founder publicly declared enemies, using tweets to accuse Amazon of misdeeds and its founder of liberal bias (Bezos owns The Washington Post, a frequent target of Trump's ire ). But the nation at large hasn't gotten onboard the president's anti-Amazon campaign, or not to the extent it did in the rally against Walmart.
For instance, when Amazon announced it was looking for another city in which to build a second headquarters, practically every U.S. city with more than 1 million residents in the metro area aggressively applied. And states react the same way when Amazon announces new distribution centers, offering generous tax incentives despite the fact that the company did not pay sales tax in many states for two decades, reported Forbes.
Still, Trump has been adamant in his disapproval of Amazon's tactics.
"I have stated my concerns with Amazon long before the Election," President Trump tweeted this year. "Unlike others, they pay little or no taxes to state & local governments, use our Postal System as their Delivery Boy (causing tremendous loss to the U.S.), and are putting many thousands of retailers out of business!"
Amazon does pay sales tax in most states now, but small-business retailers throughout the country are suffering, reported The Washington Post, largely because of a shift toward e-commerce. Amazon controls 49 cents of every e-commerce dollar spent in the U.S., and some observers believe there's a lot more room to grow because of the company's commitment to experimentation, using drone deliveries, for example, and launching new ventures.
Walmart likely endured more direct community protests when it expanded in the 1990s and 2000s because its brick-and-mortar stores were more visible and tangible in cities and towns. Amazon, on the other hand, was quietly shipping packages directly to consumers' doors. Also, Amazon personalized customer relationships in a new-age-y way since it began, remembering what shoppers like and making recommendations tied to their interests on its web pages.
It was all part of Bezos's vision, something he learned from Richard Howorth, the owner of Square Books, a popular independent bookstore in Oxford, Mississippi. The year was 1994 (the same year Amazon was founded) when Howorth was teaching classes in Portland, Oregon, for the American Bookseller's Association and Jeff Bezos attended quietly as a student. Bezos was unknown to Howorth—just someone who had signed up for the ABA's bookselling classes. He hadn't yet founded Amazon but was searching for ideas in shaping his tech venture.
Howorth taught the virtues of customer service, explaining how he catered to customers according to their needs. Howorth explained, with Bezos listening intently, how he had washed the car of one customer after dirt from a potted plant on the store's balcony fell onto her car.
"So Howorth offered to wash her car for her," explained Richard L. Brandt, the author of One Click: Jeff Bezos and the Rise of Amazon.com. "They climbed into her car and drove to a service station with a car wash. But the service station was closed for repairs. She became more irate. Howorth then suggested they drive to his house, where he collected a bucket, soap and a hose and washed the car himself."
Some 40 to 50 aspiring booksellers were in the class that day, listening to Howorth's lessons on customer service. Some opened new independent bookstores. Some did not. Jeff Bezos started Amazon.com, believing books made a good fit since they had ISBN numbers that worked well for a technology-based retailer—it's easy to warehouse coded items—and believing that serving and knowing the customer was important.
For many years, Amazon drew the ire of independent booksellers like Howorth, who said it was unfair that the e-tailer didn't pay sales tax while they did. Many of the stronger independent bookstores, like Square Books, survived and continue to thrive. But as Amazon added household goods, electronics and groceries, it absorbed dollars from practically every retailer in America, big and small.
For its part, Amazon maintains that it helps U.S. small businesses, rather than hurt them. The company produced its "Small Business Impact Report" this year, arguing that because small businesses can sell on its platform, "millions of small and medium-sized businesses from around the world sell on Amazon" and that "half of all items purchased on Amazon come from these businesses."
Public sentiment is not completely with Amazon's program. In a survey of American millionaires after Trump's attacks on the mega-e-tailer, a majority of Republicans agreed with the president and said they did not believe Amazon helped the U.S. Postal Service, while a majority of Democrats said the e-commerce giant had helped the Postal Service. One political expert said the president's tweets had likely given respondents "political cueing" that influenced their reaction.
"What you're probably finding is when you have a complex question that people don't have an opinion on, if they can cue on a political party, they will," Joshua Tucker, a professor of politics at New York University, told CNBC.
But it's safe to say that Amazon, reaching the $1 trillion mark, has plenty of room to grow.
"It says a lot about Amazon and its ever-increasing dominance of segments of the retailing world, as well as the web-services business," said Peter Tuz, president of Chase Investment Counsel in Charlottesville, Virginia, reported Reuters. "They have a tiny share of the worldwide retail sales market, so there's a lot left to capture there."
How Amazon will be publicly received now that it's one of the world's most valuable companies, and getting bigger every day, remains a question. The president, for one, isn't likely to back down any time soon in his campaign against either Amazon or Bezos.
"Is Fake News Washington Post being used as a lobbyist weapon against Congress to keep Politicians from looking into Amazon no-tax monopoly?" Trump once tweeted.
Perhaps only time will tell what impact such attacks, combined with Amazon's growing girth and impact, will have on the public.
David Magee is a contributing editor and the author of a dozen books, including How Toyota Became #1 (Penguin Putnam).