Will Trump Fire Tom Price? President Upset by Health Secretary's Private Flights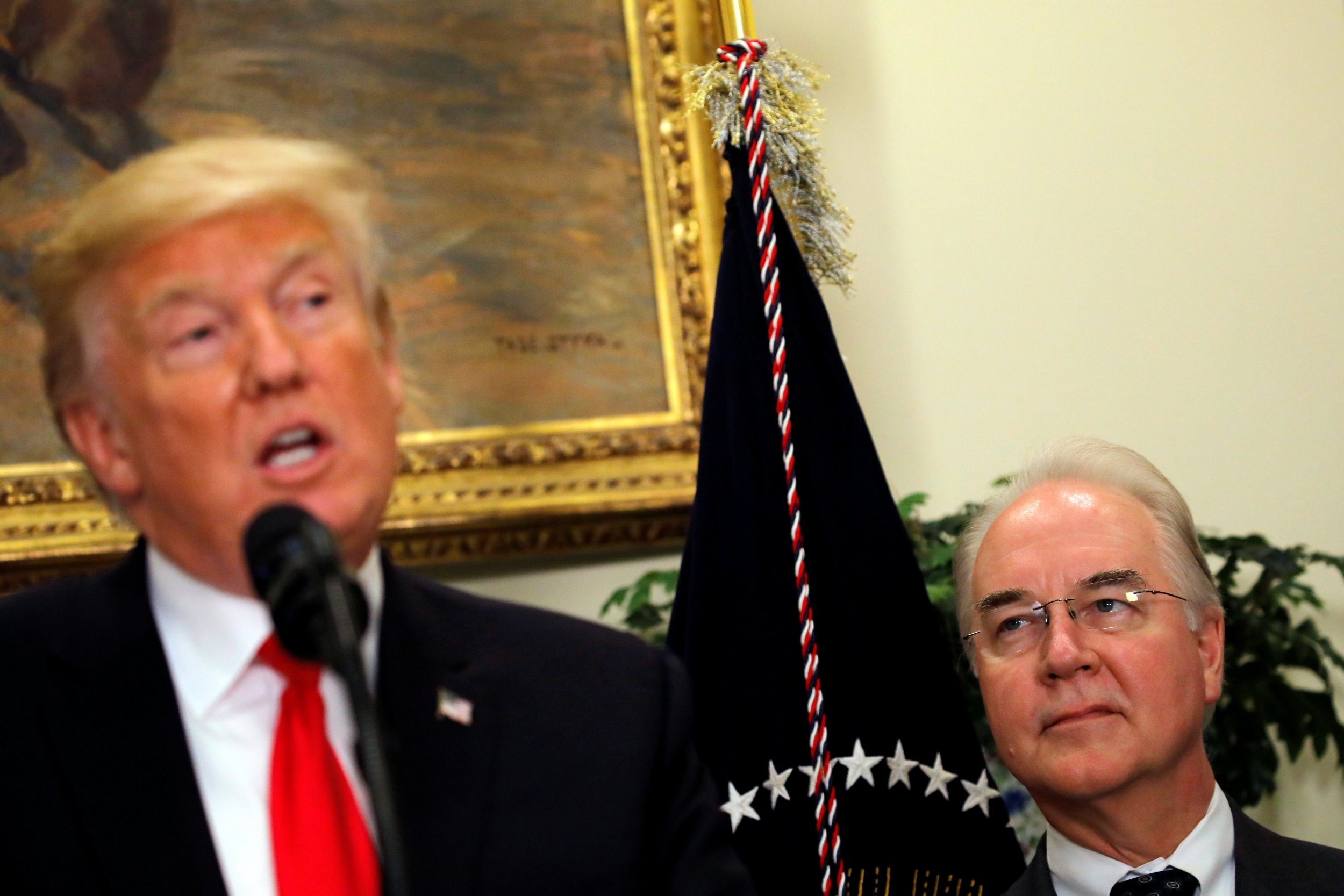 During a wild and widely panned speech at the Boy Scout Jamboree in July, President Donald Trump famously threatened, tongue in cheek, to fire Tom Price if he did not help get Obamacare repealed and replaced.
While Republican efforts to fulfill one of the president's key campaign promises have fizzled several times this year, Trump may have found another reason to get rid of his secretary of Health and Human Services: private flights on the government's dime.
"I was looking into it, and I will look into it. And I will tell you personally, I'm not happy about it," Trump told pool reporters Wednesday afternoon when asked if he would dismiss the former Georgia congressman.
Trump added: "I am not happy about it. I'm going to look at it. I am not happy about it, and I let him know it."
Earlier this month, it was disclosed that Price had repeatedly taken private flights while conducting government business, even though his predecessors had often taken commercial flights, according to Politico.
The news outlet found that since at least May, Price had racked up more than $400,000 in costs for 26 private flights, a total that includes $56,500 for trips just last week, all at the expense of taxpayers.
Price has since defended the trips, stating that some were in response to the hurricanes that have hit the U.S. mainland. But there were also pit stops at properties owned by Price, and even a lunch with his son.
The accusations of misusing taxpayer funds for private flights come after Treasury Secretary Steve Mnuchin and his wife faced similar criticism earlier this month. After speaking at an event with Republican Senate Majority Leader Mitch McConnell in Tennessee, the Mnuchins toured Fort Knox and later watched the solar eclipse after traveling on government planes.
Trump's displeasure with Price could also stem from the GOP's failed attempts to replace Obamacare. Senate Republicans announced Tuesday they were again backing away from a vote to repeal the Affordable Care Act.
"We haven't given up on changing the American health care system," McConnell said Tuesday. "We are not going to be able to do that this week, but it still lies ahead of us, and we haven't given up on that."
Much like he did with immigration, Trump reportedly told lawmakers he would work with Democrats if the GOP could not get health care reform accomplished, according to Reuters.