Will Trump Get U.S. Into A War? Majority of Americans Think So, Poll Finds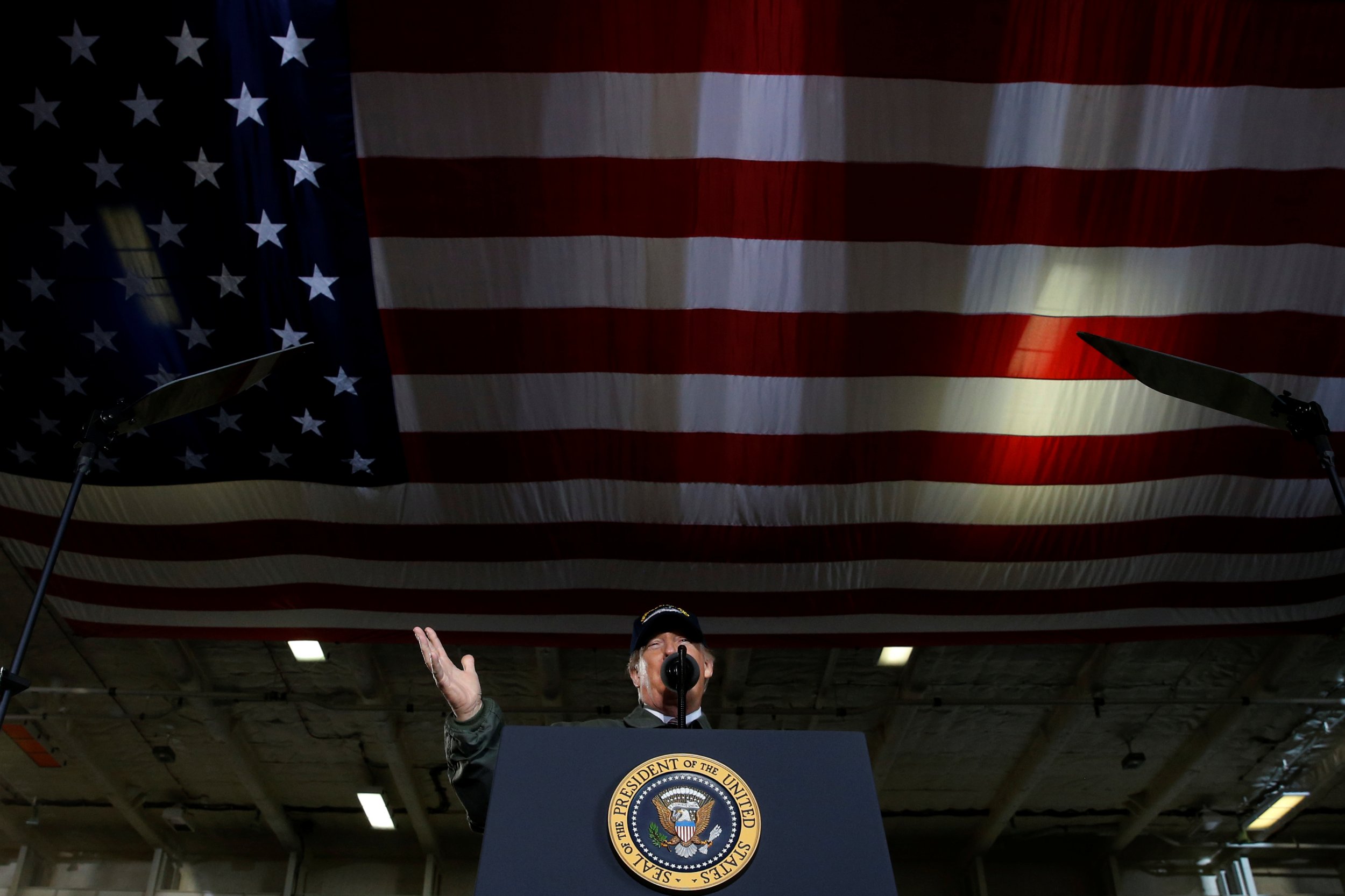 On the campaign trail, President Donald Trump touted an anti-interventionist vision for military policy. About four months into his presidency, most Americans think it's likely he's going to get the country mixed up in a war.
A new poll this week from The Economist/YouGov found that 55 percent of U.S. adults thought it was at least fairly likely Trump "will get us into a war." Just 27 percent thought it was at least fairly unlikely.
The survey gave respondents five answers to choose from—very likely, fairly likely, fairly unlikely, very unlikely and not sure—for the question: "How likely do you think it is that Donald Trump will get us into a war?"
Twenty-six percent thought it was very likely, 29 percent fairly likely, 17 percent fairly unlikely, 10 percent very unlikely and 18 percent not sure. The survey from The Economist/YouGov sampled 1,500 adults from May 27 through May 30. It had a margin of error of plus or minus 3.1 percentage points.
Trump himself has hinted at conflict regarding North Korea. Its dictatorial leader Kim Jong Un has ramped up its weapons testing and threatening rhetoric toward the U.S.
"There is a chance that we could end up having a major, major conflict with North Korea. Absolutely," Trump told Reuters in the Oval Office in April. "We'd love to solve things diplomatically but it's very difficult."
Trump also ordered an airstrike on a Syrian base after it was revealed the regime carried out an apparent chemical weapons attack.
But Americans have apparently long doubted Trump's ability to avoid war—polls from The Economist/YouGov during the early days of Trump's presidency also found a majority of Americans thought it was at least fairly likely he would get the U.S. into a war.
On the campaign trail he talked about keeping the U.S. out of conflicts that weren't necessary, saying the U.S. should focus on defeating the so-called Islamic State militant group otherwise known as ISIS.
"We will stop racing to topple foreign regimes that we know nothing about, that we shouldn't be involved with," Trump said in December.