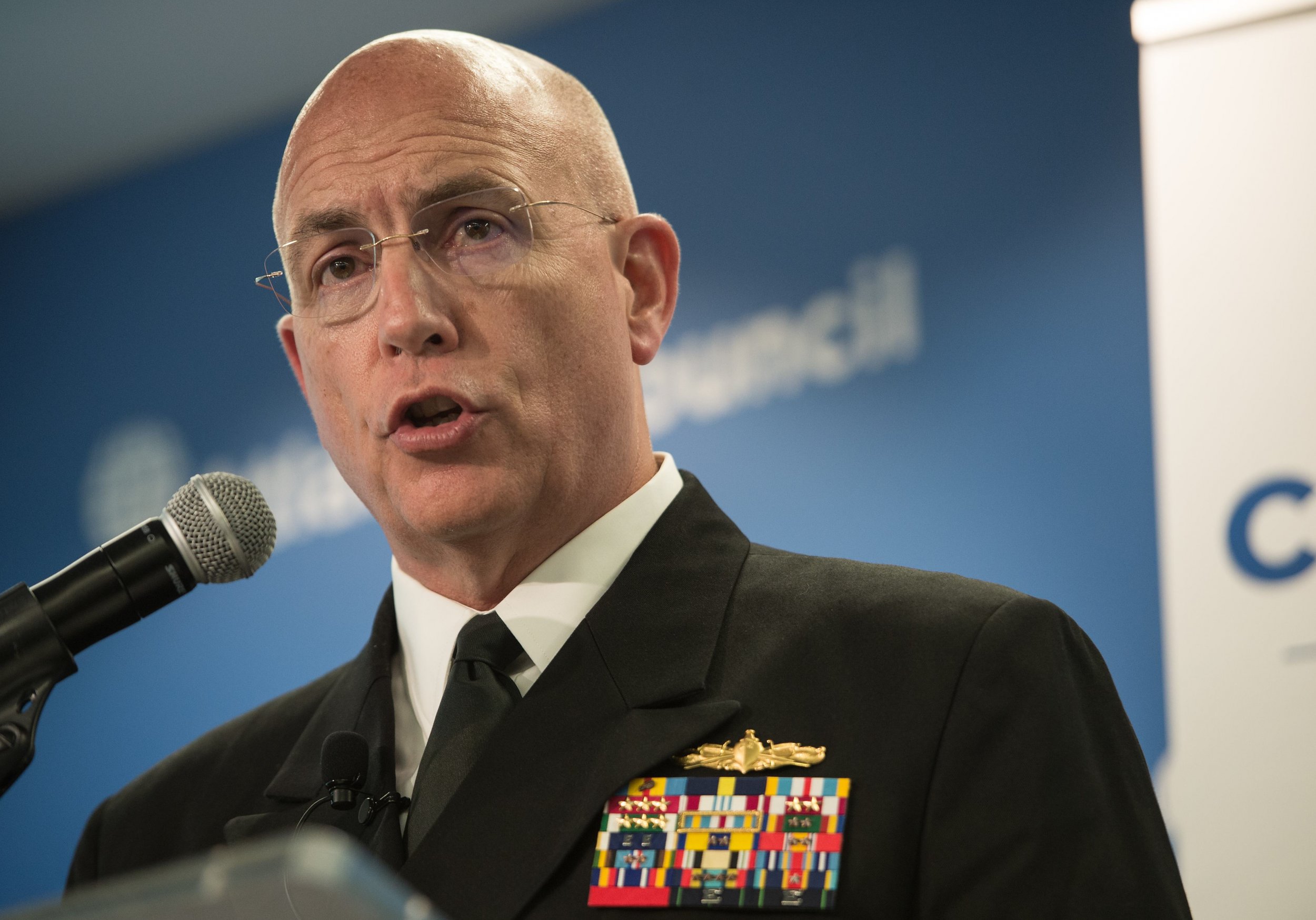 Caracas on Monday accused Bogotá of leading a "bombing campaign," or military efforts to invade Venezuela, following a visit from U.S. Admiral Kurt Tidd, head of the U.S. Southern Command, to Colombia's coastal city of Tumaco last weekend.
"In Colombia, they are planning to revive eras that had ended in human history, like military bombing, a military invasion or the occupation, through blood and gunfire, of a peaceful country like Venezuela," said Tarek William Saab, Venezuela's chief prosecutor, according to the state-run AVN news agency. "We will not allow it."
In an apparent reference to President Donald Trump's comment last year that he would not rule out a "military option" to Venezuela's crisis, Saab said during a speech in the state of Anzoategui, "What did the people of Venezuela do to deserve to be bombed, like the president of the United States threatened?"
Even though Saab did not provide evidence of his allegations, other regional leaders stressed that Tidd's trip to Bogotá could have triggered Venezuela's reaction, The Miami Herald reported. On Twitter, Bolivian President Evo Morales, an ally of Venezuelan President Nicolás Maduro, deemed the admiral's visit "suspicious."
"Any imperialist military threat against our sister Venezuela, and our region, will be undone by the dignity, sovereignty and unity of our democratic countries," he wrote.
Tidd met with Colombian Vice President Oscar Naranjo in Tumaco on Saturday, the Herald reported. According to Naranjo's office, the purpose of the visit was to review bilateral initiatives to halt illicit drug trade from Colombia's Pacific shores. In response to Venezuela's accusations, Colombian General Alberto Mejía said "his hands are too busy" to worry about Caracas's allegations.
"We have so many problems in our own country, and that's what we are solely dedicated to and focused on," Mejía told the press. "We're only interested in the problems of the Colombian people."
Some experts indicated that U.S. military visits to Colombia are part of a longstanding relationship between the two countries. "The regime is desperate to portray themselves as the victim," said Eric Farnsworth, vice president of the Council of the Americas, a New York-based business organization that addresses affairs in the Western Hemisphere. "During a moment of economic peril in Venezuela, this is very convenient for [the Maduro regime] to try to find a foil in a visit of a U.S. military leader in Colombia," he told Newsweek.
Previously, Colombia's joint military efforts with the U.S. had prompted a backlash from neighboring countries. In 2009, the Alvaro Uribe administration announced that it would allow the U.S. military to use air bases on Colombian soil in order to track drug dealers and guerrilla rebels. As a result, left-leaning countries urged the multilateral organization Union of South American Nations to reject U.S. military presence. In August 2010, the Colombian Constitutional Court overruled the military cooperation, calling it "unconstitutional."
Recent rhetoric from the Trump administration has stoked fears of a possible military solution to the crisis. Earlier this month, Secretary of State Rex Tillerson suggested that Venezuelan armed forces could choose to overthrow Maduro. The U.S. official's call to impose more sanctions on Caracas, including a possible oil embargo, received mixed support from the Latin American countries he visited last week.
"I think the White House understands that a military intervention in Venezuela will be rejected across Latin America," Geoff Ramsey, assistant director for Venezuela program at research organization Washington Office on Latin America, told Newsweek. "At the same time, the threat itself needs to be taken seriously because it can worsen a humanitarian crisis."
The new tensions come amid Venezuela's worsening humanitarian crisis; nearly 500,000 Venezuelans have moved to Colombia in search of food and medicine as of the end of 2017. According to the Wall Street Journal, the massive exodus is similar to the 600,000 Syrian refugees in Germany and the 700,000 Rohingya who fled to Bangladesh from Myanmar. The Venezuelan crisis has also spilled to other nations such as Brazil and Guyana, which have tightened border controls in recent weeks.
"There have been discussions to help Venezuelans living in Colombia through humanitarian relief effort," Farnsworth said. "Venezuelans are the real victims of the regime, not the U.S. or Colombian governments...but the [Maduro regime] will continue to find external enemies to rally their citizens."
When asked about what the U.S.'s role should be in the crisis, Ramsey warned that there is no clear answer, "but the main solution for the U.S. lies in working closely with allies in Latin America" such as the Lima Group—a cohort of 14 nations including Canada that seek to help restore democratic stability in Venezuela—as well as the European Union.
"Ultimately, we need to see coordinated diplomatic pressure rather than one-sided unilateral, aggressive cowboy-like threats," Ramsey concluded.