Will Trump and North Korea's Kim Jong Un Make Peace? History Says No, Photos Say Maybe
North Korean supreme leader Kim Jong Un's New Year's offer to talk peace with his U.S.-backed southern rival has already broken inter-Korean and international precedents, but history shows that efforts to solve the decades-long conflict and mounting nuclear crisis have sometimes fallen apart when they appeared most likely to succeed.
Last year, Kim Jong Un brought his country into uncharted territory when he oversaw the successful launched of intercontinental ballistic missiles (ICBMs) capable of reaching the U.S. mainland, as well as a powerful hydrogen bomb test. Following arduous behind-the-scenes talks, South Korean officials relayed a personal invitation from the young supreme leader to Trump, who was set to become the nation's first sitting president to meet a North Korean ruler.
This overture was accompanied by South Korean claims that Kim Jong Un had agreed to put denuclearization on the table. Kim Jong Un took things a step further Friday by announcing an immediate freeze to nuclear tests, missile launches and the shuttering of the Punggye-ri Nuclear Test Site "to ensure the transparency of the suspension of the nuclear test."
In the same speech, Kim Jong Un then reiterated his support for "global nuclear disarmament." Nevertheless, the North Korean leader makes no mention of his own country's denuclearization, raising fears that he and Trump may end up playing the same geopolitical games as their predecessors.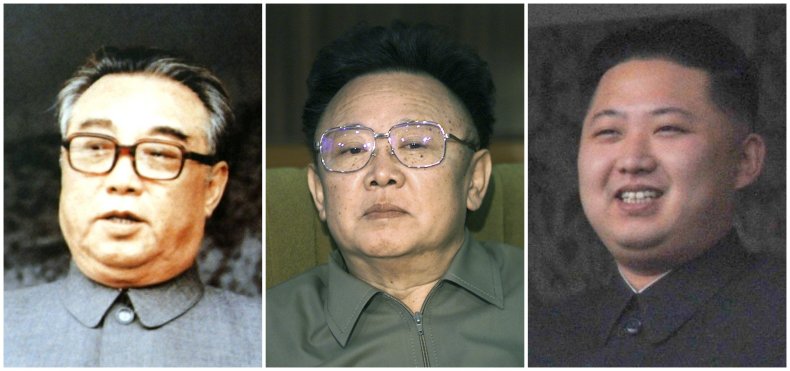 Kim Jong Il, the young leader's father, "played all the great leaders," Sung-Yoon Lee, a Korean studies professor at Tufts University's Fletcher School, told CNBC this week. "Kim Jong Un is simply stealing pages from his daddy's book," he added.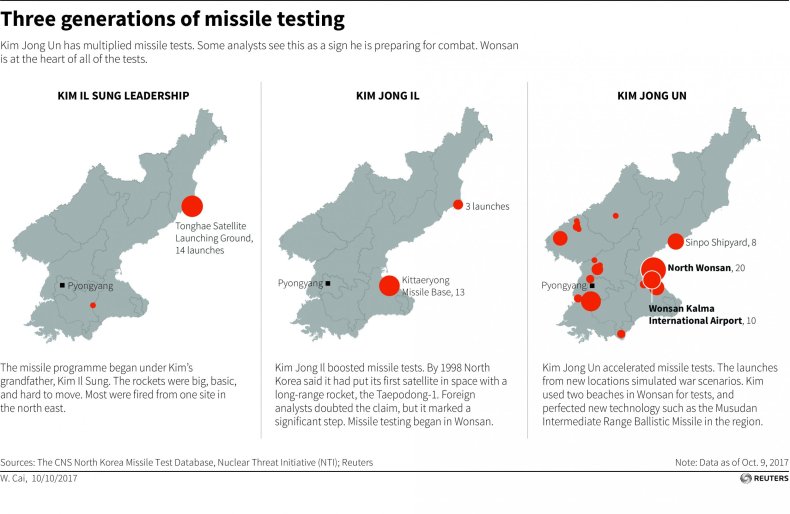 North Korea has previously hinted it would be willing to give up its nuclear weapons—but at a cost. North Korea argues its nuclear weapons program was designed for defensive purposes, a point Kim Jong Un also highlighted in his speech Friday. The program was conceived under the country's founder and Kim Jong Un's grandfather, Kim Il Sung, around the time of the Sino-Soviet split in the late 1950s and early 1960s. As the Soviet Union and China fell out, North Korea invested in its own weapons of mass destruction to deter a potential U.S. invasion.
North Korea became a party to the Non-proliferation of Nuclear Weapons Treaty in 1985, but the International Atomic Energy Agency (IAEA) became increasingly critical as it reported inconsistencies in the reports and the U.N. Security Council became involved. On June 13, 1994, Kim Il Sung withdrew from the IAEA and, less than a month later, he died.
His son, Kim Jong Il, inherited the nuclear program and the international crisis that accompanied it. The U.S. and North Korea established the Agreed Framework in October 1994, through which administration of President Bill Clinton committed to providing heavy oil and light-water reactors to North Korea in exchange for a nuclear freeze. In 1996, the U.S., North Korea, South Korea and China sat down for the Four-Party Talks.
Related: U.S., Russia and China Respond As North Korea's Kim Jong Un Freezes Nuclear Tests
Diplomacy continued mired in mutual distrust into the 21st century as President George W. Bush placed North Korea on his "Axis of Evil," alongside Iran and Iraq, in 2002. The Bush administration accused North Korea of secretly enriching uranium for nuclear weapons and the U.S. and its allies stopped sending heavy oil to North Korea, which then withdrew from the Non-Proliferation Treaty in January 2003.
That August, multinational talks were restarted, this time with Japan and Russia also on board. The Six-Party Talks progressed until 2006 when North Korea demanded the U.S. unfreeze Pyongyang's financial assets in Macau, the U.S. refused, treating it as a separate issue. North Korea responded by holding its first nuclear weapons test in October 2006, citing "hostile U.S. policy," a phrase repeated to this day as the justification for North Korea's nuclear weapons program.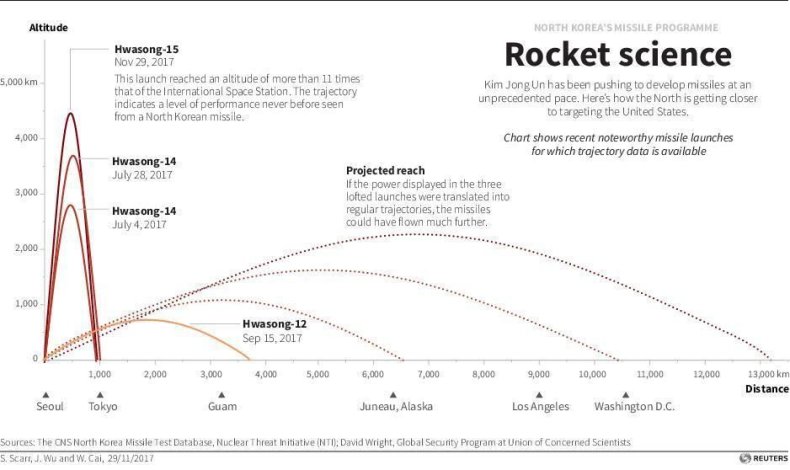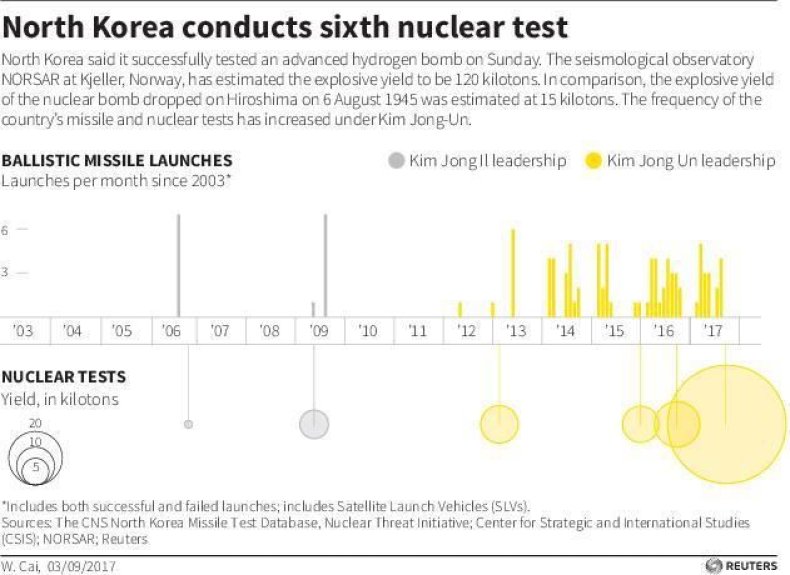 Following its first nuclear test, North Korea became increasingly isolated from the international community as it accelerated its nuclear aspirations. Kim Jong Il died in December 2011, leaving Kim Jong Un to succeed, making him the world's youngest head of state at the time. While Kim Jong Un wasn't afraid to cry at his dad's funeral, he quickly began to adopt an iron fist toward some of his country's military and political elite.
He purged a number of high-ranking individuals, including his own uncle. Jang Song Thaek. who was seen as a close ally of Kim Jong Il as well as China. Kim Jong Un then embarked on a ruling style some experts have described as being more like his grandfather than father. Kim Jong Un appears to have inherited both his predecessors' knack for benefitting off international rivalries. The youngest Kim's decision last month to first invite Trump to direct talks and then make his debut visit to China, may be part of a wider play to divide and conquer the world's two biggest economic powers as they contend for influence in the Asia-Pacific.
While many observers and officials have argued that Trump appeared to be "buying a pile of magic beans" in accepting Kim Jong Un's talks, as a frustrated Senator Chuck Schumer put it, signs have emerged that this round may turn out different. Kim Jong Un sent his own sister, Kim Yo Jong, as part of a high-level delegation to South Korea's Winter Olympic Games, making her the first member of the ruling family to cross the world's most heavily militarized border established after the bloody Korean War.
North Korea's state-run media has also been notably absent of the constant barrage of attacks against U.S. imperialism, even as the Pentagon went through with joint military drills held annually with South Korea. For the U.S.'s part, it suspended the drills for the length of the Olympics and did not send nuclear assets to the exercises, which were set to last about half as long as previous years.
38 North contributors Frank V. Pabian, Joseph S. Bermudez Jr. and Jack Liu have also been closely paying attention to developments in relation to North Korea's Yongbyon Nuclear Research Center and the Punggye-ri Nuclear Test Site. In their latest report, the authors noted "unusual activity" at the latter just ahead of Kim Jong Un's announcement Friday that it would be closed.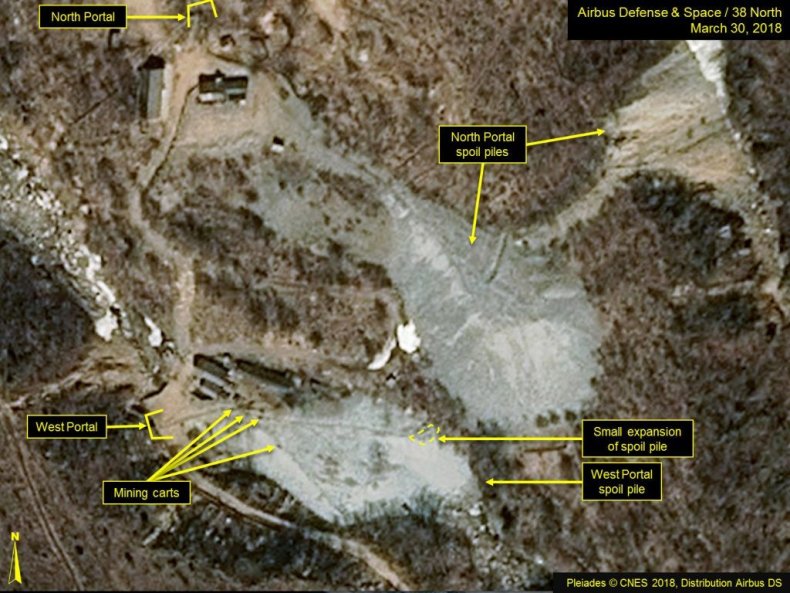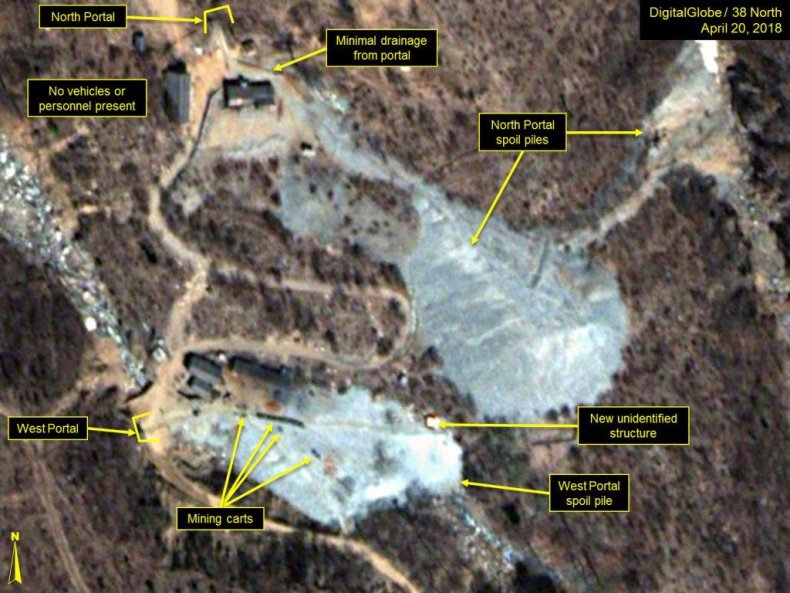 "The appearance of a significant number of mining carts parked out on the West Portal's spoil pile is unusual and its purpose remains unknown. Given Kim Jong Un's announcement, it may be the first visible indication that North Korea intends to cease further tunneling at the Punggye-ri Nuclear Test Site," the report noted.
"Such an assessment is purely speculative at this point, requiring additional imagery and analysis over the coming days and weeks to determine if this is indeed the case, and whether or not the Punggye-ri nuclear site is actually being closed down," it added.
In true North Korea fashion, Kim Jong Un has yet to publicly place denuclearization on the agenda of his upcoming meet with Trump, or a summit alongside South Korean President Moon Jae-in. However, the two have reportedly discussed signing a peace treaty that would officially end the Cold War-era conflict, which was ongoing, as Trump pointed out last week.
After a year of engaging his opponent in a year-long public spat, Trump appeared to change his tone Tuesday, calling Kim Jong Un "very open" and "very honorable," after meeting with French President Emmanuel Macron. Trump noted the difficult history of the U.S. and North Korea, but credited his own "maximum pressure" campaign of military buildup and extreme sanctions, with altering the status quo.
"A lot of promises have been made by North Korea over the years, but they've never been in this position," he added.