Will Trump Order a Government Shutdown? Paul Ryan Silent as Conservative Allies Pressure the President
The chances of averting a partial government shutdown come Friday at midnight suddenly became more likely on Thursday. After meeting with House Speaker Paul Ryan and other House Republicans, President Donald Trump told them he would not sign the short-term spending as it currently stands. The bill would have funded the government through February 8, but it does not include funding for the border wall.
The White House had offered mixed signals on whether the president would sign the bill. In recent days, Trump and White House press secretary Sarah Huckabee Sanders suggested the White House was backing down from Trump's threat to shut down the government if he didn't get $5 billion for his long-promised wall along the U.S.-Mexico border.
Sanders said in a statement on Thursday that the president "does not want to go further without border security, which includes steel slats or a wall."
Trump threw another wrench into the mix Thursday morning, tweeting that when he "begrudgingly signed the Omnibus Bill, I was promised the Wall and Border Security by leadership." Apparently frustrated at GOP House leaders, he added that they said it "would be done by end of year (NOW). It didn't happen! We foolishly fight for Border Security for other countries - but not for our beloved U.S.A. Not good!"
Immediately following that tweet, House speaker Paul Ryan canceled a pre-scheduled press conference with reporters, where he presumably intended to provide information about a closed-door meeting with GOP House leaders and the conservative Freedom Caucus.
An aide for Ryan told reporters the press conference was canceled because the meeting was "running late and the House is now voting" on other measures. But CNN and NBC reported that sources in the meeting said Ryan took a call from the president, which then resulted in Trump's tweet and the canceled press conference.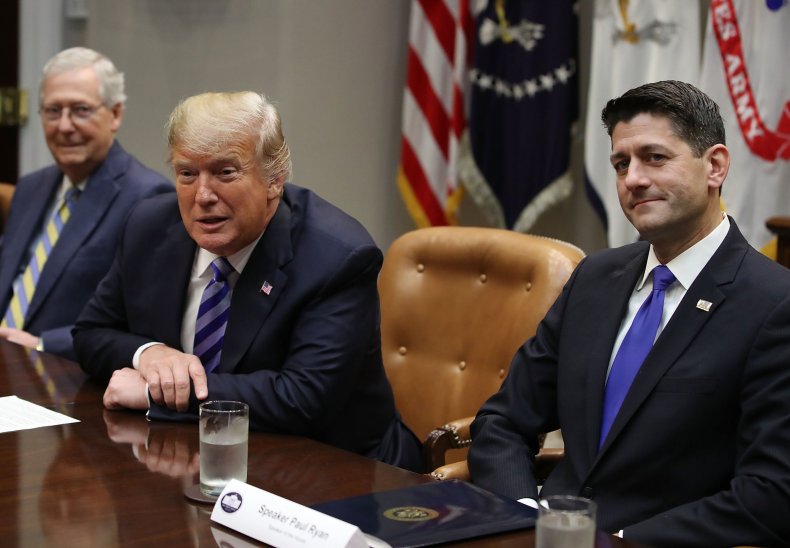 Members of the Freedom Caucus have been publicly and privately pressuring the president to veto any spending bill that does not include wall funding, and have said they would not vote to pass such a measure.
"Mr. President, we're going to back you up. If you veto this bill we'll be there," Republican and House Freedom Caucus member Mark Meadows told The Daily Caller. "The president many months ago said he wouldn't sign another funding bill unless we gave him wall funding... We're here to say that we're ready to fight."
Sanders said in her statement that the president would meet with Republican House members at noon. She did not specify which ones would be present.
"At this moment, the President does not want to go further without border security, which includes steel slats or a wall," she said. "The President is continuing to weigh his options."
House Minority Leader Nancy Pelosi said during her weekly press conference that the mixed messages coming from Capitol Hill Republicans and Trump was evidence that the GOP was having a "meltdown." She reiterated that "wall funding is a nonstarter" but again said that she would be open to providing money for other types of border security.
"I don't know that anybody ever has any assurances from the White House on things like this," Pelosi said.