Will Trump and Saudi Crown Prince MBS' Relationship Survive Plunging Oil Prices, Alleged Coup Plot?
He has become known as the crown prince of propaganda. Armed with a series of very expensive strategy documents authored by the Boston Consulting Group and branded as his Vision 2030, Saudi Arabia's Mohammed bin Salman has tried to brush off the negative headlines associated with his role in the butchering of Yemen and the death of Washington Post columnist Jamal Khashoggi. But amid an oil price war with Russia and a brutal succession struggle at home, MBS is learning that not all his woes can be wished away by Ivy League graduates in open-neck shirts offering slide deck snake oil.
Rumors abound that MBS' father, King Salman, still nominally the kingdom's ruler, is dead. Over the weekend, these were fueled by a tweet from an usually accurate anonymous insider with impeccable sources, @mujtahidd. Shortly after, Middle East Eye reported that the crown prince had arrested up to 20 senior princes to quell an alleged coup plot. Sources claim MBS is orchestrating the purge because he plans to announce his succession this year, usurping his 84-year-old father, who, even if alive, suffers from acute dementia.
The unpredictable MBS is unsettling nerves at the Pentagon and Langley, where it was his older rival Prince Mohammed bin Nayef who was the favored choice to take the crown. In the White House, however, MBS' brutality has been defended and even celebrated. After Khashoggi was killed in the Saudi consulate in Istanbul for criticizing the regime, President Donald Trump went to bat for MBS, describing his de facto rule as "like a revolution in a very positive way."
Since then, the strategy couldn't be clearer. The president is entwining the political and commercial interests of the House of Saud with the House of Trump, keeping the prince in power while enriching his own family. You might call it a quid pro quo.
Trump wants to avoid the scenario that brought the Saudi kingdom so much of its oil wealth in the first place. When Saudi Arabia was a slightly more independent power and made its own policy, rather than relying on the United Arab Emirates or Israel to call the shots, it launched an oil embargo to protest Western support for Israel during the October War in 1973, during which Egypt and Syria tried in vain to claw back territory occupied by Israel six years earlier. That restriction of oil supply, despite lasting only six months, was the beginning of a major boom in oil prices. Between 1973 and 1984, Saudi Arabia earned $661 billion from oil sales.
Today, oil prices are crashing at the fastest rate in 30 years, the Saudi economy is tanking and MBS' rescue strategy of selling off the Saudi crown jewels—shares in the state oil company Aramco—has fallen flat too. Instead, MBS and Saudi oil are being used as weapons by the rising House of Trump to cripple the Russian, Iranian and Venezuelan economies and bring misery to tens of millions of people.
Over the weekend, talks between Russia and Saudi Arabia to agree on supply and prices of their oil broke down. Global demand for oil is particularly low due to fewer people traveling as a result of the panic caused by coronavirus, so a failure to agree on restricting supplies to keep prices up is a major threat to both economies. MBS needs oil prices at $83 a barrel just to balance the budget, and analysts suggest prices could crash to the $20 range this year. But instead of restricting supply, the crown prince is flooding the market and taking prices through the floor.
It's economic suicide. But the House of Trump demands no less. And Trump is the only factor protecting MBS' iron grip on the Saudi state right now. So the brutal crown prince has to play the role of Trump's enforcer, burning his own budget while Trump attempts to choke other oil-producing economies to force regime change in Tehran and Caracas, while sparking a dangerous economic war with Moscow.
MBS and the House of Trump have come to share allies and enemies. Closest in their circle of trust are Israel and the UAE, both states that are gunning for war on Iran and trying to prize the U.S. away from its gulf ally Qatar. Both MBS and Trump personally have an ax to grind with Amazon billionaire Jeff Bezos, who owns The Washington Post. Khashoggi wrote some of his most scathing criticism of MBS for the Post. Trump has long regarded Bezos as a threat to his electoral prospects and threatened the Amazon owner with regulatory action. This year, we learned that Bezos' mobile phone was hacked after he received a WhatsApp message apparently from the personal account of MBS. We know, too, that MBS chats on WhatsApp with Jared Kushner directly and has boasted that he has Trump's son-in-law "in his pocket." Some have suggested this is MBS' way of saying he has all the dirt he needs on Kushner.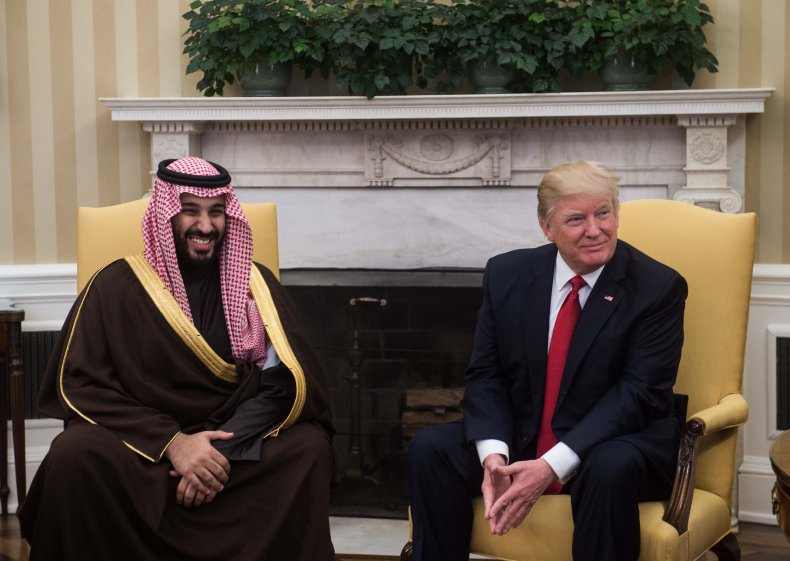 The House of Trump is playing with fire. There have been a string of very obvious favors for MBS since Trump came to power. Trump's first presidential visit was to Riyadh. He's supported MBS as Saudi troops create the worst humanitarian crisis in the world in Yemen. He vetoed a bipartisan congressional bill to end U.S. support for the war on Yemen. He vetoed three congressional bills to prevent the sale of U.S.-made precision-guided bombs to the kingdom. And he supported MBS in the face of global outrage over the Khashoggi murder and the blockade of Qatar, despite the fact that Qatar hosts the largest U.S. base in Middle East. Al Udeid Air Base is home to 11,000 service members.
What's the House of Trump getting in return? In Trump's own words, "Saudi Arabia pays cash." He was talking about weapons deals, but we also know the kingdom's delegations and lobbyists racked up bills of $350,000 at Trump hotels across 2016 and 2017. More recently, there was Saudi support for Kushner's suggestion that Palestinians give up all rights to a homeland and sovereignty permanently, which was dressed up by Riyadh as a "peace deal." We've yet to see how the Saudis might interfere in the 2020 election in Trump's favor.
But all the while, a coup may be afoot in Saudi Arabia. Under the pretext of a coronavirus quarantine, MBS has locked down Qatif, the restive Shiite-majority city in the oil-rich Eastern Province of the country, where working-class protesters have been challenging sectarian oppression and a lack of wealth distribution for decades. At least for now, it appears that the interior minister—himself arrested during the round-up of princes over the weekend—has been released. Between the freedom pangs of his underemployed, frustrated people and the princes, MBS is no longer a safe bet, even for the House of Trump.