Will Trump Send Aid to Mexico after Deadly Earthquake? He Hasn't Even Tweeted About It Yet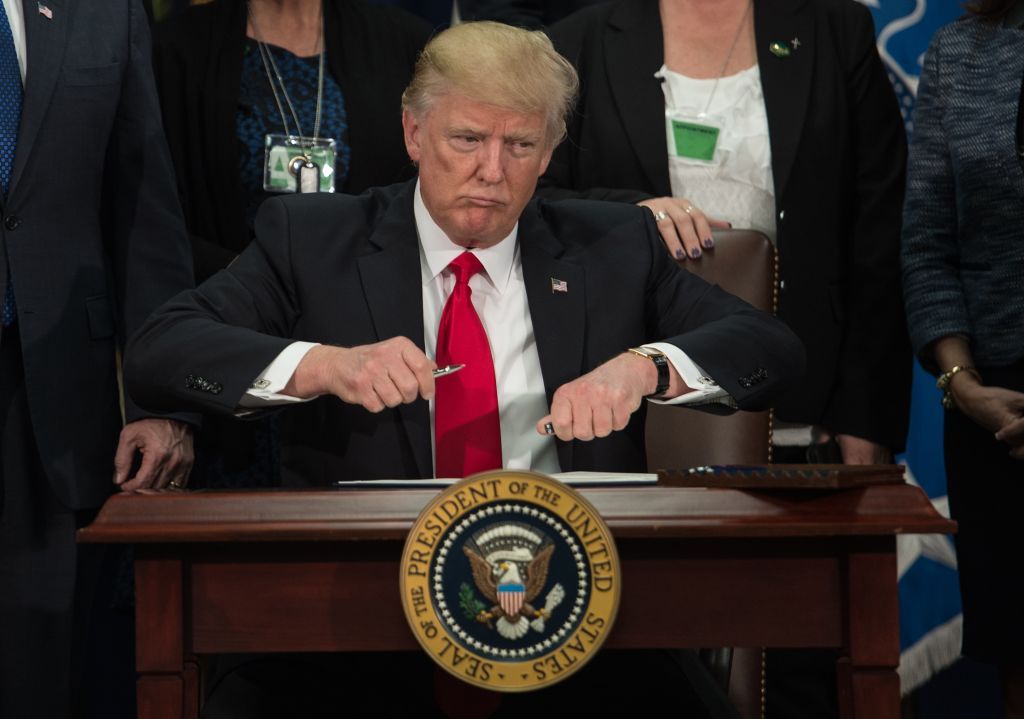 UPDATED | The Trump administration has no clear plans to offer aid to Mexico following a massive 8.1-magnitude earthquake that has killed at least 58 people and injured hundreds, despite the Mexican government's explicit offer to provide support to Texas following Hurricane Harvey.
A spokesperson for the National Security Council tells Newsweek the U.S. government has offered its condolences and is coordinating closely with Mexican authorities, adding, "We will continue to monitor the situation and take all appropriate steps." But no specifics were provided on what those steps may be.
With that said, State Department spokeswoman Nicole Thompson tells Newsweek the Mexican government has yet to request any international assistance, also noting the department is not aware of any U.S. citizen casualties from the quake.
Meanwhile, President Donald Trump—who routinely tweets on an array of subjects—has yet to mention the earthquake on Twitter.
Thursday's earthquake was the strongest to hit Mexico in a century and was felt as far as Mexico City.
The earthquake did significant damage to parts of the country closer to the epicenter, particularly in the southern states of Chiapas and Oaxaca, The New York Times reports.
In an address to the nation shortly after the quake, Mexican President Enrique Peña Nieto stated, "We are assessing the damage, which will probably take hours, if not days. But the population is safe over all. There should not be a major sense of panic."
As Texas faced the effects of Hurricane Harvey, Trump attacked Mexico on Twitter over his desire to build a wall along the U.S.-Mexico border, once again making the unsubstantiated claim that Mexico would pay for the wall.
The Mexican government responded to the president's social media assault by reiterating it would not pay for Trump's desired wall, but also offered to help Texas in the wake of the hurricane.
At the time, Mexico's Ministry of Foreign Affairs released a statement that said, "The Mexican government takes this opportunity to express its full solidarity with the people and government of the United States as a result of the damages caused by Hurricane Harvey in Texas, and expresses that it has offered to provide help and cooperation to the U.S. government in order to deal with the impact of this natural disaster—as good neighbors should always do in trying times."
While Secretary of State Rex Tillerson thanked Mexico for the generous offer to help Harvey victims, President Donald Trump has yet to acknowledge it.
Texas Governor Greg Abbott ultimately accepted Mexico's offer to help and Mexican Red Cross volunteers have already crossed the border to provide assistance, Reuters reports.
Mexico is reportedly preparing 25 trailers to send over containing rice, beans, coffee, chocolate, 300 beds, nine generators, mobile kitchens and telecommunications equipment. It's also planning to send over personnel, including paramedics and doctors.
On Tuesday, September 5, Carlos Sada, Mexico's deputy foreign minister for North America, told reporters in Mexico, "Mexico is ready to help those affected by Harvey. It's a demonstration of our neighborliness, a show of solidarity."
Mexico and the U.S. have both assisted each other in the past during and after disasters. In 1998, for example, the Clinton administration provided assistance to Mexico as it battled forest fires. Years later, in 2005, the Mexican military provided aid to Hurricane Katrina victims in Louisiana and Mississippi over the course of a three-week operation.
In short, there is a precedent for the U.S. and Mexico to help one another, but Trump is seemingly averse to this fact.
At the start of his presidential campaign, Trump referred to Mexican immigrants as "rapists" and "drug dealers." Since that time, he's repeatedly insulted Mexico and demonized its people.
Trump has continuously promised to build a wall along the U.S.-Mexico border, but has so far failed to deliver. Meanwhile, many have questioned whether building such a wall, which could cost around $70 billion according to one estimate, represents an effective, productive approach to immigration policy.
Along these lines, it's hard not to wonder how the Trump administration will respond to the earthquake in Mexico, if at all. Despite Trump's aggressive stance toward America's southern neighbor, it has continued to be amicable and diplomatic.