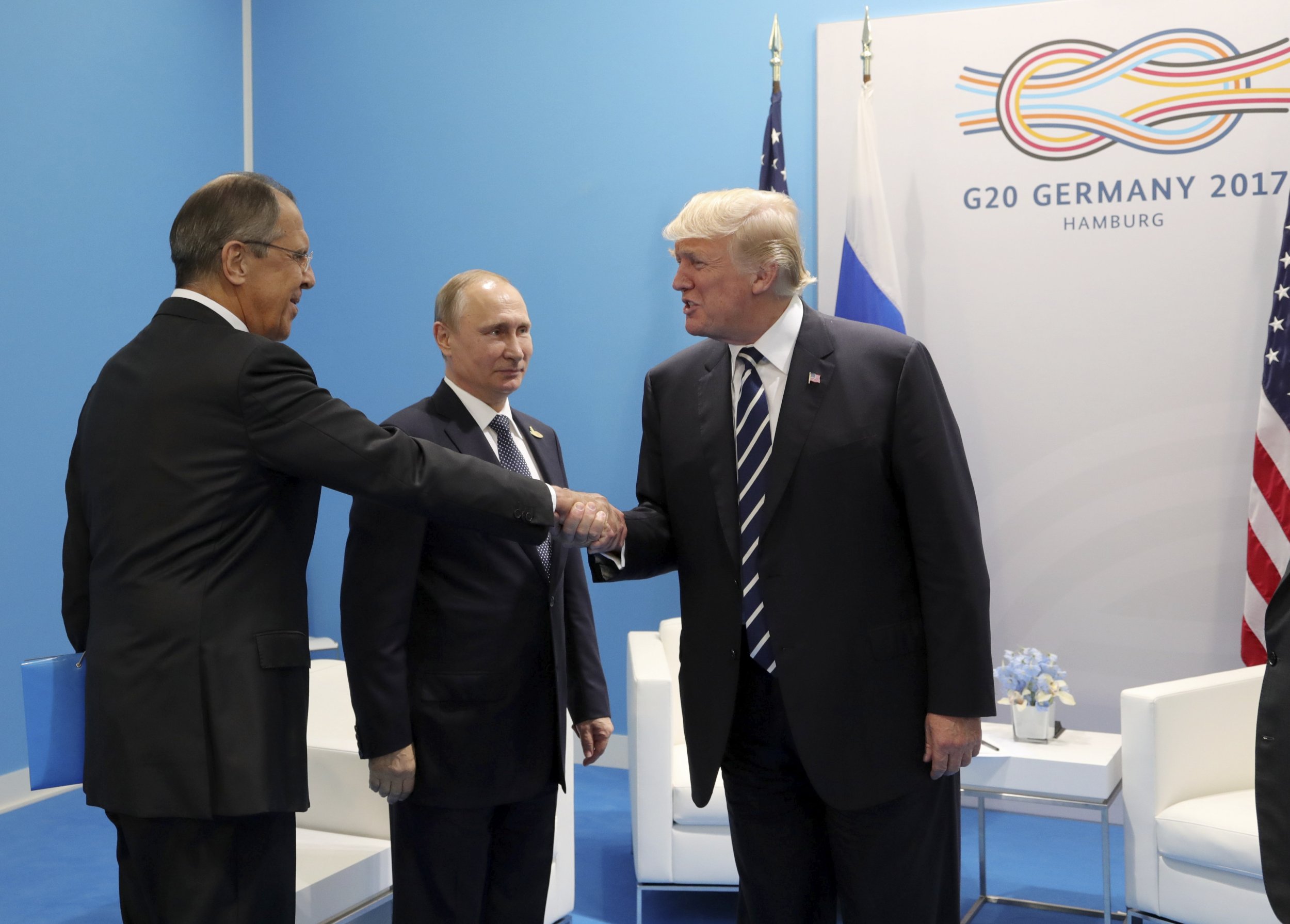 President Donald Trump may meet his Russian counterpart Vladimir Putin for the second time on Friday at the Asia-Pacific Economic Cooperation (APEC) summit in Vietnam—or at least Moscow thinks so.
Washington, on the other hand, has been coy about announcing whether it's an official meeting, only being willing to suggest a "pull-aside"—diplomatic parlance for an unofficial rendezvous between two leaders at an event they are both attending.
Kremlin aide Yuri Ushakov told state news that a meeting on November 10 was agreed and that all but the exact time remained to be discussed. But this was news to many, including U.S. Secretary of State Rex Tillerson, who played down the reports later that day.
"I mean, clearly the leaders are going to be at the summit together," Tillerson said in a press briefing during a trip to China with the president. "It wouldn't be at all unusual if they ended up with some kind of a pull-aside. The question is whether we've got sufficient substance."
Tillerson's comments came after Putin's spokesman Dmitry Peskov, Russian Foreign Minister Sergei Lavrov and his deputy, Sergei Ryabkov, had all spoken about the issues the meeting would likely address. Earlier in the week, Peskov said the formal meeting was "very likely," while Kremlin aide and ex-Russian Ambassador to the U.S. Ushakov suggested it was definite.
Tillerson did not share their optimism: "We're working with the Russians, as you know, in a number of very difficult areas. And we have been in contact with them, and the view has been if the two leaders are going to meet, is there something sufficiently substantive to talk about that would warrant a formal meeting? And so I would just say there's been no conclusion made on that. We continue to have conversations."
"You know, if we're going to have a meeting, let's make sure it's a meaningful meeting," Tillerson added.
After the Tillerson comments, Peskov walked back the reports, saying the Friday meeting was "an option being discussed" and that journalists should stay tuned for a further announcement, state news agency Itar-Tass reported.
The State Department referred Newsweek to Tillerson's statement, while the White House referred to President Trump's public schedule and refused to comment further.
Trump's schedule on Friday reveals little besides the fact that he will attend the APEC CEO Summit, where he will give a speech and participate in an "official welcome for APEC leaders and spouses," followed by a gala dinner and cultural performance. The schedule mentioned no bilateral meetings, despite Trump suggesting on Monday that he intended some.
"We want Putin's help on North Korea, and we'll be meeting with a lot of different leaders," Trump said during a flight to Japan, at the start of this week's Asian tour.
But it could be that the U.S. administration has been angered by Russian officials discussing the meeting in public. "Moscow pulls this shit every time, even though we haven't agreed to shit. It's outrageous," one career White House official told BuzzFeed, earlier in the week.
According to Stephen Pifer, former U.S. Ambassador to Ukraine and former Russia, Ukraine and Eurasia expert at the National Security Council, Moscow's enthusiasm is not surprising. But Pifer noted that for the U.S. "there needs to be some substance for a full bilateral meeting."
"If there is no area where progress might be made, the meeting may not make sense," he told Newsweek.
For Russia, the push to hold a formal meeting may be tied to the publicity as opposed to the conversation itself.
"President Putin would gain simply by having face time with President Trump. It would help bolster his image as a key international 'player.' A substance-free meeting, on the other hand, would do nothing for Mr. Trump, given questions at home about contacts between his campaign and Russian officials," Pifer said.
"I would read that to suggest that the Kremlin very much wants a meeting, while the White House is hesitating," Pifer said. "That gets back to the point that a substance-free meeting is still a plus for Putin, but it does nothing for Trump."