Will Trump's DOJ Send America's Ex-Toughest Sheriff to Prison?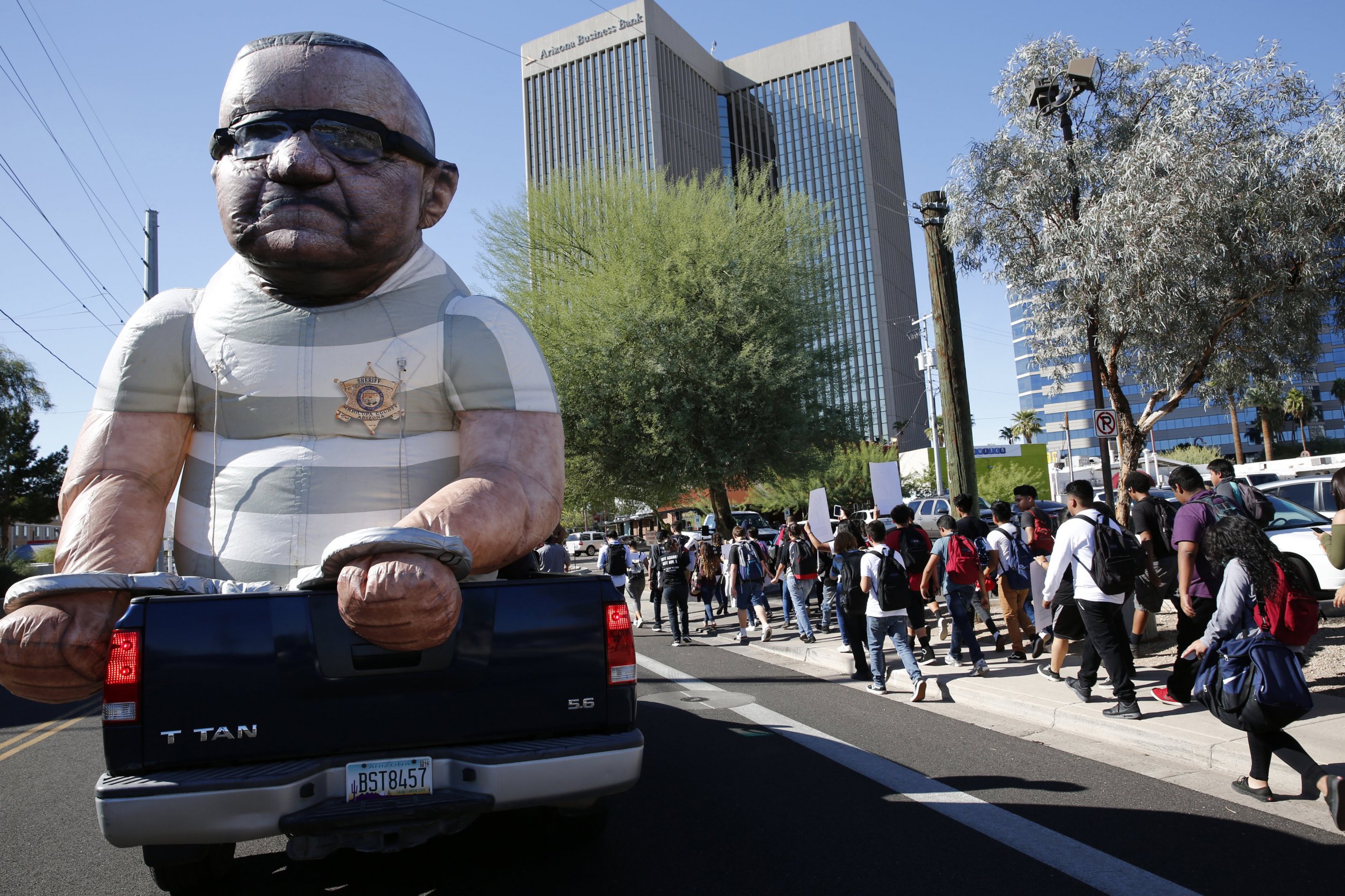 When Arizona's notorious sheriff, Joe Arpaio, spoke in support of Donald Trump at the 2016 Republican National Convention, he signaled the depth of their friendship when he noted that Trump phoned Arpaio's cancer-stricken wife during the campaign. And he assured the RNC crowd that he and Trump were simpatico on hardline immigration enforcement measures, proclaiming that Trump would get that border wall built. The audience roared in approval. At 84, Maricopa County Sheriff Joe Arpaio was a bona fide GOP celeb.
But what a difference a year makes. Arpaio suffered a humiliating defeat in the 2016 election. And now the Department of Justice—under Trump—has wrapped up its prosecution of the former sheriff in a criminal contempt of court trial in Phoenix. If convicted, the former sheriff—now 85—could spend up to six months in prison.
By the time the Obama DOJ chose to prosecute him criminally in 2016, Arpaio had already gained worldwide fame for forcing inmates to don pink skivvies and sleep in war-surplus tents, as well as for violating the civil rights of Latinos during immigration-themed traffic stops in America's fourth largest county.
Regardless of whether Arpaio is convicted, the DOJ is bound to face criticism. Arpaio loyalists across the country question the necessity of prosecuting an out-of-office Trump-friendly octogenarian, while many Latinos and their allies see the case as the last chance for the DOJ to redeem itself after years of letting the community down.
The former sheriff's criminal case stems from a history-making class action lawsuit, Melendres v. Arpaio. In that case, U.S. District Court Judge G. Murray Snow ruled Arpaio and his department engaged in rampant racial profiling of Latino drivers and their passengers. Early in the case, Snow issued a preliminary order requiring Arpaio and his deputies to immediately stop detaining undocumented immigrants who hadn't committed crimes. That authority is reserved for federal immigration agents, Snow ruled. But Arpaio's office violated Snow's order for 17 months, prosecutors say. As a result, his deputies wrongfully detained at least 171 unauthorized immigrants and turned them over to federal immigration authorities for deportation.
In closing arguments on Thursday, John Keller, a lawyer for the DOJ's Public Integrity Section, argued Arpaio should be found guilty of criminal contempt of court because he willfully disobeyed Snow's order. Keller claimed the sheriff's motive was political. Facing a challenging election battle in 2012, Arpaio disobeyed the 2011 court order because he wanted to "cast himself as an anti-federal government immigration hardliner," said Keller. "He wanted to raise money and he wanted to get re-elected and it worked."
To make his point, Keller showed video clips of Arpaio speaking about his continued efforts to crack down on illegal immigration, federal government be damned. In some clips, Arpaio appeared to brag about doing precisely what the judge had ordered him not to do—detaining immigrants who had not committed any crimes and then turning them over for deportation. In June 2012, Arpaio told Fox News his office routinely arrested unauthorized immigrants, adding that U.S. Immigration and Customs Enforcement had "been taking these illegal aliens off our hands when we have no state charges against them."
Arpaio's lawyers say he would never intentionally violate a federal judge's order. They blame bad legal advice and an unclear order from Snow, among other things, for his continued detention of immigrants. Arpaio's lawyer, Jack Wilenchik, points out the "ultimate hypocrisy" of the federal prosecution of his client. The Trump administration now seeks to persuade more local police departments to enforce immigration laws, which is exactly what the Trump DOJ is prosecuting Arpaio for, Wilenchik says. In fact, Attorney General Jeff Sessions is so keen on local-federal cooperation on immigration, he is trying to withhold federal funds from so-called "Sanctuary Cities" that refuse to cooperate with federal immigration officials. The House also passed a bill to help with that effort.
For months, many of Arpaio's supporters expected the Trump administration to drop the criminal case. But Arpaio insists he doesn't need Trump to call off the wolves, he'll fight his own battles, he always has. "Trump is busy dealing with Korea, I'm out here. I didn't ask him for anything." Arpaio tells Newsweek. "I will always back up Trump no matter what happens."
In a recent letter to supporters seeking donations for his legal fees, Arpaio says his legal woes are political. The Obama justice department announced in October that it wanted to prosecute him, which doomed his re-election bid, Arpaio says. He calls the team prosecuting him "Obama holdovers." His former campaign manager, Chad Willems, adds the "holdovers" already won when Arpaio lost the race. "So if they can get a conviction, that is just gravy for them," he said.
Arpaio hoped to have his fate decided by a conservative-leaning Arizona jury. Instead, it will be up to U.S. District Court Judge Susan Bolton to decide if Arpaio willfully violated her colleague Snow's order. Bolton, who in 2010 stopped Arizona's "Papers Please" immigration law from taking effect until it underwent thorough judicial review, is expected to rule on Arpaio's fate no sooner than late July.
For years, the DOJ has investigated the sheriff for a range of alleged offenses, but critics say the department has done little to hold him accountable. In 2008, Phoenix Mayor Phil Gordon urged the Bush administration's DOJ to investigate Arpaio for alleged racial profiling of Latinos. Within weeks, Arpaio began a criminal investigation of Gordon, who viewed the move as Arpaio's typical response to silence a critic. Nothing ever came of Arpaio's probe against the mayor, but a long list of high ranking federal and local political leaders joined Gordon in seeking DOJ intervention.
The DOJ's civil rights division in 2011 accused Arpaio and his office of racially profiling Latinos, discriminating against Spanish speaking jail inmates and illegally retaliating against critics. When Arpaio refused to sign a consent decree, the DOJ sued him in 2012. But the department settled its suit three years later with terms that many of Arpaio's opponents saw as virtually meaningless.
These critics were already skeptical of the Justice Department after it closed a criminal abuse of power probe against the Sheriff's Office in 2012, the year Arpaio went on to win his sixth election.
"Joe Arpaio has acted outside the law and constitutional norms for over a decade," former US Attorney Paul Charlton writes in an email to Newsweek. He calls the DOJ's response "tepid." Arpaio's criminal case does "little to redeem" the DOJ, he says, which "came to court with a single misdemeanor count, and left untouched a rich trove of other offenses."
If Arpaio is convicted, Charlton adds, those whose lives he wrecked with false charges, and now dismissed cases, will have at least some small sense of justice. "If Arpaio is acquitted, it will mean he has again slipped from the hand of justice, and those [who] suffered under his reign will have nowhere else to turn," Charlton says.
"If Arpaio is acquitted, the case should go up to the Supreme Court," says Raul Cordero, a 53-year-old Phoenix warehouse worker. "We know Arpaio has friends like [Attorney General] Jeff Sessions and Donald Trump. But he has to pay for the separation of families and terror of little children. He has to pay."
Phoenix attorney and Latino activist Antonio Bustamante says it's likely Arpaio will get probation for an "outrageous" crime that would send a regular person to prison.
As the criminal case against America's Toughest ex-Sheriff moves towards a resolution, many Latinos hope to see Arpaio cuffed, booked, issued prison chinos and locked behind bars for just one day, or at the very least convicted. If that happens, in their eyes the Trump DOJ will have counterintuitively done what the Obama DOJ failed to do—deliver justice.
Phoenix journalists Terry Greene Sterling and Jude Joffe-Block are co-authoring a book about Arpaio's immigration crackdowns and the Latino activists who challenged him. Find them on Twitter @tgsterling @judejoffeblock.