Will Trump's Steel and Aluminum Tariffs Start a Trade War With China? Here's What to Expect
President Donald Trump finally did something that people were expecting since he came to office: incite an international trade war.
On Thursday, Trump announced his plans to impose a 25 percent tariff on all steel imports and a 10 percent tariff on aluminum imports. He pledged that the new tariffs would be signed into law next week, despite the fact that the White House hasn't carried out a legal review of the measures.
On Friday, he said via Twitter that "trade wars are good, and easy to win." He added, "Example, when we are down $100 billion with a certain country and they get cute, don't trade anymore--we win big. It's easy!"
Some of Trump's staunchest allies have slammed the move. The president's chief economic adviser, Gary Cohn, allegedly threatened to resign if Trump went ahead with the policy. Critics warned that the tariffs will cost the U.S. more money if other countries retaliate by slapping their own tariffs on U.S. products, and others have noted that the price of consumer goods in the U.S. could rise.
But China—seemingly the main target of the tariffs—took a more measured approach, refraining from putting out a major statement against the decision. Throughout his presidential campaign, Trump blamed Beijing for currency manipulation and flooding the U.S. market with cheap steel. China makes around half of the world's steel.
But China has also proven adept at dealing with Trump, rolling out the red carpet during his diplomatic visits. China seems aware that building a level of comradery with the president makes him less likely to lash out.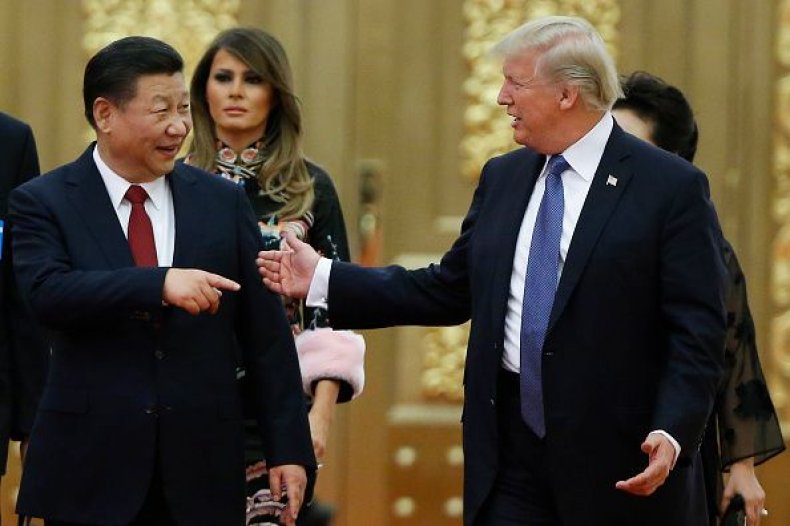 On Friday, officials in China called on Trump to stick with multilateral trade rules. Li Xinchuang, the vice secretary general of the China Iron and Steel Association, called the decision "stupid" and "a desperate attempt by Trump to pander to his voters." However, it's unlikely that China will launch a full-blown trade war with the U.S., which imports only about 2 percent of its steel from China.
The only way Trump's announcement would begin to hurt China is if other countries follow Trump's example and implement their own tariffs. What's more, Chinese exports of steel and aluminum account for barely 0.5 percent of the country's gross domestic product.
Some diplomats have suggested that China could eventually retaliate, but the biggest challenge will probably come from other members of the World Trade Organization who believe Trump is setting a dangerous precedent.
If anything, members of the European Union had harsher words for Trump than Chinese officials did.
"These U.S. measures will have a negative impact on transatlantic relations and on global markets. In addition, they will raise costs and reduce choice for U.S. consumers of steel and aluminum, including industries that import these commodities," said Cecilia Malmström, the European Union commissioner for trade.
The European Union has promised to submit a proposal for countermeasures against the U.S. that will be compatible with World Trade Organization standards.