Will the U.S. Go to War? Iran Says It Feels Like Iraq Right Before the Invasion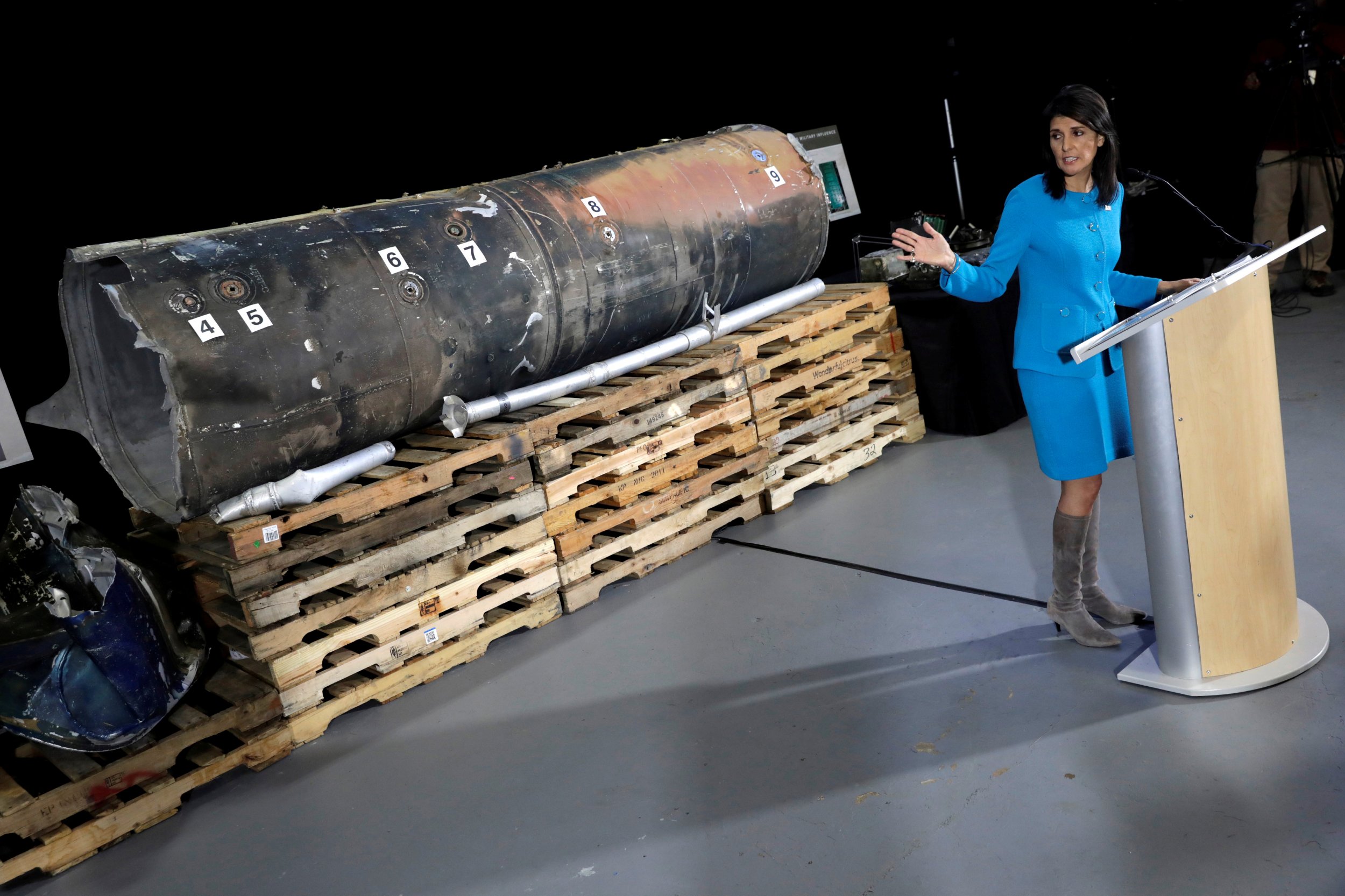 Iran's top diplomat compared a recent U.S. exhibition about his country's alleged growing missile threat to the rhetoric heard in the days leading up to the U.S. invasion of Iraq, raising fears that the White House's hard-line stance against Tehran could erupt into conflict.
Iranian Foreign Minister Mohammad Javad Zarif took to social media Thursday to criticize a press conference held earlier in the day by U.S. ambassador to the U.N. Nikki Haley, in which she attempted to establish a link between Iran and a missile fired at Saudi Arabia by the Yemeni Zaidi Shiite Muslim rebel Houthi movement, suggesting that Iran continued to build missiles and offered support to militant groups abroad. Zarif, who served as Iran's representative to the U.N. from 2002 to 2007, likened the display to former Secretary of State Colin Powell's U.N. 2003 presentation intended to highlight the need to go to war with Iraq.
Related: Where Will ISIS Be in 2018? Iran Says Afghanistan and Pakistan Are Next as Islamic State Loses in Iraq and Syria
"When I was based at the UN, I saw this show and what it begat...," Zarif tweeted, along with side-by-side images of Haley and Powell delivering their respective presentations.
At her conference, which took place in a warehouse at Joint Base Anacostia-Bolling in Washington, D.C., Haley stood before the remnants of the Burkan (Volcano) 2-H short-range ballistic missile that she said was fired by Houthi rebels toward the Saudi capital of Riyadh last month. While the official Saudi and U.S. accounts claimed that the incoming projectile was stopped by the U.S.-built Patriot Advanced Capability-3 missile defense system, an expert investigation later suggested the missile struck the ground, missing the city's international airport by about half a mile.
The attack prompted an intensification of Saudi Arabia's war against the Houthis and sparked condemnation from the U.S., which has sought to isolate Iran diplomatically under President Donald Trump. Haley displayed the missile and its resemblance to the Iranian Qiam 1 missile as "indisputable" evidence that Iran was in violation of U.N. Security Council 2231, which prohibited Iran from exporting missiles and was adopted in support of the 2015 nuclear deal that Trump has since decertified.
"As you know, we do not often declassify this type of military equipment recovered from these attacks, but today we are taking an extraordinary step of presenting it here in an open setting," she said. "We did this for a single urgent purpose: because the Iranian regime cannot be allowed to engage in its lawless behavior any longer."
Haley's ultimatum was reminiscent of Powell's 2003 presentation in which he asserted that "Saddam Hussein and his regime will stop at nothing until something stops him." Haley's other assertion, that "it's hard to find a conflict or a terrorist group in the Middle East that does not have Iran's fingerprints all over it," echoed Powell's charge that "terrorism has been a tool used by Saddam for decades" and that the Iraqi leader "provides haven and active support for terrorists."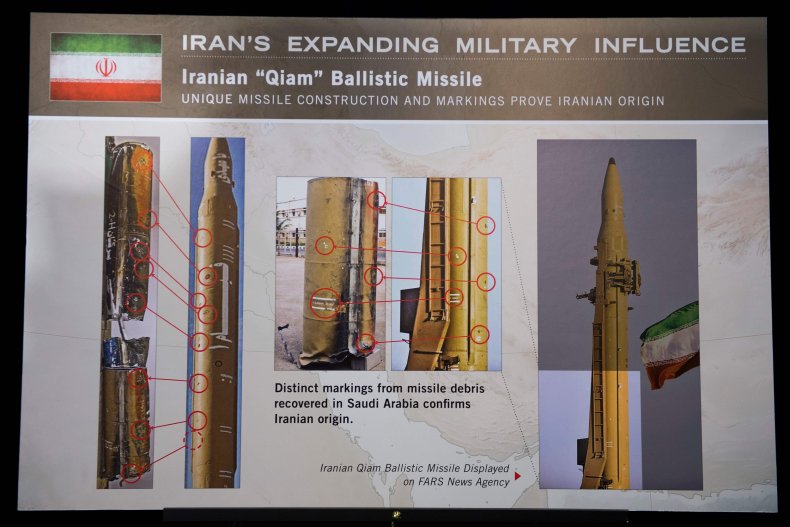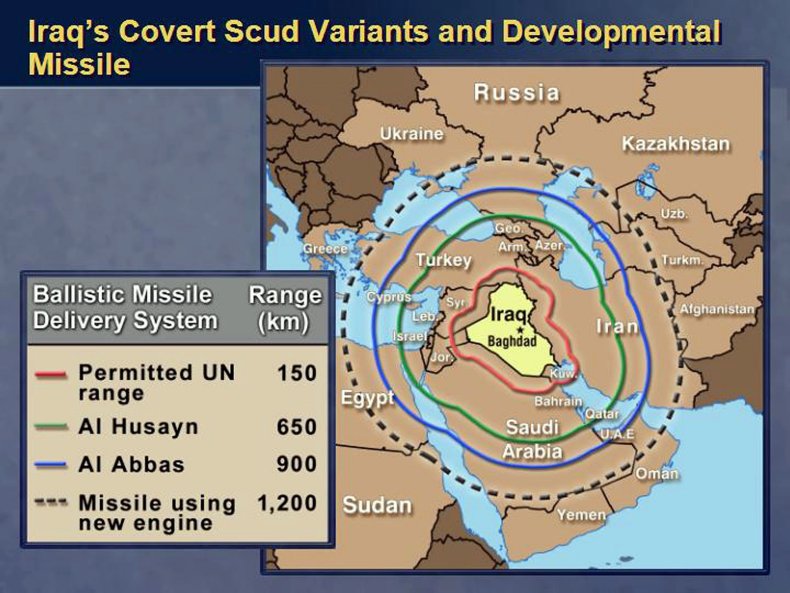 Both Haley and Powell framed their arguments as a call to arms for allies, which in both cases have called for dialogue rather than military action, with the exception of the U.K. in 2003. In Haley's case, the other members of the U.N. Security Council, along with Germany, have stuck to the 2015 Joint Comprehensive Plan of Action that Trump's administration has demanded must be renegotiated or scrapped.
Adopted under former President Barack Obama, the historic deal lifted billions of dollars worth of Iranian sanctions in exchange for Tehran agreeing to halt its nuclear production, which, the country maintained, was always peaceful. The U.N.'s International Atomic Energy Agency and Trump's State Department have found Iran to be in compliance with the deal, but the White House has argued the agreement does not go far enough and has targeted alleged Iranian support for terrorism and missile activity not covered in the deal.
Following Powell's presentation, then-U.N. Chief Inspector Hans Blix seriously questioned the U.S.'s interpretation of satellite imagery and other findings included in the report. Despite Blix's concerns, the U.S. launched a total invasion of Iraq, quickly overthrowing Hussein over suspicion he was harboring weapons of mass destruction. After it was shown that Hussein, who was tried and executed in 2006, did not possess such weapons, some officials, including Powell, expressed regret.
"I'm the one who presented it on behalf of the United States to the world, and [it] will always be a part of my record," Powell told ABC News in 2005, as quoted by Australia's ABC station. "It was painful. It's painful now."