Will Venezuela Be the Next Zimbabwe? Military Coup Against Maduro Is Very Likely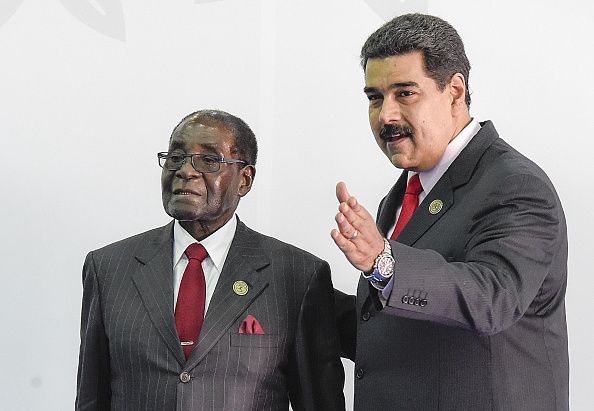 On Tuesday, Zimbabweans took the streets of Harare to dance and celebrate the end of Robert Mugabe's 37-year rule. Today, some are wondering if Venezuelan President Nicolás Maduro—who has maintained a kinship with Mugabe—will also face the music.
Zimbabwe's military put the 93-year-old strongman under house arrest after he ousted his former vice president, Emmerson Mnangagwa, in an attempt to place Mugabe's wife, Grace, as the next ruler. But can such scenario take place in a country led by Maduro's unclenching fist?
A military takeover in Caracas might occur, according to Lewis & Clark Law School professor Ozan Varol. The author of The Democratic Coup d'Etat argued that the Venezuelan military might be ripe for an uprising, as mid-level officers and rank-and-file "have been marginalized by Maduro and continue to languish along with the Venezuela's population," The Washington Post cited him.
Some Twitter users have discussed the odds of a coup:
This is not the first time that security experts have predicted a possible coup against the leftist government. Senior U.S. intelligence officials familiar with Latin American affairs told The Wall Street Journal in 2016 that there was "potential for real violence" and believed that Maduro could be removed from office by "associates close to him or in a military uprising." However, Maduro was never ousted and has tightened his grip.
In a normal democracy, the opposition would assume power if the ruling party is unable to handle a country's dire situation. But at this point, the Venezuelan opposition is currently disbanded due to unbridled bickering among its members and has suffered a major blow during the gubernatorial elections last October. Opposition's high-profile figures like Antonio Ledezma have fled the country, Leopoldo López is currently under house arrest and Henrique Capriles left the Roundtable for Democracy last month. Maria Corina Machado is the only visible leader at this point.
With a weakening opposition, the only threat to Maduro might be his own military, which has staged some revolts against the chavismo movement.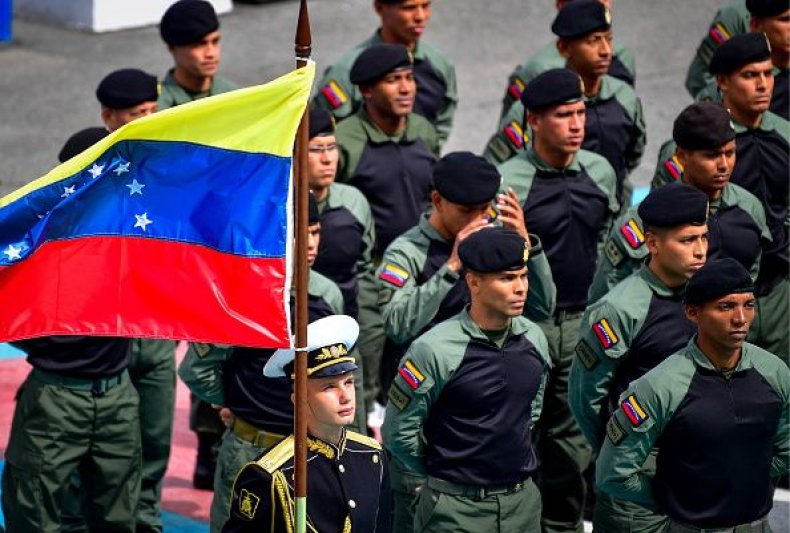 On April 11, 2002, military rebels and anti-government demonstrators—allegedly backed by the U.S.—attempted to overthrow then-President Hugo Chávez, who was only ousted from office for two days before reclaiming power. At the time, military officers expressed dissatisfaction as they saw a strengthening relationship between Caracas and Havana.
Last June, a group of military and police insurgents demanded Maduro resign from office. Oscar Perez, an officer from the country's scientific police force, said via Instagram at the time that a coalition of military, officers and civilians were against Maduro's "criminal government."
"We don't belong to a party…we are nationalists, patriots and institutionalists," Perez said, adding that they were intent on returning "power to the democratic people and comply with laws in order to restore constitutional order."
But as Varol argued, a coup is unlikely to happen because Maduro has ensured that the military top brass remains loyal to the Bolivarian Revolution. Maduro elevated "195 officers to the rank of general in a single day, showered them with substantial privileges and appointed an 'anti-coup' committee to purge officers with questionable allegiances," Varol told the Post.
Nevertheless, the critical situation Venezuela faces today might be the tipping point for many military officers to abandon ship. The Maduro administration has struggled to meet the demands of bondholders since the U.S. banned Venezuela and state-oil giant PDVSA to access international banking systems, forcing Caracas to use money earmarked for imports such as staple food in order to pay off part of its debt. Credit agency Standard&Poors said Venezuela has failed to make good on its interest payments that total $237 million this week, and it has already defaulted—alongside PDVSA—on other debts.
Hyperinflation and empty supermarket shelves—economic problems Venezuela shares with Zimbabwe—coupled with a health care crisis and malnutrition, have become an everyday burden for many Venezuelans.
In case Maduro uses force against civilian protestors who could not withstand the crisis, the military may not obey his orders and instead "turn their arms against the very government they've been tasked to defend," Varol added.
Military action in Venezuela has been highly criticized among Latin American leaders because it may also spark future coups—in a country that has already seen past upheavals—while exacerbating a social and political turmoil. But Varol concluded that a military coup could open the door for a democratic movement in Venezuela. "Only if the military breaks can the river of democracy jump the banks," he said.