Will Elizabeth Warren's Supporters Back Bernie Sanders or Joe Biden in Super Tuesday 2 Primaries?
Now that Senator Elizabeth Warren has exited the 2020 race, her supporters are likely to flock to another presidential candidate—but who they'll decide to back is less clear than expected.
Warren was an ally of Vermont Senator Bernie Sanders throughout much of the campaign, aligning herself with him on issues like Medicare for All and free college tuition. Data shows that there's significant overlap between the core support of the two candidates, who were aligned with the Democratic Party's more progressive wing.
But that doesn't necessarily mean that he will be the beneficiary of her votes on Tuesday night, when six states—Idaho, Michigan, Mississippi, Missouri, North Dakota and Washington—head to the polls to pick the candidate they want to see nominated at the Democratic National Convention.
Public polling also shows that many Warren supporters are just as likely to throw their support behind former Vice President Joe Biden.
Second-choice polling from Morning Consult, released right before Warren dropped out, didn't show either Sanders or Biden with a definitive advantage. Forty-three percent of her supporters said they'd back Sanders if she were to exit the race and 36 percent said they'd move toward Biden.
An even split between Biden and Sanders between Warren supporters' second-choice preferences was also found in a recent Ipsos/Reuters poll. The survey, which was released on March 5, found 47 percent choosing Sanders and 46 percent backing Biden.
Exit polls in several Super Tuesday states also showed a mixed picture. Warren had her strongest performance in the primaries among white college graduates, which is a group that both Biden and Sanders have had success with. Biden carried white college graduates in Texas and Virginia while Sanders won them over in California and Colorado. But Biden is doing much better among white college-educated women than Sanders. According to FiveThirtyEight, the former vice president has a 15-point lead over Sanders among that voting bloc.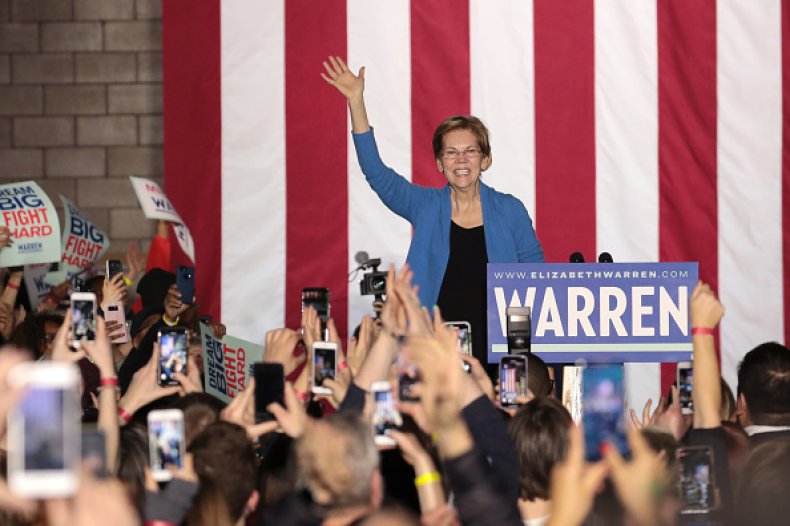 The issue of who Warren supporters will line up behind is further complicated by the fact that she has declined to endorse anyone yet. The Massachusetts senator said she was going to "spend a little time on that" before coming to a decision.
Warren's exit from the 2020 Democratic primary came after a poor Super Tuesday performance, in which she came in fourth in the popular vote and finished third in her home state of Massachusetts.
Her departure left the race as a two-man competition between Biden and Sanders. The two are currently separated by less than 100 delegates. According to the Associated Press, Biden's in the delegate lead with 670 compared with Sanders' 574. The only other remaining candidate is Hawaii Representative Tulsi Gabbard, but she's only picked up two delegates so far and is polling in the low single digits.
Warren announced the decision to exit the race in a news conference outside her home in Cambridge, Massachusetts on March 5. She said while she will no longer seek the party's nomination she would "stay in the fight for the hardworking folks across the country who have gotten the short end of the stick over and over."
The most difficult part of ending her campaign, she said, was breaking the promises she made with young girls on the campaign trail about women running for president.
"One of the hardest parts of this is... all those little girls who are going to have to wait four more years," Warren told reporters. "That's gonna be hard."