Will Wesleyan Be the Next School to Do Away With Frats?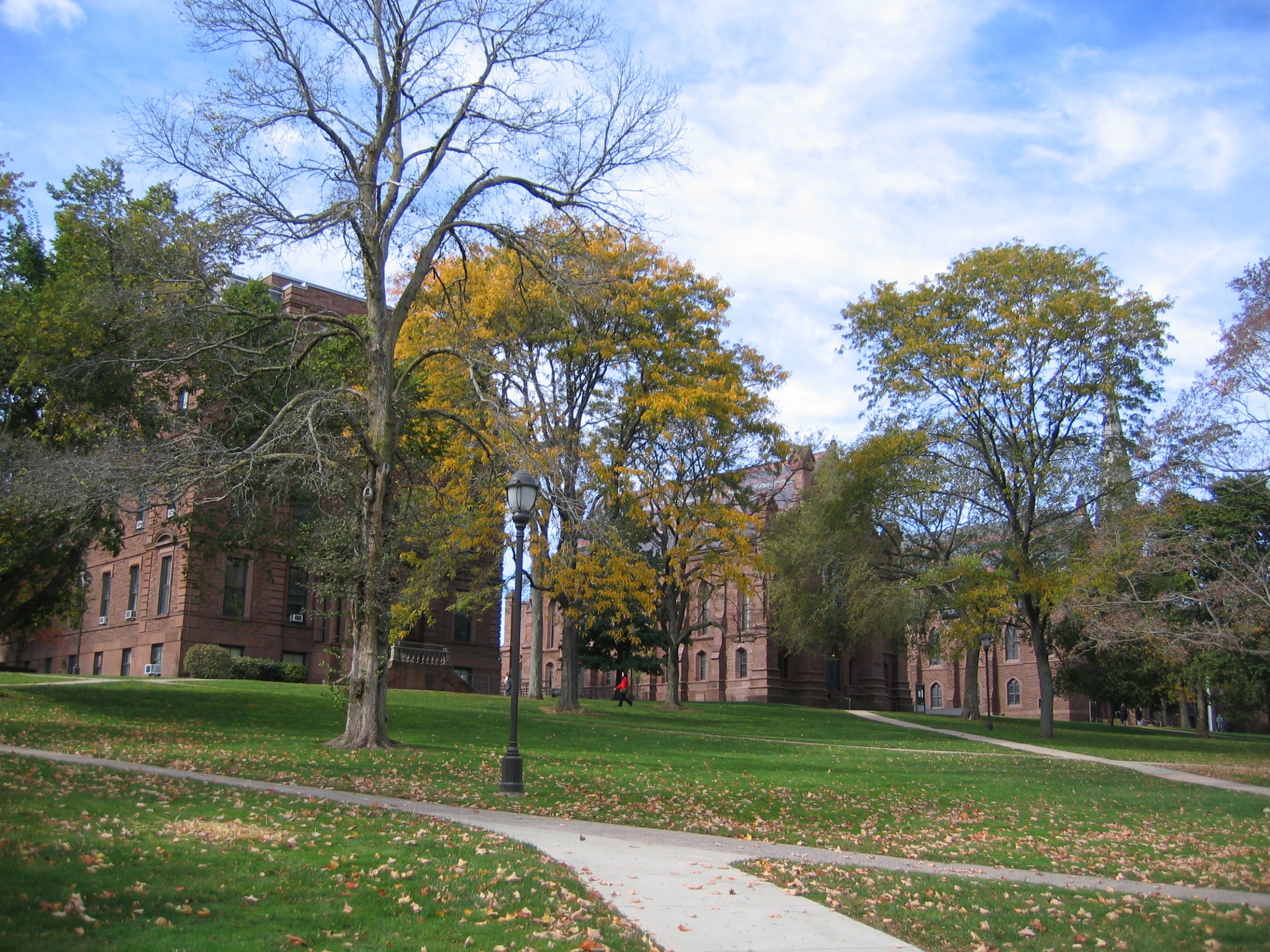 Wesleyan University, a school that has recently generated an uncomfortable degree of attention because of a rape lawsuit accusing one of its fraternities of negligence, is involved in another rape lawsuit accusing yet another one of its fraternities of negligence.
This time, it's sparked a heated discussion about how residential fraternities should continue on campus, if they should continue at all.
The frat allegedly at fault is Psi Upsilon, and the details of the case are lurid enough to disturb the house's campus reputation as the "nice guy" frat.
A Wesleyan student is suing the school's chapter—as well as its international organization—for $10 million, saying that the frat failed to protect her when she was raped at a pledge party in May. The incident took place in the fraternity's common room, according to the official complaint, where pledges removed their clothes as part of a booze-fueled "strip show." It was there that the defendant "threw [the student] over the leg of a couch, pulled down her leggings, and raped her in the presence of numerous others," the complaint says.
The alleged attacker was dropped by Psi U the following day and "basically excommunicated," according to a student. He was expelled from Wesleyan following a disciplinary hearing, but no criminal charges have been filed, and local police say the investigation is ongoing.
The university isn't named as a defendant in the case. But after a drawn-out legal battle involving a 2010 rape at Beta Theta Pi, details of which recently resurfaced in The Atlantic's March cover story, it's not Wesleyan's first such high-profile lawsuit in recent memory—and students fear it won't be the last. The incident might have permanent implications for the three residential fraternities that remain on the central Connecticut campus.
According to President Michael S. Roth, the topic is already under discussion by the school's Board of Trustees.
In an all-campus email sent Wednesday, Roth expressed horror at the "shameful assault"—and hinted that Wesleyan might join fellow liberal arts colleges recently profiled by Newsweek in reconsidering the role of frats on campus.
"While these fraternities have had some autonomy, all have seen increased scrutiny over the past few years. We intend to focus our attention on improving the safety of these spaces," the president wrote. "In addition, we will be gathering information to present to the Board as it considers what role, if any, residential fraternities will have on our campus in the future."
Reached via email, Roth confirmed that he's looking into the fraternity question—and that he's read about the elimination of frats at peer schools—but declined to elaborate until he receives further input.
Wesleyan's students are less shy on the subject.
Gabe Rosenberg, a sophomore, said he's working on organizing a community discussion on the subject of residential fraternities and sexual assault. "For some of us," he said, "maybe an ultimate goal is to ban single-sex residential organizations."
"Fraternities need to prove why they should exist on campus," said his co-organizer, sophomore Jack Spira. "It's debated whether or not it's useful to have a good house to party at if there's a rape every year."
Anya Morgan, a senior, shares the goal of shuttering the frat houses.
"It's undeniable that sexual assault is happening in these spaces," Morgan wrote in an email to Newsweek. "There's a concrete action that can be taken to eliminate this portion of assaults on campus. Get rid of the frats."
In a press release, Psi U Executive Director Thomas Fox said the organization "takes all reports of risk management violations, especially those with regard to sexual assault, very seriously."
But Zachary Larabee, a junior and former member of Alpha Epsilon Pi, disputed that frats are responsible for rape.
"The only reason it happens within their houses is because these houses are much bigger and provide a much larger space for student activity," he argued. Plus, since the last lawsuit, fraternities have made a conscious push for education on sexual violence and bystander intervention training.
"It's so much more than an email chain to a bunch of guys saying, 'Yo, keg tonight at the house,' " Larabee said. "It's also one of the only reasons that I take part in student groups and charity."
That argument isn't compelling, Morgan said.
"It seems they use community service to apologize for being the archaic, heterosexist hotbeds of rape culture that they know they're perceived as," she wrote. "These stereotypes act as self-fulfilling prophecies."
Disclosure: The author is an alumnus of Wesleyan University. He is unaffiliated with the fraternities on campus.