Will Your Vote Count in 2022? | Opinion
The 2022 midterm elections are already underway, with a May 3 primary determining candidates for a key Senate race in Ohio and another coming up on May 17 in Pennsylvania.
Elections, however, are about more than candidates. They are about we, the voters, joining a civic tradition that engages us and connects us to our communities. In far too many states, there's a growing disconnect, with obstacles to voting that can only reduce our confidence in the electoral process.
That's what we found when our organization—the Democracy Initiative Education Fund (DIEF)—assessed voting laws and policies in all 50 states and the District of Columbia. Our report, Storming State Capitols, looks at 10 indices which capture the voting experience, ranging from registration to voter ID to the independent administration of elections.
The results are sobering.
Our analysis shows that some 70 million registered voters in 18 states have reason to have "low confidence" in the voting process. Mississippi, Arkansas and Missouri received the lowest scores. Voters in these states will have to be extra vigilant when registering to vote, casting a vote and making sure their ballot is counted fairly and accurately.
It doesn't have to be this way. In November 2020, in the midst of a pre-vaccine pandemic, the U.S. achieved a record voter turnout, with 66.8 percent of eligible voters participating.
What went right? In response to COVID-19, states adopted voter-friendly measures to facilitate safe and secure ballot access, including early voting, no-excuse voting by mail and readily available ballot drop-off boxes. In partisan terms, the impact of increased turnout was a mixed bag. While a Democrat won the presidency, Republicans outperformed expectations in many Senate, House and local races.
One well-known losing candidate, Donald Trump, made loud and repeated false claims of voter "fraud." Based on this dishonest narrative, 19 state legislatures passed new restrictions on the right to vote in 2021. Many of these anti-democratic measures are specifically targeted at young voters, voters of color and the disabled.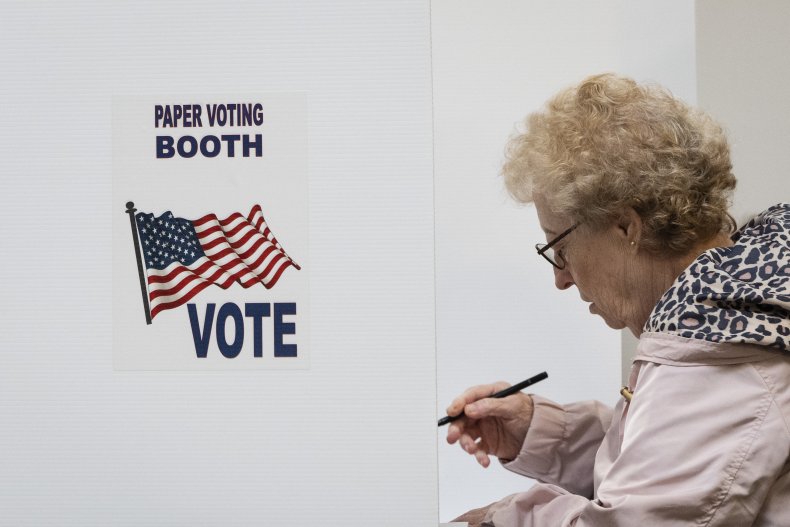 According to The New York Times, the burden of a new Texas law making it more difficult to vote by mail falls most heavily on Black voters. Following a March primary election, "areas with large Black populations were 44 percent more likely to have [mail-in] ballots rejected than heavily white areas."
The assault on our democracy—affecting far more than Black voters and reaching far beyond Texas—cries out for a federal response. Instead, we received nothing but a whimper. In January of this year, the U.S. Senate failed to fix or nix the outdated Jim Crow filibuster and as a result, took no action on voting rights.
Absent federal action, many state legislatures are creating a landscape that is less friendly to voters and more favorable to entrenched politicians. In 2020, every state except Mississippi allowed no-excuse voting by mail. This gives voters, not politicians, the right to decide how, when and where to cast a ballot. But 14 states are backsliding, re-instating requirements that voters must have an "excuse" to vote from home. This disenfranchises millions of voters with work or family obligations on Election Day, or with health concerns about visiting an in-person polling place.
Also alarming, 13 states passed laws in 2021 giving partisan politicians power to throw out election results they don't like. These measures will allow partisan state legislators to shift emergency powers, usurp the authority of local election officials and interfere with post-election litigation.
Four of those states—Florida, Georgia, Ohio and Texas—are likely to have closely contested elections in 2022. In all four, GOP politicians hold both a "trifecta"—control of both houses of the legislature and the governor's office—and a "triplex," with control of governor, attorney general and Secretary of State offices. In these states, there will be no formal obstacle to a state-level "Big Lie" power grab, with politicians substituting their own preferences for the will of the voters.
The 2020 election was termed "the most secure in American history" by state and local election officials. But continued false statements about the 2020 results have obscured the need for real reforms which can increase confidence in the voting process. These include increasing the number of fully-staffed, properly equipped polling places, security measures to prohibit weapons and intimidation at polling places and real audits—not fake ones—to check for voting machine errors.
One hundred and fifty-nine million Americans voted in 2020, the largest number ever. That's a benchmark we can all be proud of—and a standard to aim for as we work to remove, not reinforce, obstacles to voting.
Charly Carter and Diana Philip are executive director and chief of staff, respectively, at the Democracy Initiative Education Fund, which supports a coalition of 75 organizations with a collective 45 million members advancing labor rights, civil rights, social justice and the environment.
The views expressed in this article are the writers' own.