Former Federal Prosecutor, Ethics Director Blast Barr's Warning That Communities Disrespecting Cops Could Lose Police Protection: 'Comments Unworthy of an AG'
Former federal prosecutors and government officials criticized U.S. Attorney General William Barr's comment that unless communities start supporting police officers, they could lose the protection they need.
"Barr's divisive comments are unworthy of an [attorney general]," former United States Attorney Barbara McQuade tweeted on Wednesday.
On Tuesday, Barr honored America's police officers at the ceremony for the Attorney General's Award for Distinguished Service in Policing. He commended officers for choosing a profession that calls for a "special kind of courage" and contrasted how the public treats military service members with how society treats police officers.
Decades after Vietnam War veterans were targeted by protesters when they returned home, people now stop and applaud service members when they're spotted at an airport. This recognition of service members' sacrifice and service is the "right" thing to do, Barr said, and an acknowledgment that police officers also deserve.
If officers aren't given the same level of respect, it could have negative impacts on the communities where they serve, the attorney general said.
"[American people] have to start showing—more than they do—the respect and support that law enforcement deserves, and if communities don't give that support and respect, they might find themselves without the police protection they need," Barr told the event's attendees.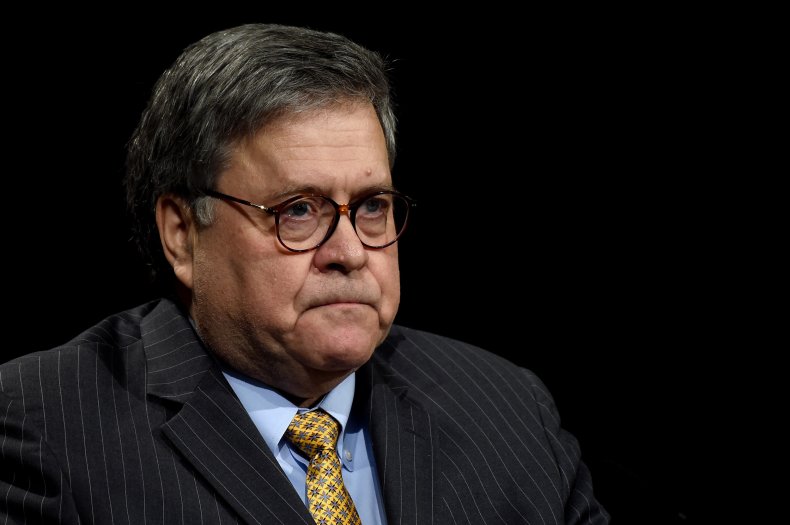 Barr's comment rubbed some people the wrong way, including those who were formerly tasked with upholding the rule of law in court.
Former federal prosecutor Glenn Kirschner tweeted that Barr would be perfect to lead law enforcement in North Korea, while former Assistant U.S. Attorney Mimi Rocah characterized Barr's words as "despicable and dangerous." Rocah also called for people from both the Republican and Democratic parties to denounce the comment.
Former Office of Government Ethics Director Walter Shaub wrote on Twitter that Barr's comments would embolden "certain undesirable elements in less disciplined police forces."
Newsweek reached out to the Department of Justice for comment but did not receive a response in time for publication.
Since taking office in February, Barr has supported President Donald Trump's tough-on-crime platform. During a speech in August, he criticized district attorneys in large cities that "style themselves as 'social justice reformers'" for undercutting police officers and the vocal minority that advances the narrative that officers are the "bad guys rather than the criminals."
Barr acknowledged that there are "bad apples" in law enforcement, just as there are in all human institutions. But he labeled officers who commit abuses the exception, not the rule, and said the police had the Trump administration's support.
"This administration will not tolerate violence against police, and we will do all we can to protect the safety of law enforcement officers," Barr said in August.
Most of Barr's Tuesday speech focused on the challenges law enforcement officers face, such as the "stubborn" problem of violent crime and the "scourge of drugs." He called law enforcement the most "noble profession" a person could pursue.
McQuade agreed that gratitude is owed to police officers but wrote in her tweet that misconduct had to be called out and addressed.
"Blind devotion is not a requirement for receiving police service," she wrote.