William Barr Directs DOJ Official to Defy Congressional Subpoena to Testify About 2020 Census
Attorney General William Barr directed a Justice Department official to defy a congressional subpoena to testify before a House committee, according to a letter obtained by Newsweek, a move that is likely to heighten the tension over the ongoing investigations of the Trump administration by Congress.
Assistant Attorney General Stephen Boyd told the House Oversight and Reform Committee in a letter on Wednesday that John Gore, the principal deputy assistant attorney general for the Justice Department's Civil Rights Division, would not provide a deposition, which was scheduled for Thursday, regarding the Trump administration's push to add a citizenship question to the 2020 census.
The committee is investigating the administration's desire to include the question, as the Supreme Court has signaled it could approve the addition. Critics argue that a citizenship question would discourage millions of immigrants from completing a census, leading to skewed results.
Boyd told the committee that Gore would not comply with the subpoena because the committee, chaired by Democratic Representative Elijah Cummings, would not allow a Justice Department attorney to be present in the same room as Gore during the deposition, which is a Justice Department requirement to ensure "the confidentiality interests of the Executive Branch." Cummings would only allow a Justice Department attorney to be present in a separate room, according to Boyd, which "would not address the Department's need to have counsel present in the deposition room to assist Mr. Gore."
"Accordingly," Boyd continued, "Attorney General Barr's determination that Mr. Gore will not appear at the Committee's deposition unless a Department attorney may accompany him remains in effect."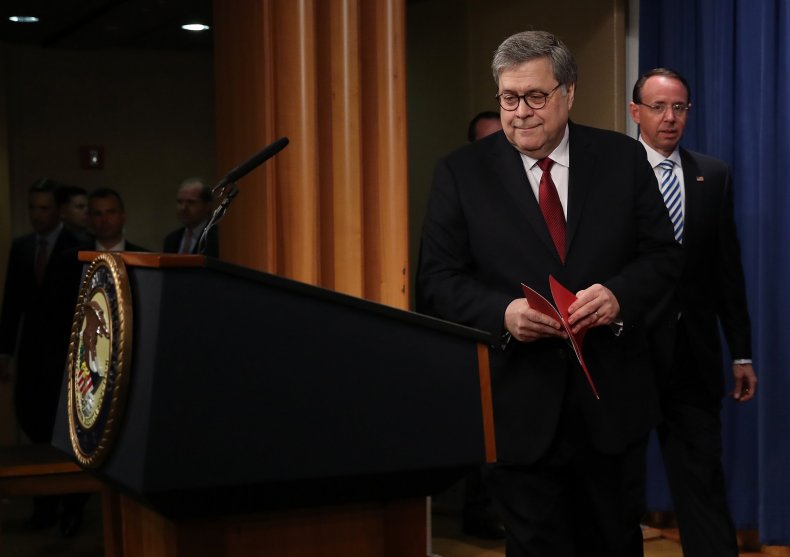 In a statement, Cummings labeled the move by Barr as a "massive, unprecedented and growing pattern of obstruction" from the Trump administration.
"Both President Trump and Attorney General Barr are now openly ordering federal employees to ignore congressional subpoenas and simply not show up—without any assertion of a valid legal privilege," the chairman said. "These employees and their personal attorneys should think very carefully about their own legal interests rather than being swept up in the obstruction schemes of the Trump administration."
Cummings previously threatened to hold Gore in contempt if he did not comply with the subpoena. He said committee investigators would still meet Thursday morning in hopes that "Mr. Gore will fulfill his legal and ethical responsibilities and appear as ordered."
The Justice Department's refusal to comply with a congressional subpoena is likely to intensify the separation of powers battle that is escalating between House Democrats and the White House, as various committees try to obtain the unredacted Mueller report and the president's tax returns, and to compel current and former administration officials to testify on various matters. Trump told The Washington Post Tuesday evening that in the wake of special counsel Robert Mueller's redacted report, he is opposed to current and former officials providing further testimony to Congress—despite the subpoenas.
"We're fighting all the subpoenas," the president told reporters Wednesday on the South Lawn of the White House. "The only way [Democrats] can luck out [in 2020] is by constantly going after me on nonsense."
Cummings has also threatened to hold Carl Kline, another administration official who defied a subpoena, in contempt. Kline, who now works for the Defense Department, was scheduled to provide a deposition Wednesday about his previous handling of White House security clearances. However, he was directed by the White House not to comply because a White House attorney was not allowed to be present in the room.
Justice Department spokeswoman Kerri Kupec told Newsweek in a statement that "in keeping with longstanding Department of Justice policy, neither Mr. Gore nor anyone else in the Department will be forced to testify in their capacity as a DOJ official on DOJ matters without DOJ counsel."
A Justice Department official also told Newsweek that in Gore not complying with the subpoena, he has "the Attorney General's unqualified support."
This story has been updated to include comments from House Oversight Committee Chairman Elijah Cummings.