William Barr Claims Trump Administration Isn't 'Lawless' Because the Travel Ban Was Upheld by Supreme Court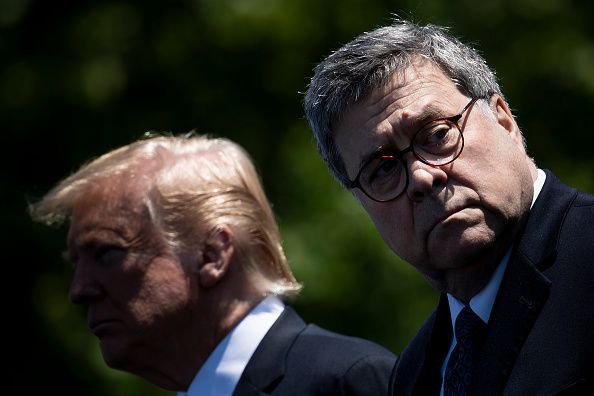 Attorney General William Barr defended President Donald Trump from allegations that his administration has acted illegally, arguing that the Supreme Court's 2018 ruling upholding the president's travel ban is proof the White House isn't "lawless."
Barr addressed a group of legal professionals on Tuesday evening as he delivered remarks to the American Law Institute at their annual dinner. During his speech, he slammed nationwide injunctions and took a moment to voice his support for the Trump administration.
The attorney general noted that since Trump took office, federal district courts have issued nearly 40 nationwide injunctions against the executive branch. During the first two years of Barack Obama's presidency, the courts only issued two injunctions, and both were later dismissed.
"Some say this proves that the Trump administration is lawless. Not surprisingly, I disagree," Barr told the audience. "And I would point out that the only case litigated on the merits in the Supreme Court—the so-called "travel ban" challenge—ended with president's policy being upheld."
Last year, the Supreme Court ruled in a 5-4 decision that Trump's ban on travel from predominately Muslim countries was within the president's vast powers over matters of national security. The court's conservative majority argued that Trump's anti-Muslim statements were unrelated as long as the policy had a rational purpose.
After offering this defense of Trump's administration, Barr added that his "aim today is not to debate the merits of any particular policy" but to "discuss the improper use of nationwide injunctions against policies of all stripes."
The attorney general has been under fire in recent months for his handling of special counsel Robert Mueller's final report on the Russia investigation. Specifically, Barr has been criticized for clearing the president of obstruction of justice charges despite Mueller not making a final determination on the issue.
Democratic lawmakers and legal analysts have accused Barr of acting as a defense lawyer for the president rather than an attorney general for the American public. He has drawn numerous comparisons to Roy Cohn, one of Trump's former personal attorneys.
Presidential candidate Kamala Harris, a former attorney general of California, told reporters earlier this month that Barr has zero credibility and should resign immediately. "This attorney general lacks all credibility and has, I think, compromised the American public's ability to believe that he is a purveyor of justice," she said.
President Trump has offered nothing but praise for Barr, whom he called "a great man" during an interview with Fox News' Sean Hannity. "Had he been there initially, this all would not have happened, because what has gone on there is just a disgrace to our country," Trump added.