William Barr Confirms Donald Trump's Personal Lawyers Were Allowed to Read Redacted Mueller Report Before Release
Attorney General William Barr confirmed during a press conference Thursday that attorneys for President Donald Trump were allowed to review the final redacted version of special counsel Robert Mueller's report prior to its release to the public.
The reason, Barr told reporters, was so the president could determine whether he wanted to invoke executive privilege.
"Earlier this week, the President's personal counsel requested and were given the opportunity to read a final version of the redacted report before it was publicly released," the attorney general said. "That request was consistent with the practice followed under the Ethics in Government Act, which permitted individuals named in a report prepared by an Independent Counsel the opportunity to read the report before publication."
Nick Akerman, a former assistant special Watergate prosecutor, told Newsweek "that's nonsense."
"Trump already waved executive privilege by giving all this stuff to Mueller," he said in reference to the president's statements and documents provided to the special counsel throughout the course of the investigation. "There's no executive privilege, that's all made up... It's a coordinated PR effort by Barr and the White House to try and downplay what's in there that's going to be really ugly."
Akerman said Barr was "acting as [Trump's] personal lawyer," rather than the top law enforcement official in the country.
Barr added that the "President's personal lawyers were not permitted to make, and did not request, any redactions."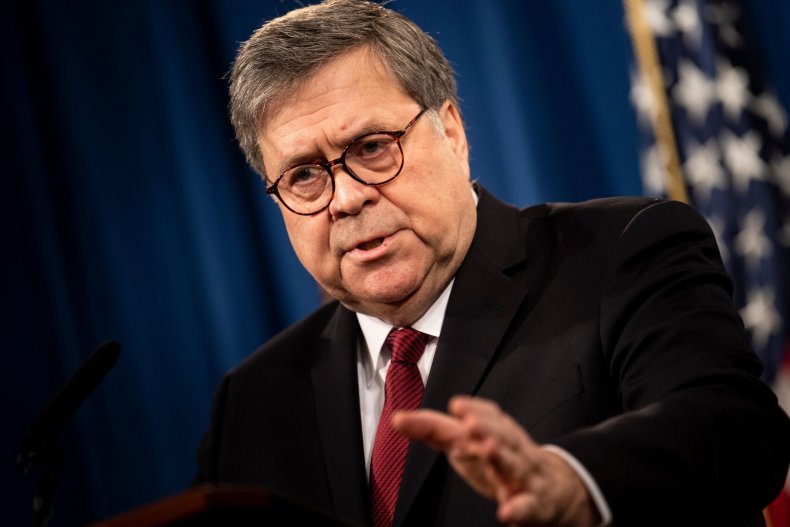 The attorney general's revelations confirm a New York Times report from Wednesday evening stating that Justice Department officials had numerous conversations with the president's legal team about Mueller's conclusions in the report, allowing he and his attorneys to prepare for when it is made available to Congress and the public.
During testimony to Congress last week, Barr refused to answer whether the White House saw or was briefed on the Mueller report or Barr's four-page summary of the special counsel's principal conclusions.
Congress was not allowed to review the report prior to its public release. Certain members will be allowed to view a copy in a secure location that has fewer redactions than what is provided to the public and most congressional members.
Besides Trump's personal lawyers, Barr said that "no one outside [DOJ] has seen the unredacted report, with the exception of certain sections that were made available to the intelligence community for their advice on protecting intelligence sources and methods." Mueller's team was also consulted during the process of making redactions, according to Barr.
"AG Barr has confirmed the staggering partisan effort by the Trump Admin to spin public's view of the [Mueller Report]—complete with acknowledgment that the Trump team received a sneak preview," House Speaker Nancy Pelosi said on Twitter. "It's more urgent than ever that Special Counsel Mueller testify before Congress."
Absent from Barr's press conference was Mueller, who Democratic Congressman Jerrold Nadler, chairman of the House Judiciary Committee, said in a statement immediately following the attorney general's remarks needed to appear before Congress to testify about his report "no later than May 23."
"As I have already communicated to the Department of Justice, I request your testimony before the Judiciary Committee as soon as possible," Nadler wrote in a letter to Mueller. He added on Twitter that in order "to better understand his findings," Congress and the American people "must hear from Special Counsel Robert Mueller in person."
This story has been updated to provide comment from Nick Akerman, former assistant special Watergate prosecutor.