William Barr Is Redefining What 'Spying' Means
Attorney General William Barr, who decided last month that special counsel Robert Mueller did not have enough evidence to determine whether President Donald Trump had criminally obstructed justice, now wants to take things a step further.
Appearing before a Senate panel on Wednesday, Barr testified that the U.S. government had spied on Trump during his campaign and that he would open another inquiry into the origins of special counsel Robert Mueller's investigation into Russian meddling in the 2016 presidential election.
"I think spying on a political campaign is a big deal," Barr told senators. "I think spying did occur, yes," because of a probable "failure among a group of leaders in the upper echelon" of the FBI.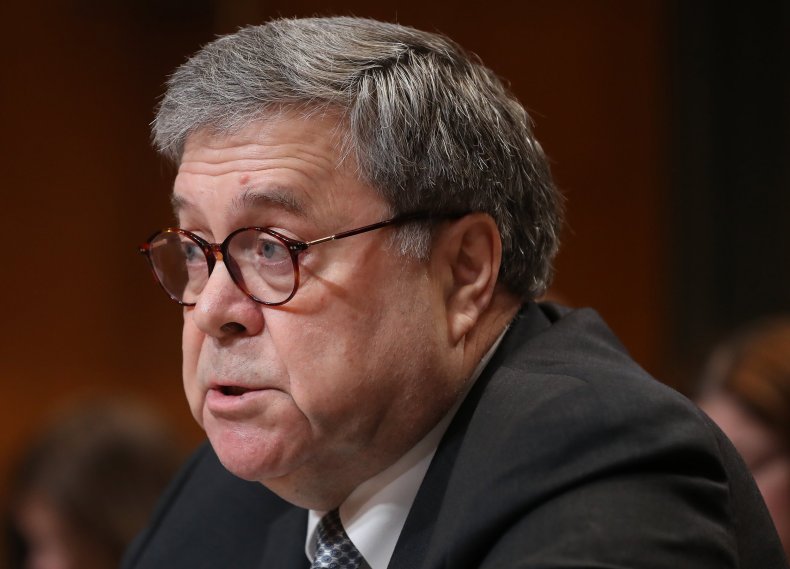 Mueller delivered a nearly 400-page report to the attorney general last month with evidence that "Russian-affiliated individuals" had assisted the Trump campaign, but it drew no conclusion as to whether Trump had obstructed justice. Two days later, Barr released a four-page summary of the report in which he and Deputy Attorney General Rod Rosenstein decided for themselves that the evidence was insufficient to criminally charge Trump.
But yesterday Barr seemed to indicate that he not only wanted to exculpate Trump of all wrongdoing but to avenge him as well.
His statement about wanting to open an inquiry into the origins of the Mueller investigation was odd, because its roots are already well-known.
The FBI launched an investigation into the president's campaign after its warnings of possible Russian interference were ignored. The Department of Justice eventually began to investigate certain former Trump campaign staffers who had had suspicious contacts with Russian agents. Multiple judges signed off on those investigations.
There was no evidence that government agents had illegally spied on the Trump campaign.
The "spying by the government" line is a conspiracy theory that has been touted by the right and by Trump's own camp. In 2017, Kellyanne Conway suggested that former President Barack Obama had used microwaves to spy on Trump.
Still, the comments will most certainly please Barr's boss, who has repeatedly called the Mueller investigation a Democrat-driven witch hunt.
"Barr knows how counterintel investigations work. He knows there was ample evidence of Russian attempts to infiltrate the Trump campaign and that the FBI took lawful action to stop it," Senator Mark Warner, a Democrat and ranking member of the Senate Intelligence Committee, tweeted Wednesday. "Giving a wink and a nod to this long-debunked 'spying' conspiracy theory is irresponsible."
House Intelligence Chair Adam Schiff questioned Barr's fitness to serve at the Department of Justice. "I had deep concerns about him given how he got the job, but this is far worse than I would have imagined," he told Politico.
Almost as soon as Barr made the comments, he attempted to walk them back.
"I have no specific evidence that I would cite right now" about spying, Barr said during the hearing. "I do have questions about it." Barr said he had not established a team to investigate and that he was "not saying that improper surveillance occurred. I am saying I am concerned about it and looking into it. I believe there is a basis for my concern. But I'm not going to discuss the basis."
A person close to Barr told The New York Times on background that the attorney general didn't see a distinction between the terms "spying" and "surveillance," and that he did not mean to imply that spying was inherently wrong.
Still, President Trump used Barr's comments to reiterate his own theories. "I think what he said was absolutely true," Trump told reporters in the Oval Office Thursday.
"There was absolutely spying into my campaign," he said. "I'll go a step further. In my opinion, it was illegal spying, unprecedented spying and something that should never be allowed to happen in our country again."
Corey Lewandowski, Trump's former campaign manager, told Fox News Thursday that the president "absolutely thinks" that Obama was involved in spying on his campaign. "There is no way an opportunity like this to spy on a political opponent was not vetted at the highest levels of the government'," he said, but cited no evidence to support his claims.