Democrats Fire Back at Barr Over 'Extreme' George Floyd Comments, Portland Response
Attorney General William Barr's suggestion that George Floyd's killing prompted "extreme reactions" have been condemned by Democratic lawmakers who have defended protesters across the U.S.
Floyd's death, after a police officer placed their knee on his neck while arresting him in Minneapolis, has prompted widespread demonstrations and mounting calls for law enforcement reform.
There have also been demands to defund the police, which Barr spoke against in recent comments.
"We had that terrible death in Minneapolis but then we had this extreme reaction that has demonized police and called for the defunding of police departments," he said.
"And what we have seen then is a significant increase in violent crime in many cities.
"And this rise is a direct result of the attack on the police forces and the weakening of police forces."
Barr's comments prompted derision from Democrats.
"I can't find a word that fully reflects what a horrid, craven, evil human being Bill Barr is," Rep. Jared Huffman (D-CA) wrote on Twitter, in response to a report outlining Barr's comments.
Rep. Don Beyer (D-VA) told Newsweek it "is not 'extreme' to want justice" for what happened to Floyd, in response to Barr's comments.
"It is not 'extreme' to exercise constitutionally protected rights to peaceful protest to demand an end to systemic racism," he said.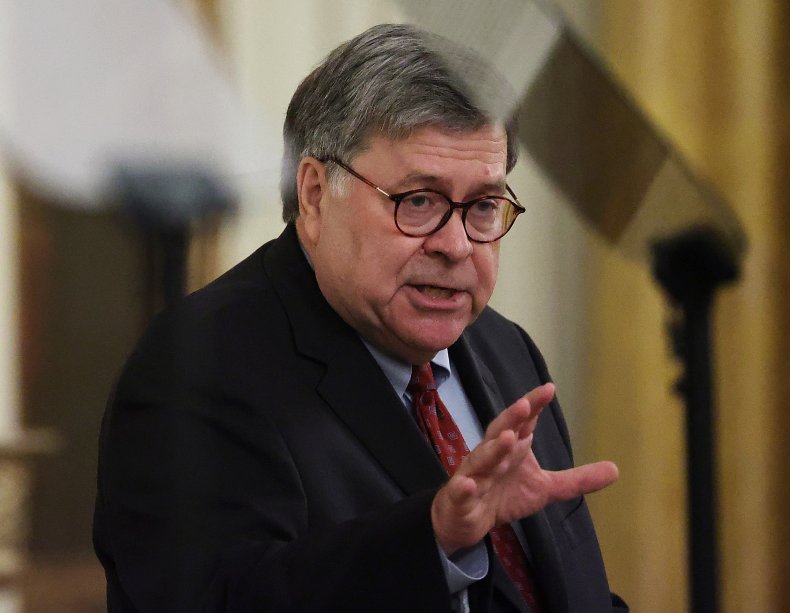 He then moved to criticize the federal response to protests, adding: "It IS 'extreme' to respond to those peaceful protests by dispatching unidentified paramilitary forces to police communities against the wishes of the people who live there and the protests of their elected leaders. In this case it is also illegal."
Rep. Chellie Pingree (D-ME) said that the reaction to Floyd's death "speaks to the long-unaddressed anger Americans have about the violence and oppression Black communities have endured."
"As elected officials, we have an obligation to listen and take action to address systemic racism," she told Newsweek, in response to Barr's comments.
Commenting on the response to protests, she added: "The Attorney General should know that under our Constitution Americans have the absolute right to assemble and protest their government and the President doesn't have the authority to invade cities with secret police to subjugate that right."
Sen. Ron Wyden (D-OR) defended protesters and their demands for law enforcement reform.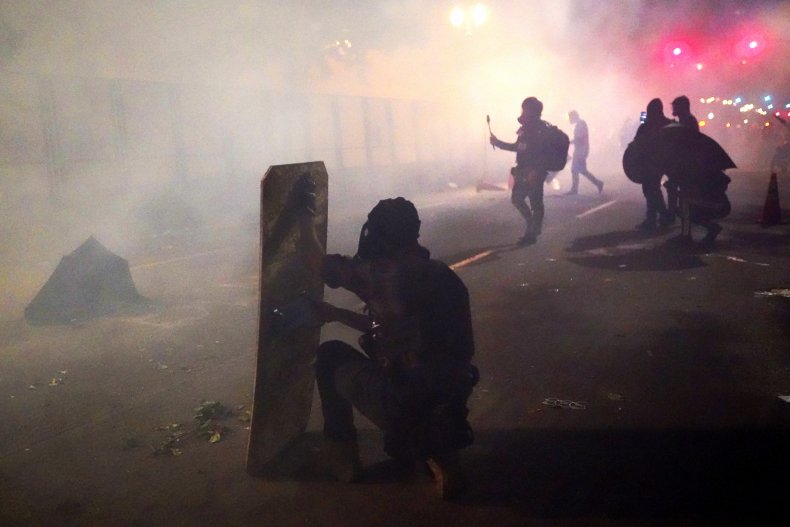 "Donald Trump and Bill Barr want to convince America that Black Lives Matter protesters are a threat and that criticizing police violence will make us less safe. The reality is the protests taking place across America have been overwhelmingly peaceful and Americans who demand reforms to improve law enforcement make our communities safer," he said.
"These protesters are rightfully standing up and saying what happened to George Floyd and countless others cannot happen again."
Reiterating his colleagues' comments on the response to the protests, he further defended those demonstrating.
He told Newsweek: "They are standing up for peace and being met with violence from Trump and Barr's paramilitary forces."
Newsweek has contacted the Department of Justice and the White House for comment.
A White House source previously told Newsweek that Trump is "not concerned" about criticism, adding he "is concerned with saving American lives and ending the heinous surge of violence occurring in America's cities."
The comments come as federal officers deployed to Portland continue to spark controversy with their tactics.
Oregon Attorney General Ellen Rosenblum has filed a lawsuit against U.S. Homeland Security, while members of Congress have also called for answers over actions within the city.
"The federal administration has chosen Portland to use their scare tactics to stop our residents from protesting police brutality and from supporting the Black Lives Matter movement," Rosenblum said in a statement. "Every American should be repulsed when they see this happening. If this can happen here in Portland, it can happen anywhere."
Federal law enforcement agents have been sent to several other U.S. cities, the president has announced, stating this was being done to address "violent crime."
Baltimore's state attorney and the district attorney for Philadelphia have both said that if federal officers are deployed to the city, they could face criminal charges if caught engaging in "illegal vigilante activities."
Democrats Fire Back at Barr Over 'Extreme' George Floyd Comments, Portland Response | Politics