Watch: William Barr Gave a Very Long Pause When Asked Whether a President Should Report Foreign Dirt
President Donald Trump said he might not alert the FBI if a foreign government offered him damaging information on his 2020 opponent and that if presented with such information "I think I'd take it."
"I think you might want to listen, there isn't anything wrong with listening," Trump told ABC's George Stephanopouos on Wednesday. "If somebody called from a country, Norway, [and said] 'we have information on your opponent'—oh, I think I'd want to hear it."
The admission stunned members of Congress and legal experts, who blasted Trump for apparently not learning anything from Russian interference in the 2016 election. Former CIA director John Brennan said Trump's comment shows he is "undeserving of any public office and all Americans should be outraged."
Even a Fox News host called for the president to "clarify" his remarks. Fox & Friends co-host Brian Kilmeade said on Thursday that "nothing's free in the world. You don't want a foreign government or foreign entity giving you information because they will want something back. If anybody knows that, it is the president."
But Trump could have been given the green light from Attorney General William Barr, who gave an extraordinarily long pause when asked by Congress if a presidential candidate should immediately alert the FBI if approached with opposition research from a foreign power.
"Going forward, if a foreign adversary offers a presidential candidate dirt on a competitor should they immediately turn it over to the FBI?" Senator Chris Coons asked Barr during a Senate Judiciary Committee hearing on Robert Mueller's Russia report on May 1. Barr gave a long pause before Coons asked the question again.
"If a foreign intelligence service, a representative of a foreign government, says we have dirt on your opponent should they say 'I love it, let's meet' or should they contact the FBI?" Coons asked again.
Barr was very specific with his reply and said that if a "foreign intelligence service" contacted a candidate then that candidate should contact the FBI.
Former federal prosecutor Renato Mariotti tweeted a video clip of the exchange with the caption: "Notice how long Barr thought before answering this question? He carefully qualified his answer by limiting it to a 'foreign intelligence service.' Had Trump previously discussed with Barr his view that obtaining information from foreign governments is okay?"
Barr has been heavily criticized by the legal community for acting as a defense lawyer for President Trump rather than the attorney general. He's also drawn numerous comparisons to Roy Cohn, Trump's former "fixer" and personal attorney.
Several lawmakers have called for Barr to resign for misleading the public over the findings of Mueller's report on the two-year probe into Russian election interference. More than 1,000 former federal prosecutors, have gone against Barr and signed a petition stating that there is clear evidence Trump obstructed justice.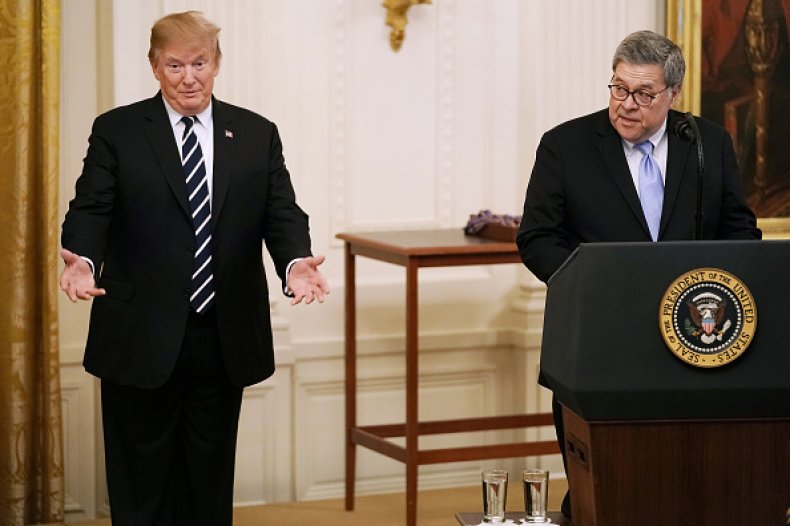 President Trump attempted to defend his comments about accepting opposition dirt from a foreign government in a series of tweets on Thursday morning.
"I meet and talk to 'foreign governments' every day. I just met with the Queen of England (U.K.), the Prince of Wales, the P.M. of the United Kingdom, the P.M. of Ireland, the President of France and the President of Poland. We talked about 'Everything!'" Trump tweeted.
"Should I immediately call the FBI about these calls and meetings? How ridiculous! I would never be trusted again. With that being said, my full answer is rarely played by the Fake News Media. They purposely leave out the part that matters" the president added.
Watch: William Barr Gave a Very Long Pause When Asked Whether a President Should Report Foreign Dirt | U.S.