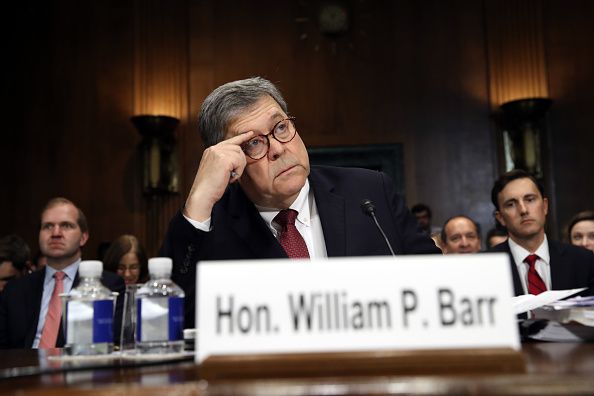 William Barr is facing impeachment calls from Democrats over his handling of special counsel Robert Mueller's report on the Russia investigation, but experts warn that removing an attorney general is just as difficult as removing the president. In fact, it's never been done before.
"No attorney general has ever been impeached," Michael Gerhardt, a constitutional law professor at the University of North Carolina, told Newsweek.
"The process for impeaching an attorney general for misconduct is nearly as difficult as it is for the president. With the president, however, elections can also serve as checks. There is no analogue for that with a Cabinet member," he added.
Gerhardt served as a member of President Bill Clinton's Justice Department transition team and testified before the House Judiciary Committee during the impeachment proceedings against Clinton.
Calls for Barr's removal resounded on Tuesday after it was revealed that Mueller disagreed with his handling of the highly anticipated report. In late March, the special counsel wrote a letter to Barr in which he expressed frustration over how the attorney general had presented the key findings of the nearly two-year probe in a four-page summary.
The revelation creates serious problems for the attorney general, most notably that he appears to have misled Congress during appearances on Capitol Hill in early April, a week after he received Mueller's letter.
Democratic Representative Charlie Crist asked Barr during a House Appropriations subcommittee hearing on April 9 about reports that members of the special counsel's office were upset about his representation of their findings. Specifically, those investigators thought Barr did not adequately portray the report.
"Do you know what they are referencing with that?" Crist asked him. Barr responded that he did not.
The next day, during an appearance before the Senate Appropriations Committee, Democrat Chris Van Hollen questioned Barr on how Mueller felt about the overall handling of the report.
"Did Bob Mueller support your conclusion?" Van Hollen asked, to which Barr responded, "I don't know whether Bob Mueller supported my conclusion."
According to Gerhardt, lying to or misleading Congress during testimony is "sufficiently serious" enough to warrant impeachment proceedings for an attorney general.
But Harvard Law professor Laurence Tribe told Newsweek that while Barr's behavior "might in theory" warrant calls for removal, it "seems exceedingly unlikely."
"Barr's manifestly misleading and obfuscatory testimony, whether or not impeachable, is certainly disqualifying for any attorney general. He really needs to resign," Tribe added.
Democratic presidential candidate Julián Castro said on Tuesday night that Barr was "completely compromised" and "ought to resign or they should begin impeachment inquiry."
Fellow presidential candidate Elizabeth Warren shared similar sentiments on Wednesday. "Donald Trump isn't king, and no one is above the law. We know Barr's deceptive 'summary' was intended to protect the man in the White House, and Congress should begin impeachment proceedings against the President," she wrote on Twitter.
Representative Adam Schiff, chairman of the House Intelligence Committee, told CNN on Wednesday that Congress is going to need to consider all options when it comes to removing Barr.
"Look, there's no sugarcoating this: I think he should step down. It's hard, I think, for the country to have confidence in the top law enforcement official in the country if he's asked a direct question, as he was, and he gives a directly false answer. So this is serious business," Schiff said during an appearance on CBS This Morning.
Congress has the power to impeach the "president, the vice president and all civil officers of the United States" for treason, bribery and other high crimes and misdemeanors, according to Article 2 of the Constitution. That includes Cabinet members like the attorney general.
According to Tribe, the process of impeaching an attorney general is "identical" to that of removing the president, "except that the vice president presides over the Senate trial if anyone except a president is impeached."
Impeachment is not commonly used against Cabinet members because they serve at the pleasure of the president, who can decide to fire them or force them to resign because of a scandal. But Donald Trump is not likely to push out Barr, who's proved himself to be a defender of presidential power and has even drawn comparisons to Roy Cohn, Trump's former personal attorney and fixer.
Plus, Barr decided the president did not commit obstruction of justice after Mueller failed to make a final determination on the matter, despite providing evidence of possible criminal behavior.
Trump praised his attorney general as a "great gentleman" following Barr's four-page summary, which highlighted that the Mueller report found no evidence of a criminal conspiracy between the Russians and the Trump campaign and did not conclude that Trump obstructed justice.
"He's a great man," Trump told Fox News' Sean Hannity in a phone interview. "Had he been there initially, this all would not have happened, because what has gone on there is just a disgrace to our country."