William Barr Is Not America's Attorney General | Opinion
What a day it was. Jim kept shouting. Louie rapped repeatedly on his desk. They didn't want to let the others be heard. Mike was a bully. It went on for hours.
No, I'm not describing a pre-pandemic classroom of disruptive preschoolers. This is a portrait of a United States congressional hearing room on Wednesday, filled with misbehaving Republican members of the House Judiciary Committee during the testimony of three witnesses called by the Democrats: former Deputy Attorney General Donald Ayer and two current Justice Department officials, Aaron Zelinsky and John Elias.
The announced topic was "Oversight of the Department of Justice: Political Interference and Threats to Prosecutorial Independence." But the competing theme was distraction and disorder. Ranking member Jim Jordan of Ohio shouted over Chairman Jerrold Nadler and the witnesses. Representative Louie Gohmert of Texas banged on his desk steadily when Ayer's opening statement ran a bit over time. And Representative Mike Johnson of Louisiana kept ribbing Zelinsky, who, on the advice of a physician, testified remotely to keep his newborn baby safe from COVID-19.
But no amount of yelling, loud noises or rude behavior could distract us from the painful truth of the witnesses' testimony: William Barr is not America's attorney general. He has been "activated" by President Donald Trump to do his personal and political bidding.
The most stunning testimony came from Zelinsky, an assistant U.S. attorney. He detailed the pressure he faced in February to go easy in sentencing Roger Stone, President Donald Trump's longtime associate whom a jury convicted in November 2019 on seven felony counts involving obstructing the congressional investigation into Russian interference in the Trump campaign, lying to Congress and witness tampering (including telling a potential witness to "prepare to die").
In line with the U.S. Sentencing Commission guidelines, Zelinsky believed the severity of Stone's offenses warranted seven to nine years in prison. Yet Zelinsky testified that he was directly pressured to "water down and in some cases outright distort the events" from Stone's trial that led to his conviction. That pressure, he said, came from the highest levels of the Justice Department, aka Barr.
Even though he was told he could lose his job, Zelinsky was courageous and wrote and released the by-the-book sentencing recommendation. That night, Trump tweeted that this was "a horrible and very unfair situation." In the morning, after learning that the Justice Department would override his team with a supplemental memo that called the sentencing recommendation "excessive and unwarranted," Zelinksy withdrew from the case, along with three other prosecutors.
Elias, an antitrust division prosecutor who has served the department for 14 years, also testified that Barr is bending justice to serve Trump. As one example, Elias said that in August 2019, the antitrust division's leadership unjustifiably directed staff to investigate the world's four largest automakers to appease Trump.
A month earlier, California announced that Ford, Volkswagen of America, Honda and BMW had each agreed to follow the state's emissions standards, which were far more stringent than what would be required under Trump's planned rollback. The deal humiliated Trump, and he lashed out on Twitter. The day after those tweets, the investigation began, said Elias, who explained that this was inappropriate in any case, as there are long-standing legal doctrines that make both state action of this type and joint efforts by private businesses to influence policy lawful.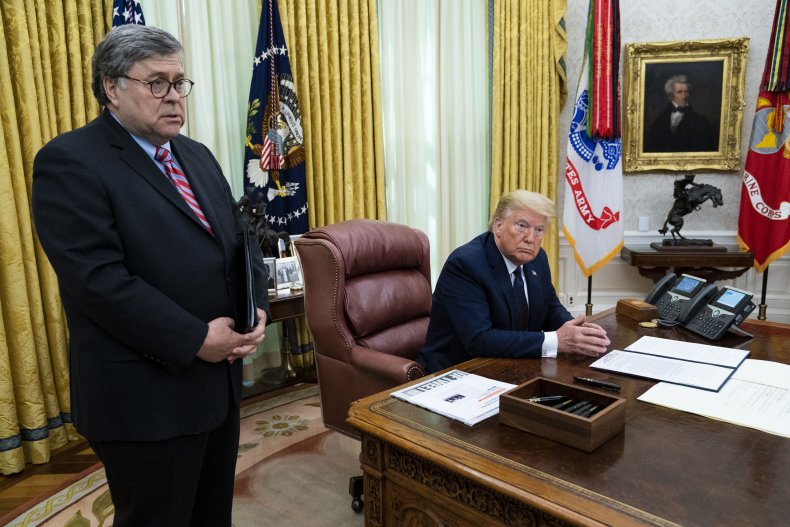 Yet Ayer was the moral conscience of the hearing and gave perhaps the most overt condemnation of Barr. "I believe that Attorney General Barr is a major threat to our legal system and to public trust in it," he said.
Barr has worked "to free the president from accountability under a broad range of checks and balances that have played a critical role in our system for many decades," Ayer testified. "He has also grossly misused his powers as attorney general to advance the president's personal and political interests, and to protect his friends."
The bottom line is this: Barr is yet another public resource that the president is using for his private benefit. A tool. Even the witness invited by the Republican leadership, former Attorney General Michael Mukasey, did not deny the pressure Trump exerts on the attorney general. With Barr, Trump has the entire criminal justice apparatus in his hands to target his enemies and reward his family and friends.
But here's the good news. Congress created the position of the attorney general in 1789 with the Judiciary Act. Over the centuries, statutes have further fleshed out the attorney general's powers and duties. Congress still has the authority to shape this role, fund the Justice Department and, of course, impeach. It is long past time to use these powers. Our nation's top law enforcement officer must serve the public interest of justice, not the whims of a corrupt, authoritarian president.
Jennifer Taub is a law professor, advocate and commentator focusing on corporate governance, financial market regulation and white collar crime. Taub's new book, Big Dirty Money (Viking), will be on sale September 29.
The views expressed in this article are the author's own.