William Barr Says He Couldn't 'Speculate' When Alleged Spying Started on Trump's Campaign Despite Raising Alarm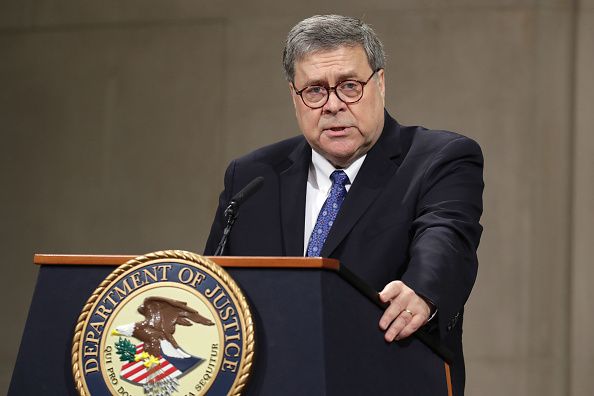 Attorney General William Barr said that he is "not going to speculate" about when the alleged spying occurred on Donald Trump's 2016 campaign, despite being the one to raise concerns about the surveillance to lawmakers last month.
Barr refused to say when the alleged spying began during an interview with Fox News on Friday. It was one of the first media interviews the attorney general has done since releasing special counsel Robert Mueller's report on the Russia investigation.
"You said back in April that you thought there was spying going on in the Trump campaign. When do you think that started?" host Bill Hemmer asked Barr.
"I'm not going to speculate when it started. We're going to find out when it started," Barr replied. "What I will say is that I've been trying to get answers to questions and I've found that a lot of the answers have been inadequate."
The attorney general added that he's also found that "some of the explanations I've gotten don't hang together. In a sense I've got more questions today than I did when I first started."
Barr first raised the issue of spying during a Senate Appropriations subcommittee hearing in mid-April, telling lawmakers that he thinks "spying did occur" and that he needed to further investigate if it was warranted.
"The question is whether it was adequately predicated, and I'm not suggesting it wasn't adequately predicated, but I need to explore that," he said at the time.
FBI Director Christopher Wray split with the attorney general on the allegations of spying, telling senators during a congressional hearing that it's "not the term he would use."
"I believe that the FBI's engaged in investigative activity and part of investigative activity includes surveillance activity of different shapes and sizes. And to me, the key question is making sure that it's done by the book," Wray said.
According to multiple media reports, Barr assigned U.S. Attorney John Durham to look into the origins of the special counsel's investigation. Durham, the top federal prosecutor in Connecticut, has previously investigated wrongdoing among national security officials.
Barr told Fox News that the American public should know what the government was doing before the 2016 election.
"If we're worried about foreign influence, for the very same reason we should be worried about whether government officials abused their power and put their thumb on the scale," Barr said. "I'm not saying that happened, but I'm saying that we have to look at that."