In his first testimony since special counsel Robert Mueller's redacted Russia report was released, Attorney General William Barr said he did not see "any conflict" in saying that Donald Trump fully cooperated with the investigation even though the president tried to shut it down.
During the hearing before the Senate Judiciary Committee on Wednesday morning, Senator Patrick Leahy grilled Barr on the president's attempts to stop his former lawyer Michael Cohen and former Trump campaign manager Paul Manafort from cooperating with Mueller's probe.
"Both Mr. Manafort, Mr. Cohen were told by Trump's personal attorney they'd be taken care of if they did not cooperate. You said that the president was fully cooperating," Leahy said to Barr. "Was there a conflict there? Yes or no?"
"No," Barr replied.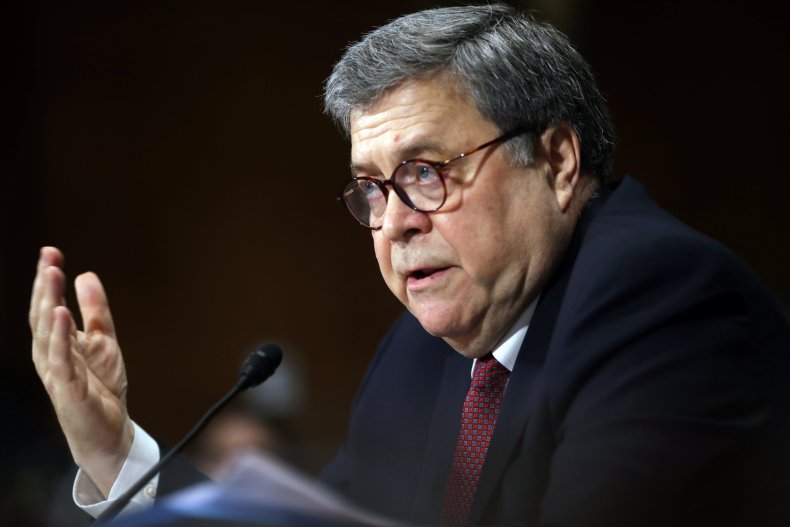 Leahy reiterated his question, bringing up then–Attorney General Jeff Sessions.
"You think [Trump] was fully cooperating to instruct a former aide to tell the attorney general to un-recuse himself, shut down the investigation and declare the president did nothing wrong?" Leahy asked.
Barr tried to steer the conversation to his no obstruction conclusion. "I don't think, well obviously since I didn't find it was obstruction, I felt that the evidence could not support an obstruction," Barr said.
Leahy responded, "I'm asking you: Is that fully cooperating? I'm not asking you if that's obstruction. Is that fully cooperating?"
"Yeah, he fully cooperated," Barr said. When Leahy asked the question yet again, Barr asked the senator where that was referenced in Mueller's report. Leahy said it was in the fifth page of volume two and read part of the section.
"On June 19, 2017, the president dictated a message for [Corey] Lewandowski to deliver to Sessions. The message said Sessions should publicly announce that…the investigation was very unfair to the president, the president had done nothing wrong," Leahy read.
The senator asked Barr again if he felt Trump was fully cooperating. After bringing up his no obstruction point, Barr said, "Well, I don't see any conflict between that and fully cooperating with the investigation."
Barr's testimony comes after The New York Times and The Washington Post reported that Mueller wrote a letter to him in late March that objected to his summary of the probe's key findings.
Democrats have accused Barr of casting Mueller's report in a favorable light for the president and have repeatedly called for him to resign.