William Barr Torched by Harvard Law Professor, Top Legal Scholars Over 'Indefensible' Mueller Summary: AG 'Must Be Impeached'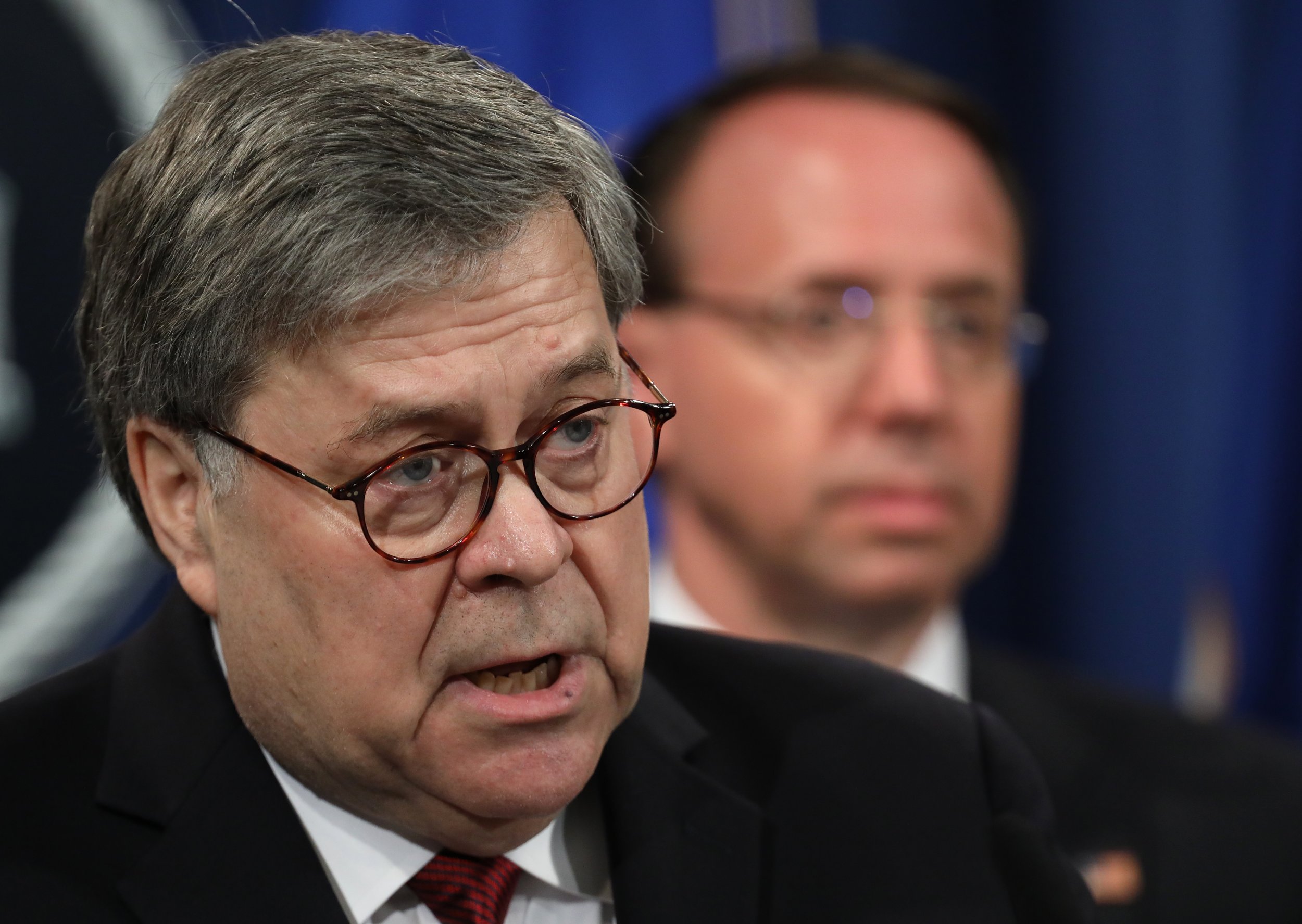 After special counsel Robert Mueller's letter to William Barr complaining about his summary of the Russia investigation was revealed on Tuesday, top legal scholars — including a longtime Harvard law professor — condemned the Attorney General for allegedly misrepresenting the special counsel's findings, with some calling on him to resign or be impeached.
The New York Times and the Washington Post reported on the existence of the letter, sent by Mueller to Barr in late March, earlier today, where the special counsel told the Attorney General: "The summary letter the Department sent to Congress and released to the public late in the afternoon of March 24 did not fully capture the context, nature, and substance of this office's work and conclusions."
"There is now public confusion about critical aspects of the results of our investigation," Mueller added in his letter sent days after Barr released his four-page summary of the special counsel's findings, according to the Post. "This threatens to undermine a central purpose for which the Department appointed the Special Counsel: to assure full public confidence in the outcome of the investigations."
Harvard Law professor Laurence Tribe, a constitutional legal expert who has taught at the leading academic institution for almost half a century, condemned Barr for misleading public opinion in a statement posted to Twitter, and called for the attorney general to be impeached for his actions. "Mueller says AG Barr misrepresented the 'context, nature & substance' of his probe. What else is there? Barr is a total disgrace and a phony," Tribe wrote. "He must now testify under Rep. Jerry Nadler's rules, then resign."
"Mueller must now testify as well. This is a new ballgame," the professor continued. "AG Barr flat-out lied to the American people about the Mueller report's incrimination of President Trump. He's been outed as a total fraud. We can't let Barr — or Trump — get away with such gross abuse of power."
"Barr must be impeached if he doesn't resign first," Tribe added.
Tribe's sentiments were backed by numerous leading legal scholars and professionals, with some calling his actions "indefensible" and others saying he "effectively lied to the public and to Congress."
"Of course. Because what Barr did is indefensible — from his summary 'nonsummary' to his absurd conclusion of the obstruction investigation," Supreme Court lawyer Neal Katyal, who formerly worked as the acting solicitor general of the U.S., tweeted.
"This looks just completely terrible for Barr, who effectively lied to the public and to Congress. In a normal administration we'd be talking about whether the AG would be forced to step down. In this one, who knows?," CNN legal analyst Susan Hennessey, who was formerly an IC attorney, wrote.
"It would have been incredibly easy for Barr to have played it straight and just avoided all of this. He made an active choice to torch his integrity and public credibility," she added in a later tweet.
"It was apparent to anyone who read the Mueller report that Attorney General Barr's spin on it was misleading and inaccurate," former federal corruption prosecutor Noah Bookbinder tweeted.
Conservative commentator Jennifer Rubin, a former lawyer, tweeted: "Barr should step down. His credibility is nil and DOJ is diminished and under a cloud so long as he stays."
"Remember that abuse of power — by an Attorney General — is an impeachable offense," Ryan Goodman, a professor at NYU Law and formerly Harvard Law, added.
"All of a sudden I'm having doubts about the fairness of AG Barr," Rick Hasen, Professor of Law and Political Science at UC Irvine, wrote.