Donald Trump's nominee for attorney general, William Barr, told the Senate Judiciary Committee Tuesday that he met with the president in the summer of 2017 and discussed his opinion of special counsel Robert Mueller.
Barr described the meeting with Trump as "brief" and said the president was interested in Mueller's level of "integrity." Trump has frequently called the special counsel's investigation into Russian interference in the 2016 election and possible collusion between Russia and the Trump campaign a "witch hunt."
"How well do you know Bob Mueller?" Barr recalled the president asking.
"I told him how well I knew Bob Mueller, and that the Barrs and Muellers were good friends and would be good friends when this is over with," Barr said. "He was interested in that and wanted to know what I thought of Mueller's integrity and so on. And I said, 'Bob is a straight shooter and should be dealt with as such."'
Barr has known Mueller both "personally and professionally" for 30 years, he testified, having worked with him throughout their tenure at the Department of Justice and under previous presidential administrations. Barr was previously attorney general for a short time under President George H.W. Bush.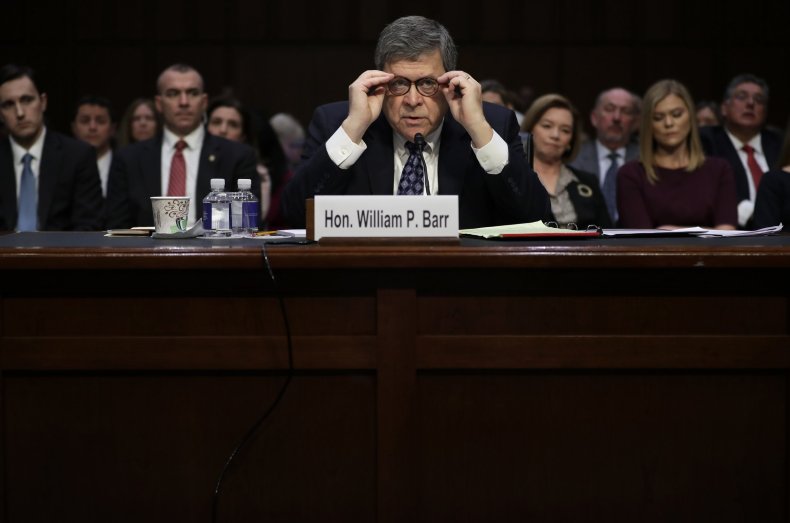 The meeting between Barr and Trump occurred after the U.S. ambassador to Israel at the time, David Friedman, reached out to Barr that summer in an effort to find lawyers for Trump's legal team. Friedman, a former bankruptcy lawyer for Trump, wanted to identify "Washington lawyers…whose perspective might be useful to the president's," Barr said.
Barr quoted Trump as asking during their meeting if he was "envisioning some role" on the White House legal team. Barr said he was too occupied with other obligations at the time.
"He asked me for my phone number, I gave it to him, and I never heard from him again," Barr said, "until later about something to do with the attorney general's position."
With many of the questions posed to the nominee focusing on the Russia probe, Barr promised not to interfere and to allow Mueller to complete his investigation. He added that any attempted interference by Trump would likely amount to an "abuse of power," adding that it would be a "breach of the president's duties to execute the law."
Breaking with Trump, Barr also told the committee he did not "believe Mr. Mueller would be involved in a witch hunt." In addition, Barr said he agreed with Jeff Sessions's decision to recuse himself from the Russia investigation, saying the former attorney general "did the right thing."