William Barr Says Evidence About Alleged Donald Trump Obstruction of Justice Won't Be Redacted in Mueller Report
Attorney General William Barr told lawmakers that evidence relating to whether President Donald Trump obstructed justice "will be identifiable" when he releases a redacted version of special counsel Robert Mueller's report by mid-month.
Barr appeared before a House Appropriations subcommittee on Tuesday to testify about Trump's 2020 budget request for the Department of Justice. It was his first testimony before lawmakers since Robert Mueller submitted his report on the Russia investigation to the Justice Department on March 22.
The attorney general made no mention of Mueller's report or the Russia investigation in his opening statement. But Democratic Representative José Serrano quickly addressed the "elephant in the room."
"The American people have been with many unanswered questions, serious concerns about the process by which you formulated your letter and uncertainty about when we can expect to see the full report," he said. "It would strike a serious blow to our system, and yes, to our democracy, if that report is not fully seen."
Serrano went on to question Barr about the special counsel's evidence relating to possible obstruction of justice by Trump.
"You've indicated some actions the special counsel investigated as potentially raising obstruction of justice concerns haven't been publicly reported. Will these actions be identified in the report sent to Congress?" the Democrat asked.
"As things stand now, I don't think they will be redacted," Barr replied. "So they will be identifiable."
Barr has come under intense scrutiny since he released a four-page summary of the special counsel investigation's key findings on March 24. His summary came less than 48 hours after Mueller submitted the report, which is more than 400-pages long.
In his summary, the attorney general wrote that Mueller had not established a conspiracy between the Trump campaign and Russia during the 2016 election.
Barr also wrote that while the special counsel did not reach a conclusion on whether Trump had obstructed justice, he and Deputy Attorney General Rod Rosenstein determined there was not sufficient evidence to charge the president with obstruction of justice.
But many have speculated that Barr, who was appointed by the president and confirmed by a Republican-majority Senate earlier this year, may have interpreted Mueller's report in a way to show Trump in a more positive light.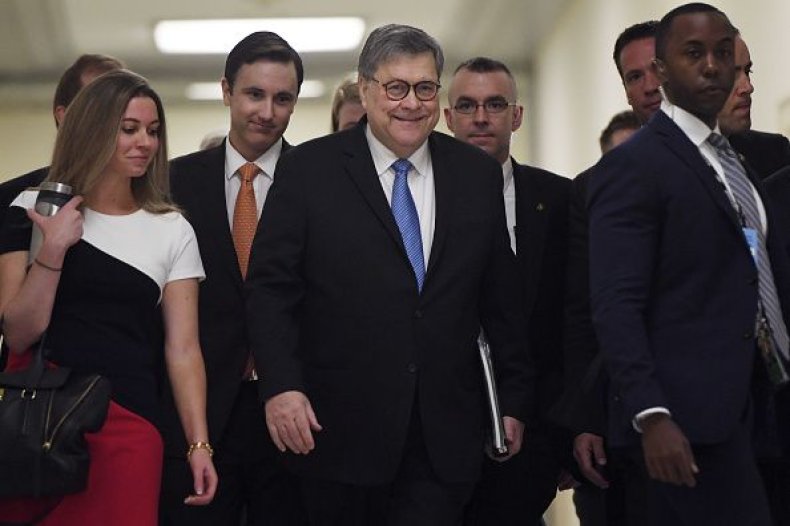 Several members of the special counsel's office, speaking on the condition of anonymity, told The New York Times and The Washington Post that they believed Barr had not adequately represented the findings of their two-year investigation.
Investigators said that Barr ignored the summaries they had prepared with the view that they would be seen by the public. They also told the news outlets that the issue of obstruction of justice was actually "much more acute" than the attorney general suggested in his summary.
Representative Nita Lowey, a New York Democrat and chair of the full House Appropriations Committee, accused Barr of "cherry-picking" aspects of the Mueller report "to draw the most favorable conclusion possible for the president."
The Justice Department has defended Barr's initial summary, arguing that there was sensitive information pertaining to ongoing grand jury investigations in the report that could not be disclosed. Barr himself has promised to release a version of the report by the middle of this month, but with redactions.
House Democrats have demanded that the Mueller report be released in its entirety, and the House Judiciary Committee has authorized a subpoena for the document should Barr refuse to release it in full.
Barr told lawmakers on Tuesday that the special counsel was helping to identify areas of the report that needed to be redacted, or blacked out, and that explanations would be offered explaining the reasons for the omissions.
"From my standpoint, within a week, I will be in a position to release the report to the public," Barr said.
William Barr Says Evidence About Alleged Donald Trump Obstruction of Justice Won't Be Redacted in Mueller Report | U.S.