William Barr, Trump's Pick for Attorney General, Once Called Violence Against Women Act a 'Bad Idea'
President Donald Trump's pick for attorney general, William Barr, has in the past called the Violence Against Women Act (VAWA) a "bad idea," implied that it was a "crime du jour" and said it was not in the "legitimate interest" of the federal government.
In a video first found by American Bridge, a progressive PAC, Barr dismissed the act, which funds and manages a number of programs meant to aid survivors of domestic violence and sexual assault, as frivolous. The law also trains law enforcement officers to deal with sexual assault cases and requires those who commit sexual crimes to pay restitution to their victims.
One in three women and one in six men experience sexual violence in their lifetime, according to the Centers for Disease Control and Prevention. Former Vice President Joe Biden, who co-authored the act, called its passage one of the proudest moments of his career.
"I definitely think there's been an over-federalization of the law, and the culprit, I think, is generally the political process: the White House and Congress. If you have a strong Justice Department that is taking an affirmative position on what criminal justice policy should be, then you can generally fend off these bad ideas," Barr said, referring to the VAWA. He was speaking at an American Bar Association panel of former attorneys general in 1999.
"But Washington's first impulse as the crime du jour emerges is, you know, all of us have been called up to the Hill and said, 'We want to put a crime bill together to address carjacking, to address this, to address that.' It's the same thing in the White House," he continued. "I think a lot of the bad ideas have come recently because of the failure of the Justice Department to take a strong stand on criminal justice policy. For example, the Violence Against Women Act."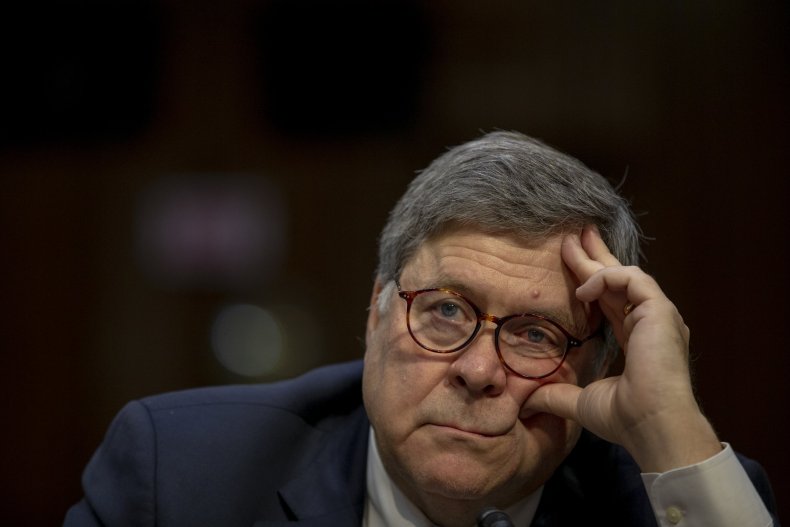 Later, Barr said on the panel that he believed the government did have a "legitimate interest" in intervening in drug trafficking, organized crime and firearm regulations, but not in preventing violence against women.
The law, which is mostly administered by the Justice Department, would largely fall under Barr's purview if his appointment is approved by Congress.
The VAWA has gone unfunded since last year, after Congress refused to approve funding before President Donald Trump shut down the federal government over his proposal for a $5 billion wall along the southern border.
Then-House Minority Leader Nancy Pelosi sent a letter to House Speaker Paul Ryan urging him to fund the act. "Republicans' decision to include only a short-term VAWA reauthorization in the must-pass minibus spending bill is nothing short of an abdication of our responsibilities to women in our country," she wrote.
Nearly 50 Republican representatives also signed a letter supporting the law's funding. "This is not a partisan issue," they wrote. "VAWA has continually been reauthorized on a bipartisan basis in Congress. We must act now to maintain and strengthen this critical law."
Trump, who has been accused of sexual misconduct by at least 22 women, has not spoken publicly about the act's expiration.
During his Senate hearing, Barr told Senators Joni Ernst, a rape survivor, and Amy Klobuchar that he would support reauthorization of the act. He added, however, that he would have to learn more about what the Justice Department did to support the law. He ultimately pledged to "familiarize myself with the office, its work and its programs, and strongly support that."
Barr previously served as attorney general under President George H.W. Bush.