An Episcopal Church bishop in Albany, New York, has issued a directive banning same-sex marriage in his diocese, claiming that the church has been "hijacked by the 'Gay Rights Agenda,' which is very well organized, very strategic, very well financed and very powerful."
In an eight-page letter released Saturday, The Reverend William H. Love also argued that "Satan is having a heyday bringing division into the Church over these issues," and is "deceiving the leadership of the Church into creating ways for our gay and lesbian brothers and sister to embrace their sexual desires rather than to repent and seek God's love and healing grace."
The directive has been issued just three weeks before a resolution comes into effect which sets rules for same-sex marriages in Episcopal churches nationwide, Associated Press reports. Known as B012, the directive was passed overwhelmingly by church leaders in July.
The resolution does not integrate same-sex marriage into official Church theology, but it does enable clergy members to provide the service. In cases where bishops in a given parish have theological objections, another bishop may be invited to carry out the ceremony.
According to the Reverend Susan Russell—an L.A. based clergy member who advocates for a more inclusive church—Love is the only U.S. bishop refusing to comply with the resolution. In 2015, however, eight out of 101 dioceses refused to comply with a previous trial version of the B012 resolution.
In his letter, Love said the latest directive "turns upside down over 2,000 years of Church teaching about marriage" adding that while homosexuality has existed for thousands of years, marriage should be between a man and a woman.
"Homosexuality, or same-sex attractions is not unique to our generation," he wrote. "It existed long before Jesus walked the face of the earth. Yet from the very beginning of creation, marriage has been between a man and woman. The fact that some in today's sexually confused society may have broadened their understanding of marriage to be more inclusive, allowing for same-sex marriages, doesn't mean that God has changed His mind or His purpose or intent for marriage."
"While I don't question the sincerity or the well intentions of many in the Episcopal Church who believe the best way to love and minister to our Gay and Lesbian Brothers and Sisters in Christ is to embrace them in their sexuality and make provisions for their same-sex attractions through same-sex marriage rites, I do believe they have been deceived into believing a lie that has been planted in the Church by the "great deceiver"—Satan," he said.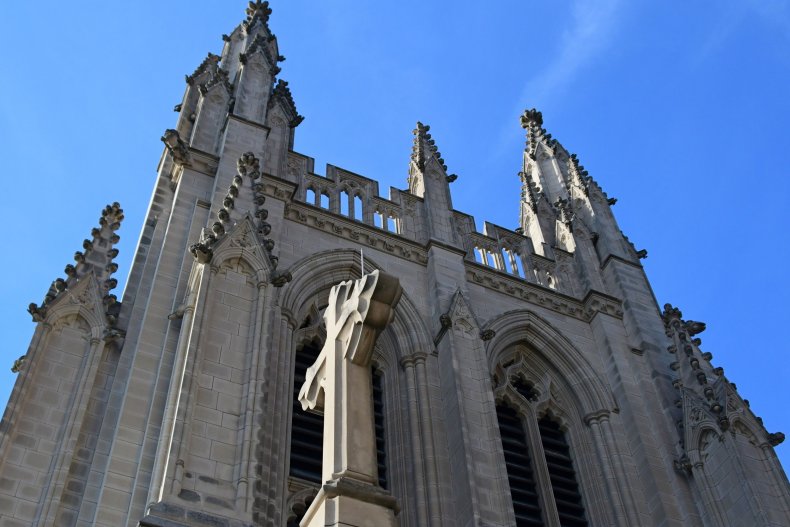 Love added that his opposition was not borne out of "mean-spiritedness, hatred bigotry, judgementalism, or homophobia" but rather love for "God and His Word", "the Episcopal Church" and "each of my brothers and sisters in Christ, especially those who are struggling with same-sex attractions."
Michael Curry, Episcopal Church Presiding Bishop, said he was "assessing the implications" of Love's letter and would soon decide on an appropriate course of action, according to a statement.
"We are committed to the principle of full and equal access to, and inclusion in, the sacraments for all of the baptized children of God, including our LGBTQ siblings," he said, noting that those who have taken vows to obey Church doctrine must uphold decisions made by the leadership.
Some Episcopalians expressed strong disagreement with Love's letter, gathering around the steps of St. Andrew's Church in Albany to ceremonially burn a copy of it, The Times Union reports.
"You come to a church looking for comfort and love and you're told that you're acting in concert with Satan?" said Nadya Lawson, an Albany resident who said she has felt accepted at St. Andrew's as a lesbian. "Anybody who doesn't fit in with his vision of how things should be is unsafe because of his letter and his actions."
Brunswick resident Richard Fay—who was raised a Catholic but eventually moved over to the Episcopal Church because it mixed certain traditions with more modern social views— said he also disagreed with Love's opinions.
"It's the 21st century. We have different views and different values than in Biblical times," he told The Times Union. "Yes, scripture is important, but you have to interpret it based on what's going on. I think it's also a social issue. I think it's an issue of equality. I also think that the main core of Christianity should be love: love thy neighbor as thyself."