William Shatner Jokes About Recreating His 'Twilight Zone' Episode on Blue Origin Flight
Legendary Star Trek actor William Shatner spoke Thursday to a crowd of fans at New York Comic-Con about his forthcoming journey into space.
Blue Origin, the private space company started by Amazon founder Jeff Bezos, announced on Monday that Shatner would fly into space aboard the corporation's New Shepard rocket on October 12. At 90 years old, Shatner will become the oldest person to ever fly in space.
Shatner addressed a crowd of his supporters during a panel dedicated to his upcoming projects, taking some time towards the end to address the upcoming mission. He explained that the idea to launch himself into the cosmos was first pitched over a year ago by his friend, Hollywood producer Jason Ehrlich.
The native of Montreal, Quebec is best known for portraying Captain James T. Kirk on the original Star Trek television series from 1966 to 1969, and he recalled that he certainly had no qualms making comparisons about a potential real-life space journey.
"Jason, for God's sake, nobody cares about Captain Kirk going up into space—it was 55 years ago—my God man, "Shatner said, explaining how his conversation with Ehrlich initially went. "I don't want to be known as the oldest guy who went to space—I'm bloody Captain Kirk, for God's sake!"
However, while his role as Captain Kirk is by far his most famous, Shatner said that the space launch might end up being more like another one of his roles—an airline passenger who sees a ghoulish creature on the wing in a 1963 episode of The Twilight Zone.
"Three minutes in the weightlessness of space, and the beauty of this oasis of Earth, and I was planning on pressing my nose against the window, you know, and my only hope was I wouldn't see somebody else looking back," Shatner joked to the crowd.
The episode of the show, entitled "Nightmare at 20,000 Feet," is remembered today as one of The Twilight Zone's most iconic and frequently referenced installments.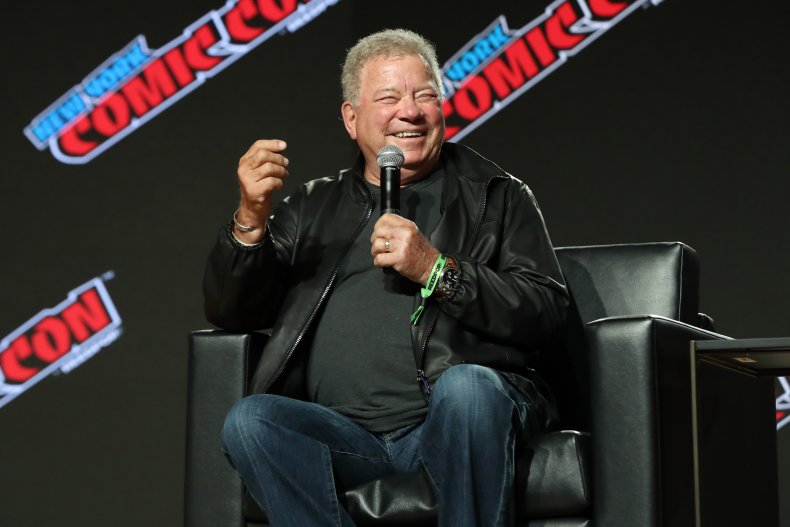 Shatner also told the gathering that he has already visited the Blue Origin launch site, located in Texas. However, despite seeing the site and coordinating with Blue Origin ground crew and engineers, he hinted that their conversations may not have been all that reassuring.
"We're human beings, we make mistakes," Shatner said. "I'm thinking, I'm going up in a rocket and our best guess is it should be fine. So there is a little niggling fire of terror. I'm terrified. I'm Captain Kirk and I'm terrified!"
Per Blue Origin, Shatner will launch on what will be New Shepard's 18th mission. He will go up along with Audrey Powers, Blue Origin's Vice President of Mission and Flight Operations. They will be joined in the capsule by business executives Chris Boshuizen and Glen de Vries. The journey marks the latest in a series of recent high-profile space trips being taken by non-astronauts.
On July 11, mogul Richard Branson launched in a suborbital flight aboard a spaceplane built by his company Virgin Galactic. Later that month, Jeff Bezos tested the New Shepard rocket himself by launching in a ten-minute orbital flight. Then in September, Elon Musk's SpaceX launched Inspiration4, a 2-day orbital mission that became the first spaceflight manned entirely by private citizens.
Newsweek contacted William Shatner's publicist for comment but was told he was currently unavailable.