William Shatner Says Swimming With Sharks Was 'Enlightening'
"So now I've got a five-foot shark in my lap, and I'm petting it," William Shatner says, recounting one of his most terrifying experiences swimming with sharks for Shark Week 2021.
The veteran actor is co-hosting a special for the highly anticipated television event this year and went face to face with some of the terrifying creatures at the age of 90.
Joined by adventurer and Expedition Unknown host, Josh Gates, Shatner traveled to the Bahamas to swim with sharks and co-host Expedition Unknown: Shark Trek.
Airing Monday July 12, on Discovery, Shatner boldly goes into the depths to see the animals close up in terrifying and awe-inspiring scenes showing the actor and his crew in the midst of a swarm of all kinds of sharks from Tigers to Nurses.
As an experienced scuba diver, Shatner explains how it was always his instinct to go away from the sharks, not go right into a swarm of them.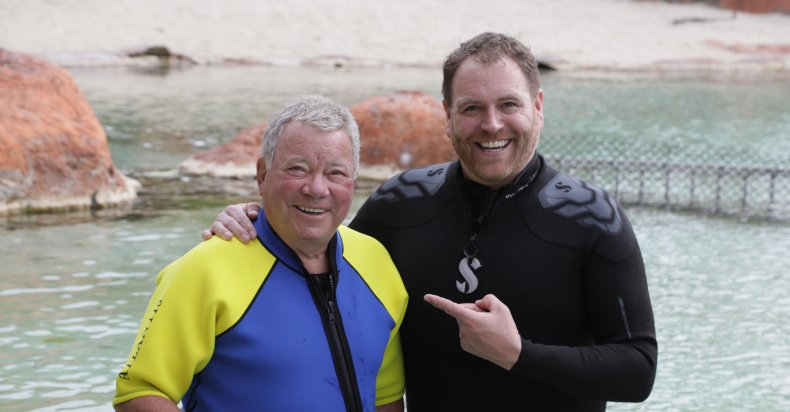 "Gosh, I've done a lot of diving. I've been an open water diver for many years. I've done a lot of reefs and small fish and lobster and caves and even seen a submarine down there," he tells Newsweek.
"But every time anybody said, 'oh, there's a shark,' you're like, 'where's the shark? Maybe we should get up there,' and you go back up to the boat because there's a shark in the water!"
He continues: "To to absolutely go against that—to go against something you've been inculcated to beware of sharks, now to go into the opposite action of that was enlightening."
Shatner explained that the most dangerous part of the dive is getting into the water "because the sharks are liable to bite you in their excitement."
"You jump in and there are these grey bodies all thrashing around," he recalls. "Oh man so that happened, and then I went down the anchor line clumsily and I could see as far as about 40/50 ft.
"The sharks had already arrived. And it was like going into a drive-in movie. Like looking at the screen and seeing then you walk closer and closer to the screen then you suddenly realize that's the not screen—oh my god was it was overwhelming!
"So the easiest thing for me to do was to sit down and watch."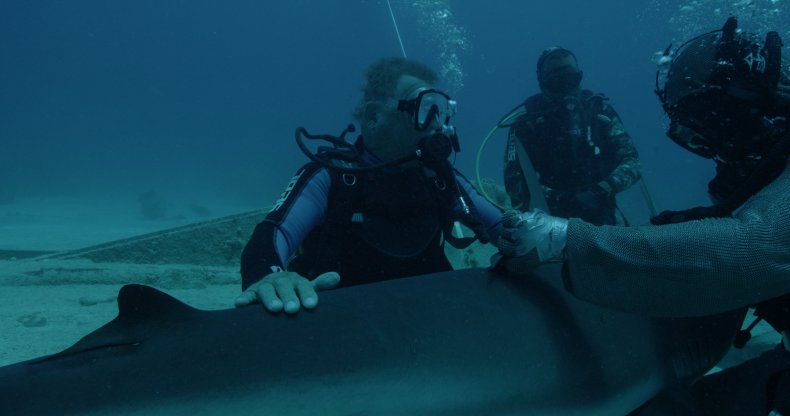 Shatner went on to explain how the guides showed him what is known as tonic immobility, which is when divers can turn sharks on their backs to subdue them.
"That's the way orcas will attack Great Whites—by turning it upside down, petting it on its belly, putting it to sleep and then eating its liver," Shatner quips.
A "zoned-out" shark was delivered to Shatner who remembers petting it on its belly in a bizarre moment.
"So now I've got a five-foot shark in my lap, and I'm petting it," he recalls. "And all this mayhem is going on over there."
He adds: "So I was able to pet a shark and look at these giant sharks and have the experience of a lifetime."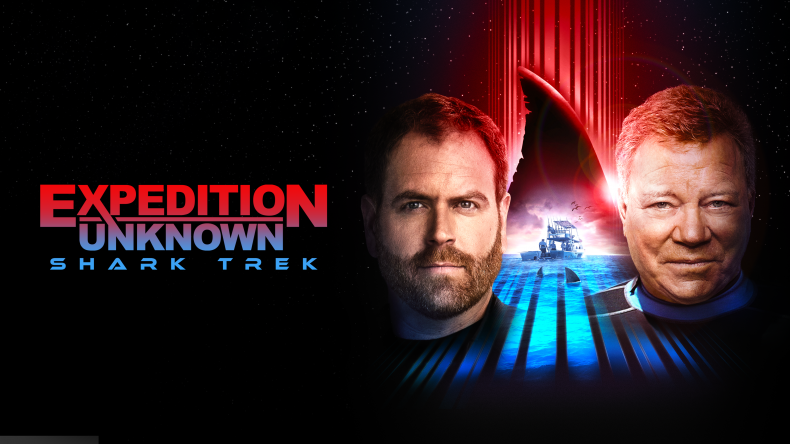 But with the more lighthearted aspects of the show comes a stark warning from Shatner, on the threats that humanity poses to the environment, with a particular emphasis on the damage being done to our oceans due to overfishing.
"I hasten to tell you that in my opinion, the world is coming apart. And it's coming apart because humanity doesn't recognize completely how connected we are with everything," he says on a more sobering note.
"So we are indeed connected with the sharks. They are apex predators. They have an absolutely critical essential job to do in the ocean."
He continues: "To kill an apex predator is to destroy a part of the planet and we're destroying sharks, by the millions."
The Captain Kirk star also points out: "Sharks can be can be dangerous, but like all predators on Earth, are absolutely essential."
In Shark Trek, constant references are made to the show that propelled Shatner to fame six decades ago.
While in the show he pretends to be annoyed by Gates' constant references to the beloved sci-fi series, Shatner actually doesn't mind them at all and hopes viewers are amused by them.
"I would appear to be annoyed at these continuous Star Trek references, but I'm okay with it," he confesses. "I recognize what Star Trek and Captain Kirk has done for me. You and I are talking now because of that. I've never, I've never not been aware of that."
Despite being "enlightened' by his shark diving experience, the actor feels that that's enough life-threatening fun for now.
"I'm done with the sharks," he jokes when asked if he has any more high-risk adventures planned.
Expedition Unknown: Shark Trek airing July 12 at 10 p.m. ET/PT on Discovery.