Five Iconic Willie Garson Moments in 'Sex and the City'
Willie Garson, known by Sex and the City fans as Carrie Bradshaw's (Sarah Jessica Parker) stylish confidante Stanford Blatch, has passed away at the age of 57.
His son confirmed the news with a touching tribute on social media. The cause of death has yet to be disclosed.
Garson had dozens of roles in film and television across the years, but he'll perhaps best be remembered for starring in all six seasons of Sex and the City and the two movies. He had also been confirmed to appear in the upcoming reboot And Just Like That...
While celebrity and fan tributes are pouring in for Garson, let's take a look back at some of his most iconic moments in the Sex and the City franchise.
1. Stanford visits a gay bar
Sex and the City was an early adopter of the online world and included a storyline about Stanford getting into cyber sex, masquerading as "Rick9+" in a chat room. He comes across "Bigtool4u" and decides to meet the mystery man in real life at a gay bar.
Stanford is forced to remove his clothes before entering the club in New York's Meat Packing District, wearing just his boxer briefs. Inside he starts out shy, but ends up bonding with a hot younger guy who's taken by his "French" underwear.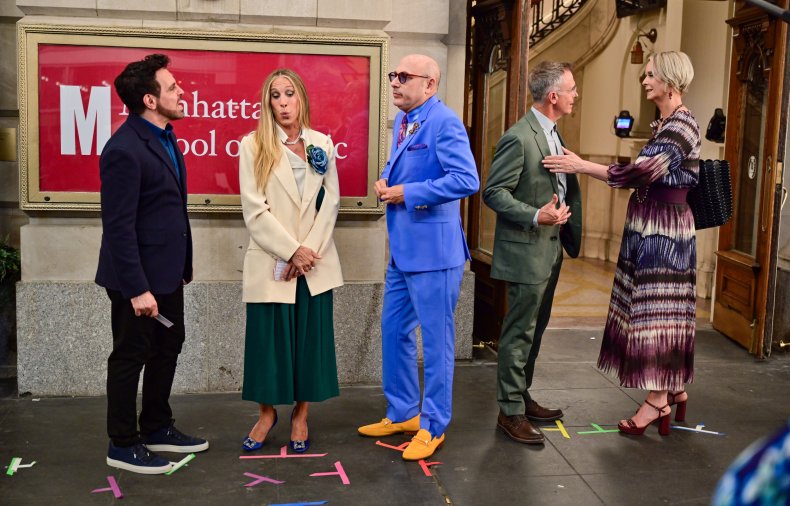 2. Prom Queen and Queen
In Season 6, Stanford was on the decorating committee for a prom fundraiser - and of course any prom wouldn't be complete without a coronation.
Stanford and his best friend Carrie were announced as the prom queen and queen. After dancing together, Stanford's then-boyfriend Marcus (Sean Palmer) cuts in and the two make up after a fight.
3. Getting together with Anthony
Stanley seemingly buries the hatchet with long-time rival Anthony (Mario Cantone) after the two attend a New Year's Eve party in the Sex and the City movie.
They pair are relieved to see each other as they know no one else at the party, which leads to them sharing a kiss at midnight.
4. Married by Liza Minnelli
Stanford has a dream wedding thanks to gay icon officiator Liza Minnelli. In Sex and the City 2 Stanford ties the knot with Anthony, with Carrie watching on as his best woman.
After the ceremony, Liza treats the entire wedding party to a rendition of Beyonce's "Single Ladies."
5. Stanford's one-liners
Not a moment per se, but it's worth noting how hilarious Stanford remained throughout the entire series and in the movies. Most of his one-liners came during conversations with Carrie, showcasing the chemistry Garson and Sarah Jessica Parker shared.
From proclaiming "How can anyone that gorgeous be straight?" to inquiring to a disheveled-looking Carrie who couldn't get a cab: "So what do you do, grab onto a bumper and let one drag you here?"
More moments to come
HBO confirmed earlier this year that Garson was one of the many actors returning to the Sex and the City franchise for the new series And Just Like That...
It's not currently known how many of the 10 episodes Garson was set to appear in, but it will sadly be his last on-screen appearance as the legendary Stanford Blatch.
And Just Like That... is scheduled to air on HBO Max in fall 2021.