'Willy Wonka' Child Star Goes on 'Jeopardy!' but Doesn't Use That for His Fun Fact
Updated | For once, a Jeopardy! contestant had an interesting fun fact to share—and he chose not to share it. Paris Themmen, who once appeared as the television-obsessed child Mike Teevee in 1971's Willy Wonka & the Chocolate Factory, turned up on everyone's favorite quiz show Tuesday night.
But when it came time for Themmen share a fun personal story about his life with host Alex Trebek—as all contestants are asked to do every episode—Themmen kept quiet about his Golden Ticket. Trebek introduced the 58-year-old former actor as an "entrepreneur" and "avid backpacker." And Themmen's fun fact? That he's traveled to 61 countries and six continents. "My favorite was Mount Everest Base Camp," Themmen told Trebek.
Sure, traveling is cool, but nothing about Mike Teevee's stylish cowboy hat? No fun Gene Wilder anecdotes? What gives, Teevee?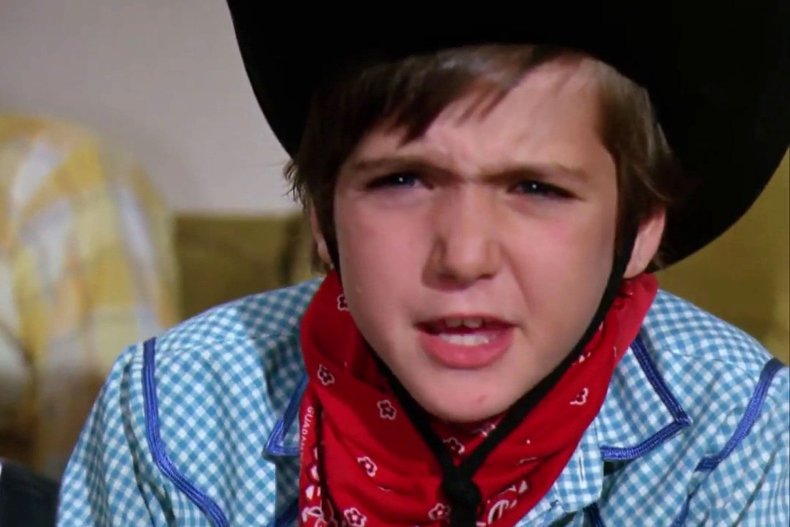 Get your unlimited Newsweek trial >
In a call with Newsweek on Thursday, Themmen explained that he did, in fact, list his Wonka role as one of his fun facts. Every contestant writes down three anecdotes on a card, which is presented to Trebek right before he speaks to the players. Then the host picks a topic in the moment to discuss. And apparently, Trebek wasn't in the mood the to discuss Willy Wonka. "Alex loves to travel, and I'm an avid traveler as well, so that's what caught his eye," explained Themmen.
Interestingly, Themmen's wife, Nikki Grillos, is a two-time Jeopardy! champion, who also listed Themmen's childhood fame as her fun fact. Trebek avoided the topic, until Grillos's third day on the show (the day she lost). "[Trebek] said something like, 'So I see something about 'Wee-Willy-Wonka,'" Themmen told Newsweek. Considering his incorrect pronunciation, this begs a whole new question: Has Alex Trebek never seen Willy Wonka & the Chocolate Factory?
But even without a shoutout from Trebek, viewers at home noticed. Twitter lit up as more and more netizens realized where they knew that familiar face from.
"Is nobody realizing that Paris on Jeopardy! right now, is Mike TV [sic] from Willy Wonka and the Chocolate Factory?" asked one user.
Get your unlimited Newsweek trial >
"I was making dinner in the kitchen, listening to Jeopardy when Alex Trebek started introducing contestants at the break. He said Paris Themmen and I ran out saying MIKE TEEVEE !!!" exclaimed another.
Themmen did confirm his appearance on his Twitter page, tweeting on Monday, "I am appearing on tomorrow's episode of Jeopardy! Tuesday, March 13th! Check your local listings for times. Excited!"
Outside of Jeopardy!, Themmen is happy to talk about Wonka, and does so on the regular. He appears at Comic Cons, and even has a website where he sells Willy Wonka paraphernalia signed by him and the other Golden Ticket winners.
On Jeopardy!, Themmen came in second, which may not quite be a happily ever after, but it's certainly better than young Mike's shrunken fate. Who knew Teevee was so good at trivia?
Update: Story has been updated to include comments from Paris Themmen.
'Willy Wonka' Child Star Goes on 'Jeopardy!' but Doesn't Use That for His Fun Fact | Culture