Wimbledon 2019: Latest Odds, Expert Predictions for Roger Federer vs. Rafael Nadal Semifinal
Eleven years since they produced one of the greatest matches in history, the paths of Roger Federer and Rafael Nadal cross once again at Wimbledon.
In 2008, the Spaniard won his first Wimbledon crown after a 6-4, 6-4, 6-7 (5-7), 6-7 (8-10), 9-7 marathon that lasted almost five hours. While a repeat of that epic appears unlikely, few matches in recent years have whet the appetite as this upcoming semifinal.
The Swiss kept his hopes of a ninth title in South West London alive by beating number eight seed Kei Nishikori 4-6, 6-1, 6-4, 6-4, to notch his 100th win at the All England Club.
Nadal, meanwhile, continued his relentless march toward the last four by dispatching Sam Querrey in three sets, winning 7-5, 6-2, 6-2.
The 33-year-old has dropped just one set in the whole tournament—against Nick Kyrgios in the second round—and has looked utterly dominant in every aspect of the game.
Federer has left two sets behind so far in the tournament, the second of which came against Nishikori on Wednesday, but has been no less impressive than his rival.
Friday will be the 40th meeting between Federer and Nadal and the pair, who share a combined 38 Grand Slam titles between them, know each other game's inside out.
"We have a lot of information on Rafa and so does he on us," Federer said after his quarterfinal. "You can dive into all that stuff or say this is grasscourt tennis and just attack. It was a joy to play against Rafa at Roland Garros [where Nadal won their semi-final in straight sets on his favored clay]. I go about it like every other match."
Novak Djokovic, the third member of tennis' Big Three, will take on Spain's Roberto Bautista Agut in the other semifinal. It is the first time since 2007 that all the Big Three have reached the last four and, bar a major surprise, it seems impossible their domination in South West London will be broken this year.
Aside from Andy Murray's two triumphs in 2013 and 2016, no player other than Federer, Nadal and Djokovic has won the tournament since Lleyton Hewitt did so in 2002.
Here's how tennis experts expect Federer vs Nadal to pan out.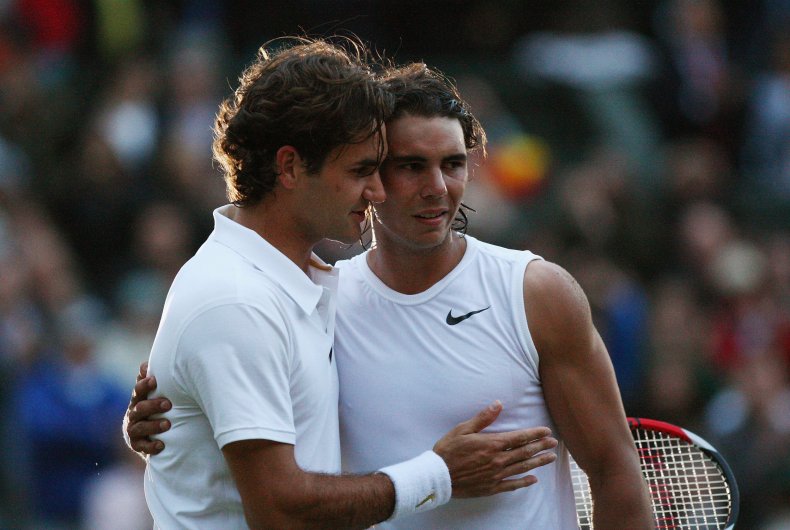 Gerard Meagher—The Guardian
The Big Three's domination might have limited the emergence of younger talent, but Meagher believes fans should enjoy while it lasts.
"For all that the failure of the young pretenders to challenge the Big Three has been lamented, it has its upsides too given Nadal and Federer have not clashed in SW19 since that unforgettable tussle in 2008," he wrote.
"The men's competition has been a slow burner, to put it politely, but Nadal's semi-final against Federer will ensure it catches fire on Friday."
Alyssa Roenigk—ESPN
Roenigk believes Nadal has shown enough in this tournament to have a great chance to upset Federer on the Swiss' favorite surface.
"Although it's hard to bet against Federer on grass, I'm going to. Nadal has looked in top form this tournament, having dropped only one set, to Nick Kyrgios in the second round, and the only thing better than Nadal's service games has been his returns."
Jon Wertheim—Sports Illustrated
Like Roenigk, Wertheim suggests there is a case to make Nadal favorite on Friday.
"It is still exceedingly difficult to call Federer the favorite in this match," he wrote.
"And that's not a knock on his current form—he's dropped just two sets in five matches, and both were the first set in matches he ended up winning comfortably—but instead an acknowledgment of how well Nadal is playing. He has been just terrific in this tournament.
Rick Broadbent—The Times
The semifinal between Federer and Nadal will be a clash of contrasting styles, which Broadbent suggests could serve up a modern classic.
"The longevity of Federer and Nadal has been a testament to their imagination. In the past two seasons Nadal has pulled out of ten tournaments with knee, hip, stomach and ankle problems. [...] One thing Nadal has clearly never had is an attitude problem so we await tomorrow with appetites newly whetted."
Steve Tignor—Tennis.com
Tignor expects Federer to up his game against Nadal, who has looked imperious so far in this tournament.
"Federer hasn't reached his peak level so far at Wimbledon, yet no one has seriously challenged him, either," he wrote.
"He likes to shift into another gear in the semis and final here, and there's room for him to do that again.
"He may need to, because as far as their current form goes, Nadal may have the edge. He had a tougher draw than Federer, but has dropped just one set. More importantly, he's excelling at the two things you must do well to win on grass: serving and returning."
Latest odds
There's very little to separate the two rivals but bookmakers lean towards Nadal. According to Oddschecker, the Spaniard is a 10/13 favorite to win, while Federer is a 23/18 shot.
Odds on the match to be decided in three or four sets are 6/4, while a five-setter is currently at 9/4.
When it comes to the tournament as a whole, Novak Djokovic is 7/10 to defend his title, followed by Nadal at 16/5 and Federer at 4/1. Roberto Bautista-Agut, meanwhile, is a 40/1 outsider.