Wimbledon 2019: Where to Watch Roger Federer vs. Rafael Nadal Semifinal, Start time, Live Stream and Odds
A new chapter is set to be added to the rivalry between Roger Federer and Rafael Nadal when the two most decorated players in men's singles history meet at Wimbledon in the semifinals on Friday.
Eleven years have passed since the duo played out arguably the greatest match the tournament has ever seen, which saw Nadal capture his first Wimbledon crown after a 6-4, 6-4, 6-7 (5-7), 6-7 (8-10), 9-7 marathon that lasted almost five hours.
Expecting a repeat of such an epic is perhaps overly optimistic, but on current form there are valid reasons to believe the latest installment of the rivalry could deliver another modern classic.
Nadal has dropped just one set in the whole tournament—against Nick Kyrgios in the second round—and has looked utterly dominant in every aspect of the game.
So impressive has Nadal been so far that he arrives into the game as the bookmakers' choice, despite the fact grass is traditionally his least favorite surface and Federer's preferred one instead.
The Swiss has dropped one set more than his rival, losing the opening set in his first match of the tournament and then again in the quarterfinals against Kei Nishikori.
The eight-time Wimbledon winner has been no less impressive than his rival but there's a suggestion he has not yet been as tested as the Spaniard.
The counterargument to that is that Federer's ability to raise his game when needed is almost unparalleled and it wouldn't be a surprise to see the Swiss shift through the gears on Friday.
Friday will be the 40th meeting between Federer and Nadal, and the pair, who share a combined 38 Grand Slam titles between them, know each other game's inside out.
"We have a lot of information on Rafa and so does he on us," Federer was quoted as saying by the BBC. "You can dive into all that stuff or say this is grasscourt tennis and just attack. It was a joy to play against Rafa at Roland Garros [where Nadal won their semi-final in straight sets on his favored clay]. I go about it like every other match."
Similarly, Nadal felt Federer had no secrets for him.
"I'm not expecting to learn new things about him. I just expect to play against probably the best player in history on this surface," he explained. "I know he's playing well. He feels comfortable here. I'm playing well, too.
"I am playing with a very high intensity, playing aggressive, serving well and returning very well. I know that I have to play my best."
Here's everything you need to know ahead of Friday.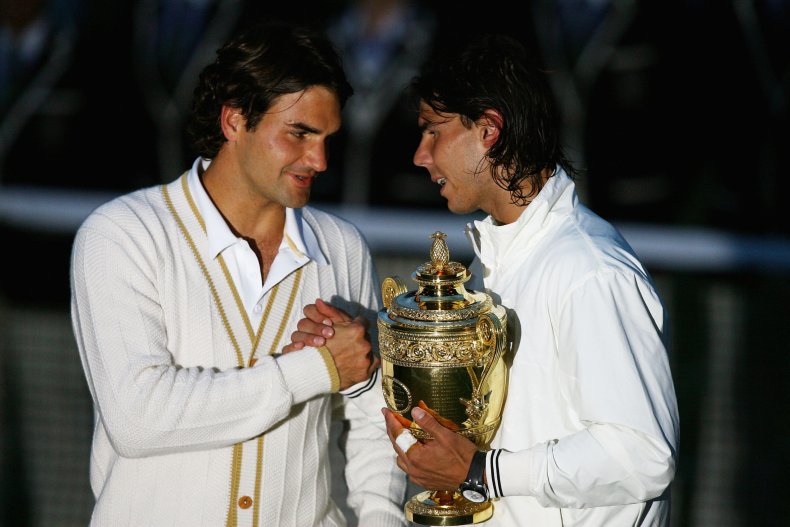 Semifinal start time
The men's semifinals begin at 1 p.m. local time (8 a.m. ET) when Novak Djokovic plays Roberto Bautista Agut. Federer and Nadal will be on Centre Court once the first match is over.
TV channel
The tournament is broadcast exclusively across ESPN, with coverage running from 8 a.m. ET until 2 p.m. on Friday.
Live stream
Fans can watch the action online via the WatchESPN app and on ESPN.com.
Odds
There's very little to separate the two rivals but bookmakers lean towards Nadal. According to Oddschecker, the Spaniard is a 10/13 favorite to win, while Federer is a 23/18 shot.
Odds on the match to be decided in three or four sets are 6/4, while a five-setter is currently at 9/4.
Wimbledon 2019: Where to Watch Roger Federer vs. Rafael Nadal Semifinal, Start time, Live Stream and Odds | Sports