Wimbledon 2019 Final: Latest Odds, Expert Predictions for Serena Williams vs. Simona Halep
Serena Williams is back in a Wimbledon final for the 11th time in her career and this could be a more historic event than any of her seven titles in South West London.
A win over Simona Halep on Saturday would see Williams draw level with Margaret Court as the most successful player in the history of women's singles.
After a troublesome year, Williams has peaked at the right time, something she has put down to playing mixed doubles alongside Britain's Andy Murray.
"I kept telling you guys I thought the doubles would help me," she said in her press conference on Thursday.
"I really think it did. I don't attack the net that much. I tried to and I want to.
"I know when I do, when I play doubles here with Venus [Williams], it definitely helps my singles game. I was really keen to play mixed here. I feel like it helped me, not just for today and this event but hopefully it will help me in the future."
Having struggled in the quarterfinal against Alison Riske Williams was back to her best in the semifinals, taking only 59 minutes to beat Barbora Strycova 6-1, 6-2.
Her opponent on Saturday took only four extra minutes to beat Elina Svitolina 6-1, 6-3 to book her first appearance in a Wimbledon final.
Up until Thursday, Halep's best result in the oldest grand slam tournament had been reaching the semifinals in 2014, but she has appeared a lot more at ease on grass recently.
The former world number one has dropped just one set on her way to the final but will be the underdog on Saturday, largely due to a dismal head-to-head record against Williams.
Halep hasn't beat the 23-time Grand Slam winner since 2014 and that was her only success in 10 attempts.
At the same time, the Romanian is more than capable of causing Williams problems, particularly as all the pressure will be firmly on the latter's shoulders.
Here's how tennis experts expect the final will pan out.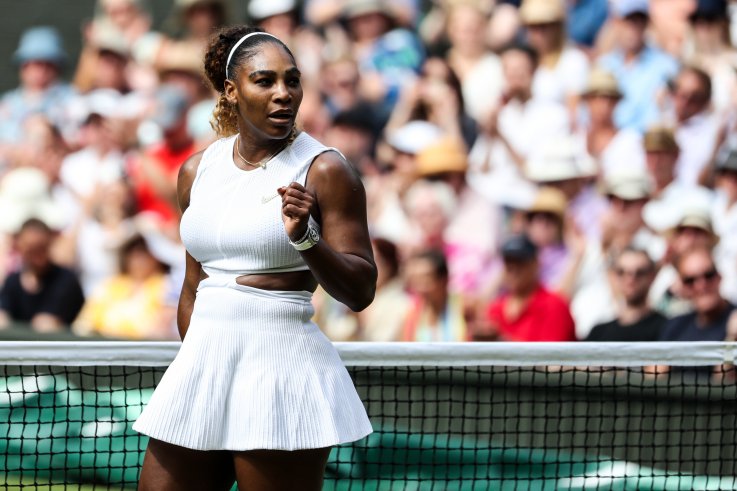 Martina Navratilova—Nine-time Wimbledon winner
Williams was back to her best in the semifinals and her dynamism bodes well for the final, according to Navratilova.
"Strycova wasn't able to handle the power. How quickly was Serena getting on those balls though? She did her homework and it paid off. She was firing on all cylinders."
Pete Bodo—ESPN
Williams has a 9-1 career record over Halep but Bodo believes the American will be under enormous pressure to deliver.
"The pressure is on Serena because of the enormity and historic significance of her assignment," he wrote.
"That is going to give Simona Halep a psychological edge that she would not have under almost any other circumstances."
Gerard Meagher—The Guardian
Much has been made of Halep's calm approach so far in the tournament and Meagher believes there's a valid reason for her confidence.
"Ultimately it becomes clear that a key reason for Halep's laid-back approach to Wimbledon this year is that she finally feels comfortable on grass. That has not always been the case—even though she reached the 2014 semi-finals when an ankle injury hindered her chances of reaching the final—but this time she feels the penny has finally dropped."
Daniel Rapaport—Sports Illustrated
Rapaport believes the early exchanges could be crucial for Halep's hopes of a first Wimbledon win.
"She has to start well," he wrote.
"The whole world expects Serena to have a historic afternoon on Centre Court, and if Williams gets off to a fast start, her victory will feel almost inevitable."
Tom Hamilton—ESPN
Hamilton believes Halep's first serve will be pivotal to her chances of upsetting Williams.
"[Halep must] Play at her best but also nail her first serve. She has the baseline prowess to keep Williams at bay but she must put Williams on the back foot and play to the corners."
Odds
Serena Williams is the bookmakers' choice to win an eighth Wimbledon crown on Saturday. According to Oddschecker, the American is a 10/17 favorite to win the final, while Simona Halep is a 28/17 outsider.
Wimbledon 2019 Final: Latest Odds, Expert Predictions for Serena Williams vs. Simona Halep | Sports