Wimbledon Players Slam Centre Court Surface After Serena Williams Injury
The playing surface of Wimbledon's Centre Court has come under intense scrutiny after Serena Williams was forced to retire with an ankle injury in her first-round match on Tuesday.
Over the opening two days of the tournament, several players have complained the grass on the main court of the oldest of the four Grand Slam tournaments is too slippery.
Williams' retirement was the second in as many as matches on Centre Court on Tuesday. It came shortly after France's Adrian Mannarino was forced to withdraw with a knee injury while leading two sets to one against Roger Federer.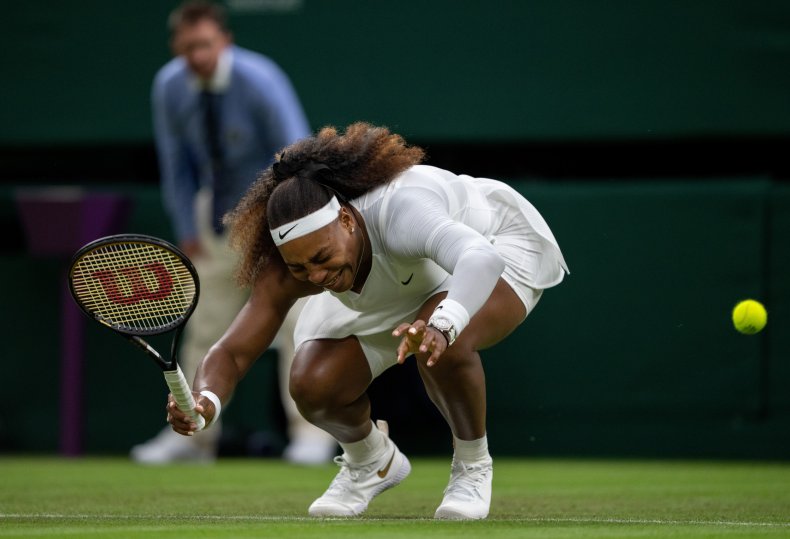 What happened to Serena Williams?
The 39-year-old was forced to retire during the opening set of her first-round match against Aliaksandra Sasnovich on Tuesday.
The 23-time Grand Slam winner slipped twice and winced in pain as she appeared to twist her ankle during the fifth game of the opening set, which she was leading 3-1.
Williams stared intently at the playing surface and looked visibly in pain as she called for treatment and hobbled off the court. She returned shortly afterward and tried to soldier on despite limping badly, before eventually withdrawing in the following game after her ankle buckled under her as she tried to return a serve.
A tearful Williams left Centre Court to a standing ovation and skipped the traditional post-match press conference.
"I was heartbroken to have to withdraw after injuring my right leg," she wrote in an Instagram post hours after her withdrawal.
"My love and gratitude are with the fans and the team who make being on Centre Court so meaningful. Feeling the extraordinary warmth and support of the crowd when I walked on—and off—the court meant the world to me."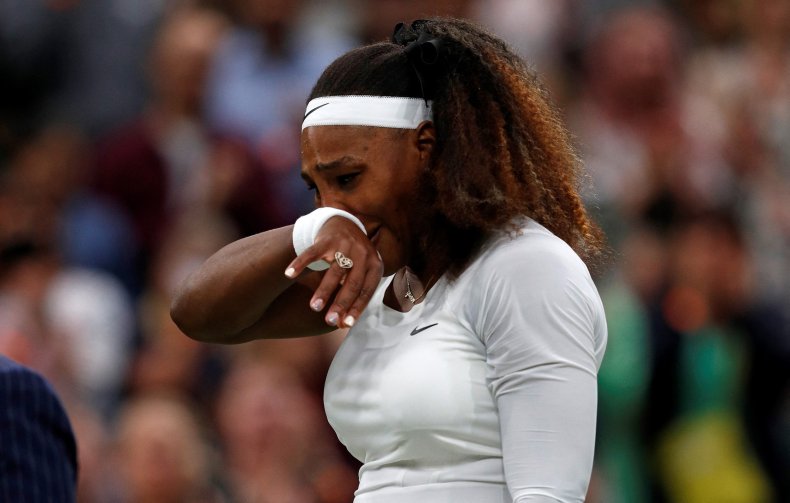 What have players said about Wimbledon's surface?
Federer was told of Williams' injury in his press conference and acknowledged the surface was very tricky.
"I can't believe it," he said.
"It's obviously terrible that it's back-to-back matches and it hits Serena as well. You do have to move very, very carefully out there. If you push too hard in the wrong moments, you do go down."
The 20-time Grand Slam winner added he felt playing under the roof—Centre Court was fitted with a retractable roof in 2009—had been a factor.
"I do feel it's drier during the day," he said.
"With the wind and all that stuff, it takes the moisture out of the grass."
Mannarino also noted the surface made it very uncomfortable for players to quickly change direction.
"I'm not used to playing on Wimbledon Centre Court," he said in his post-match press conference.
"I didn't have much time to practise before the match and the court definitely looked slippery to me. I was not feeling great. Every time I tried to push on my feet or change direction I was not comfortable with that."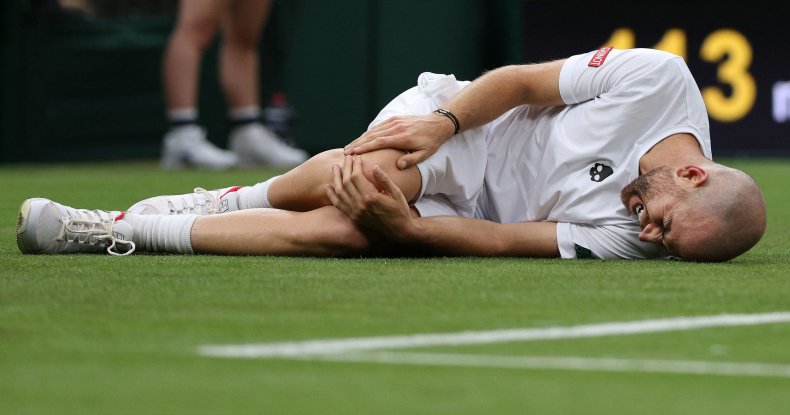 Federer and Mannarino weren't alone in sharing concerns over the playing surface. Two-time Wimbledon winner Andy Murray, who played on Centre Court on Monday, said the surface was "extremely slippery".
Reacting to Williams' injury, the Briton tweeted: "Brutal for Serena Williams but Centre Court is extremely slippy out there. Not easy to move out there."
Novak Djokovic, who like Murray played on Centre Court on Monday, joked about the conditions after his opening round win against Britain's Jack Draper.
"To be honest I don't recall falling this many times on the court," he said during an on-court interview.
The surface appeared to become even harder to negotiate on the second day of the tournament. U.S. teenage sensation Coco Gauff said she had been "slipping and sliding out there on the court" during her first round win against Britain's Fran Jones.